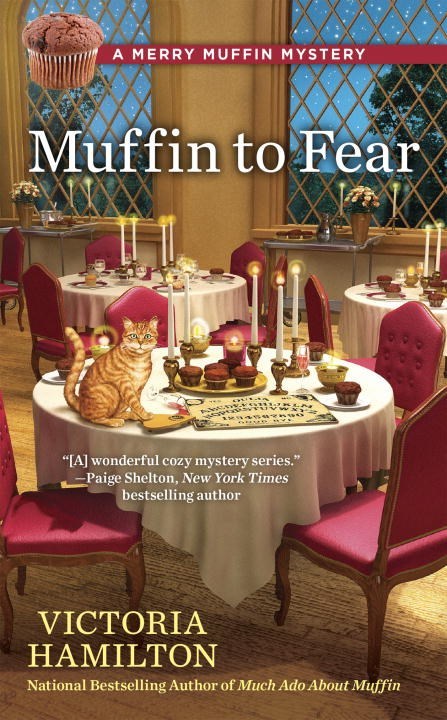 Purchase
Merry Muffin
Berkley Prime Crime
August 2017
On Sale: July 25, 2017
304 pages
ISBN: 0425282597
EAN: 9780425282595
Kindle: B01MXHV4KT
Mass Market Paperback / e-Book
Add to Wish List

Mystery Cozy | Mystery Culinary
In the latest from the national bestselling author of Much Ado About Muffin, newlywed baker Merry Wynter has some unwanted guests looking for ghosts at Wynter Castle…
While Merry is distracted by her quickly planned marriage to Virgil Grace and a blissful honeymoon in New York, her friend Pish invites the ghost-hunting crew from the TV show Haunt Hunt to investigate Merry's home, Wynter Castle. Merry soon discovers that not only is the crew out of sync, there are so many feuds and squabbles, it's a miracle they get a show produced at all.
It all goes from bad to worse when the show's psychics claim to have contact with people murdered on Merry's property. When two cast members are found dead, Merry and Virgil must figure out who's picking off the Haunt Hunt team before their hard-earned happily ever after is cut short.
INCLUDES DELICIOUS RECIPES!
Merry Muffin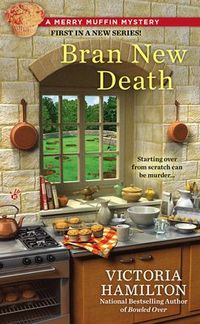 Bran New Death
#1.0
Amazon.com | BN.com | | |
Comments
19 comments posted.
Re: Muffin to Fear

Not to healthy, but I do love a double chocolate chip muffin.
(Dynal Roberson 6:22pm August 28, 2017)
blueberry always
(Jeri Dickinson 6:41pm August 28, 2017)
If a book has a picture of an orange kitty and anything to do with muffins, I'm
interested
(John Smith 9:18pm August 28, 2017)
Chocolate Chocolate chip with powdered sugar on top!
(Nicole Davis 10:10pm August 28, 2017)
Butter Rum muffins are my favorite.
(Tanja Dancy 7:41am August 29, 2017)
Lemon muffins are my favorite.
(Sharon Berger 1:45pm August 29, 2017)
My favorite muffin is blueberry!
(Maryann Skaritka 5:04pm August 29, 2017)
pumpkin chocolate chip - parkeremma2003 at yahoo dot com
(Jennifer Hansen 9:36pm August 29, 2017)
I have my grandmother's recipe for a muffin that can be made with any fruit, nut or even savory like ham and cheese that is not a sweet base, but lets the addition stand on it's own. I love the ham, cheese and scallion one and serve it with a lemon one for brunch.
(Sharon Mitchell 5:34pm August 30, 2017)
Lemon poppy seed muffins are my favorite with pumpkin-spice
a close 2nd.
(Teresa Ward 9:34pm August 30, 2017)
Blueberry muffins are definitely my favorite!
(Jamie Stein 4:15pm August 31, 2017)
Orange cranberry, please!
(Debbie Burdeen 5:36pm August 31, 2017)
I make a fresh pear with candied ginger and it's delish with some salty ham and cheese - that sweet, salty thing!
(Amber Mancebo 7:35pm August 31, 2017)
I like chocolate chip
(Debra Guyette 8:02pm August 31, 2017)
I love all muffins, except poison ones!
(Kathleen Gardiner 11:16am September 1, 2017)
I like blueberry muffins.
(Anna Speed 12:31pm September 1, 2017)
i love blueberry muffins
(Ann Unger 6:24pm September 1, 2017)
Lemon poppyseed or pumpkin!
(Teresa Ward 9:46pm September 1, 2017)
I make frittatas in my muffin tin. I bake 3 tater tots
per in each muffin slot for 15 minutes on 425 degrees.
Then take the pan out and smoosh them down with a fork
then bake them for 5 more minutes.Then I take it out of
the oven, lower the temp to 350 and fill the tin with
chopped roasted red peppers, zucchini, yellow squash,
onion, garlic, fresh herbs, salt, pepper, swiss cheese,
and ham. I whisk 8 eggs with 2 tbsp milk in a medium-size
bowl then pour them into each muffin slot until filled to
the top. Then I bake the muffins for 15 to 25 minutes
until the eggs are set and cool slightly before servings.
They're so delicious!
(Dianne Robbins 9:50pm September 1, 2017)
Registered users may leave comments.
Log in or register now!