Brooke Showalter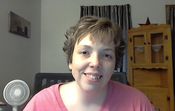 Features & Posts
No posts found.
13 comments posted.

Re: Romancing the Ranger (9:40pm March 21, 2016):

Taking a stretch break and putting on some peppy music makes
my productivity so much better. :)

Re: One Step Too Far (10:18pm March 17, 2015):

Really looking forward to reading this one. I love
suspense!

Re: Twice Tempted (2:04am December 3, 2014):

I love reading series! It is really nice to be able to find
a wonderful book and learn that there are many more set in
the same place and time and with many of the same
characters. I do like when there are stories within a
series (even just novellas) that can be read independently.

Re: Brushing Off The Boss (12:54pm September 18, 2014):

I like day-to-day settings usually, but it's really fun to have a 'normal' character experiencing a once in a lifetime chance with an exotic location and a fun story.

Re: The Lady's Disgrace (6:52pm September 11, 2014):

I've always been a fan of history. In high school, I took world and American history the same year. In college, for my electives, I took history classes. Now, I love reading historical fiction and historical romances. So interesting to be transported to a different world.

Re: Tempest In A Teapot (2:19pm June 4, 2014):

I don't write much down. But I do have those strange little snippets that seem insignificant but I am holding onto them for some reason. I so want to read this book!

Re: Love For Beginners (2:18pm June 4, 2014):

I totally agree!

Re: Wicked Temptation (2:16pm June 4, 2014):

I would love to be a history teacher!

Re: A Shot of Red (4:21pm April 23, 2014):

Your trip sounds wonderful, I'm so glad you had such an
amazing vacation. I haven't yet won the vacation lottery, but
here's hoping! ;) I think the cheese making would be so
interesting to watch - and taste!

Re: Wild About Her Wingman (4:19pm April 23, 2014):

Me, the porch swing, a cool summer breeze, a great read, and
a big glass of sweet tea. Yum!

Re: The Prosecutor (2:47pm March 4, 2014):

This is going to be a great story...really looking forward to
reading it and getting to know Zac!

Re: The MacGregor's Lady (1:25pm February 9, 2014):

Hi Grace,

What is your favorite genre to read? Do you have any favorite books and/or authors?

brooke811 at ymail dot com

Re: How To Entice An Enchantress (7:54pm September 18, 2013):

Oh absolutely the library...a man after my own heart...and
mind! I would feel like he really loved me and knew what
would be perfect for me.