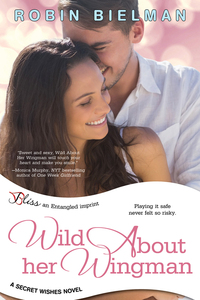 Purchase
A Secret Wishes Novel
Entangled Bliss
April 2014
On Sale: April 14, 2014
Featuring: Erin Watters; Troy Streiber
ISBN: 1622665007
EAN: 9781622665006
Kindle: B00J6UKC0S
e-Book
Add to Wish List

Playing it safe never felt so risky...

Erin Watters is her small town's resident wild child--she doesn't do boring, and after having her heart annihilated, she definitely doesn't do relationships. Her friends have other ideas, though, and when they throw down a matchmaking challenge, impulsive Erin can't ignore it. Even when the annoyingly hot Troy Streiber accepts the matchmaker role...

As a rescue paramedic, Troy's used to watching out for people. Never mind the bet he made with his buddy to play Erin's wingman. But the more time he spends with the sexy, charismatic woman, the more he discovers a side of her she doesn't let many see. Soon what started as an innocent game of matchmaking has them both thinking about the person right under their nose. But Troy's a play-it-safe guy, and he won't let a woman who lives for risk ever steal his heart.
Comments
34 comments posted.
A comfortable place, a cold soda, no one asking anything from me and a good book. Geesh, I could go for days happily with only that.
(Lisa Hutson 1:45am April 23, 2014)
bed and books,hugs and boyfriend, my sister and laughter, cooking and my mom, smile and robin,listening to music and dancing, chocolate and cake :-)
(Elena k 5:18am April 23, 2014)
a very warm bubble bath, a good book and that special someone later.
(Mal Kaplan 8:45am April 23, 2014)
My family together having game night at our kitchen table.
(Pam Scott 9:08am April 23, 2014)
One of my perfect matches would be good music playing and my
knitting!! I volunteer to teach a knitting and crocheting
class once a week, and always have a project going, so to
relax, I have my reading time, as well as my knitting time!!
Currently I have a few projects that I'm backed up with for
friends who have suffered hardships, and I'm making items to
send to them as a surprise. Having some good music on in
the background seems to help those stitches fly a little
faster off the needles when I'm doing a few extra rows at
home, in between my knitting class!! I'm unable to get my
knitting in every day, but I sure do cherish the days that
I'm able to knit!! I'd also love to be able to read your
book, as long as it's a print edition. I don't own an e-
reader.
(Peggy Roberson 9:16am April 23, 2014)
My perfect matchup is a bubble bath and good book. But perfect food matchup is cheese and crackers.
(Pam Howell 10:33am April 23, 2014)
Late at night and me and my kindle.
(Denise Austin 12:19pm April 23, 2014)
Hmmm, nice, cool and creamy ice cream on a hot hot day... enjoying a romance while curled up in my favorite spot...
(Colleen Conklin 1:21pm April 23, 2014)
A good bottle of late-harvest Reisling (Hogue Cellars comes to mind), dark chocolate, and good friends sitting around the kitchen table to share it all with. Best combo ever!!

Later,

Lynn
(Lynn Rettig 1:56pm April 23, 2014)
By the swimming pool with a cool drink :)
(Terri Quick 2:26pm April 23, 2014)
Me, the porch swing, a cool summer breeze, a great read, and
a big glass of sweet tea. Yum!
(Brooke Showalter 4:19pm April 23, 2014)
Oysters with a Corona!
(Susan Coster 4:46pm April 23, 2014)
A good book and my bed.
(Rita Wray 8:19pm April 23, 2014)
Laying back in my recliner with either popcorn or chocolate, and either raspberry tea or a diet pepsi or coke, reading a good book.
(Cathy Phillips 9:27pm April 23, 2014)
there are so many perfect combos that it would hard to pick my
favorite... I am a Pepsi drinker and mine has to have ice in
it... then there is the Lasagna and bread or rainy days and
a fire with a good book
(Tina Ullrich 9:40pm April 23, 2014)
Hi Robin! I loved Troy and Erin - since WILD ABOUT HER WINGMAN already met my eReader!

Cake and ice cream, cheese and crackers, chips and dip, chicken and dumplings, bagels and cream cheese, a cat and a piece of string. :)
(Marcy Shuler 9:46pm April 23, 2014)
Queso & tortilla chips (throw in salsa and guacamole & life is
perfect). Some quiet time and a great book go perfectly with
the food.
(Glenda Martillotti 11:19pm April 23, 2014)
Swimming in the pool. Having a good book to read. Thanks for a chance to win.
(Linda Hall 11:26pm April 23, 2014)
Hi everyone! Just wanted to say thanks so much for stopping by and helping me
celebrate today! I've loved reading about all your favorite matches!

Thank you, Elena, for your sweet match that including me!
Thank you, Marcy! I'm so happy you loved Troy and Erin!
(Robin Bielman 11:47pm April 23, 2014)
My iPad and a cosy freshly made bed, makes for a quiet relaxing night.
(Sue Ahn 2:27am April 24, 2014)
A good book in a quiet place with my dogs around me... :-)
Wild About Her Wingman was an incredible read, Robin!
Everyone, if you love romances that give you the warm fuzzies,
don't miss any of Robin's reads!
(Linda Townsend 8:31am April 24, 2014)
mine is my laptop sitting back and relaxing is mine
(Denise Smith 8:54am April 24, 2014)
MY perfect match? Me and George Clooney. Anywhere. Anytime....
(Elaine Seymour 10:00am April 24, 2014)
"Sebastian" from Reign comes to mind, yes please!
(Darci Paice 10:02am April 24, 2014)
tea and a book by the window
(Debbi Shaw 12:28pm April 24, 2014)
I have my perfect match for 33 years
(Larua Matta 12:37pm April 24, 2014)
I just noticed today. How I cant even think about a tuna sandwich without lays chips. Pringles, fritos, etc. They wont do. It has to be the original lays. So I will have to wait til tomorrow for my tuna. haha
(Lisa Hutson 4:53pm April 24, 2014)
Margaritas and Mexican food!
(Cheryl Castings 4:56pm April 24, 2014)
a comfy couch, music playing low in the background and a
romance book.... perfect way to relax
(Gina Keitz 6:10pm April 24, 2014)
Peanut butter and jam. :-)
(Deb Pelletier 7:45pm April 24, 2014)
Perfect combination: my bed and electric blanket on a winter day.
(Laura Gullickson 9:36pm April 24, 2014)
I have a thing for coffee and doughnut especially when they are maple doughnut.
(Kai Wong 10:47pm April 24, 2014)
I think mine would be a good book, one that I could have a good cry over, and a quiet, uninterrupted afternoon in which to read it.
(Debbie Kelly 10:53pm April 24, 2014)
A cold day & a hot drink.
(Mary Preston 6:05am April 26, 2014)
Registered users may leave comments.
Log in or register now!