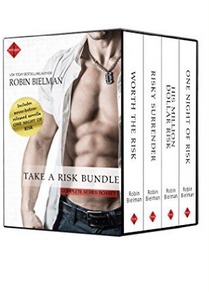 Purchase
Entangled
September 2015
On Sale: September 14, 2015
ISBN: 1633753115
EAN: 9781633753112
Kindle: B0140Q31UU
e-Book
Add to Wish List

The Take a Risk bundle by USA Today best selling author Robin Bielman includes three of her popular Take a Risk novellas plus an additional, never-before-published novella, One Night of Risk.
Worth the Risk
Their love was ancient history...until their paths crossed again.
Samantha Bennett put Dean Malloy out of her mind five years ago, when he broke her heart after a summer fling. But now he's back in her life, and ready to steal a heritage protection contract that could make or break her career–if he doesn't steal her heart first. Samantha's vowed to hate him, but it's more than anger heating the competition between them.
With sparks flying across the conference table and sizzling in every touch, Dean proposes a weekend liaison. Anything to have Sam again–anything to get her out of his system. But the unresolved feelings between them complicate their personal and professional lives, and one wild weekend could turn into a disaster that would destroy the one job that means more to Samantha than anything.
Risky Surrender
She'll search for treasure but steal his heart.
Lucy Davenport made a promise to her father and husband right before they died, and she's vowed to keep it any cost. But when she draws unwanted attention to her secret plans, she's forced to risk everything she's kept guarded. Because the man standing in her way threatens not only her goal but the walls she's carefully constructed around her heart.
Keats McCall is an environmental preservationist navigating the globe on behalf of heritage protection. When he catches Lucy at his latest project, he suspects she's up to no good. She's secretive, sexy as hell–and has trouble written all over her. He devises a plan to keep her close so he can watch her. But what he isn't prepared for is just how close he wants to get.
His Million-Dollar Risk
Determined to make his latest preservation project on Route 66 a success, Connor Gibson will take any good press he can get–even if it means spending a week with a reporter. And even if it's one from a publication he has good reason to hate. Connor certainly isn't expecting a spontaneous and undeniably attractive blonde who makes him seriously hot for the press...
Charlize Beckett is in deeeep trouble. This is her one chance to prove to her publisher dad that she's a serious journalist, even if she has to pretend she's someone else. Worse, is trying to maintain any objectivity with the way too charming Connor. She can't help but get into all kinds of sexy trouble with him. But by going off the record, Charlie is putting both her reputation and her heart on the line...
One Night of Risk
It's good girl Malia Davis's turn to be bad. Very bad. Malia has returned to Kauai to retrieve a piece of crystal her sick mother believes has healing properties. Malia thinks her only problem is accessing the "closed to the public" temple where the crystal is buried. She's wrong. She has an even bigger problem—the guy who broke her heart ten years ago. The guy she hates...and still wants oh-so-badly.
A former Navy SEAL, security expert Clay Doherty is investigating the thefts at the temple. Malia's presence and the undeniable chemistry between them complicate matters. Certain that Malia is up to something, Clay will do whatever it takes to protect her...even if it means losing her for good.
Comments
No comments posted.

Registered users may leave comments.
Log in or register now!