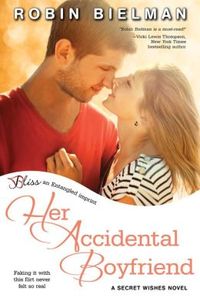 Purchase
Faking it with this flirt never felt so real.
Secret Wishes
Entangled
October 2013
On Sale: October 14, 2013
Featuring: Shane Sullivan; Kagan Owens
ISBN: 1622661656
EAN: 9781622661657
Kindle: B00FCR3IV4
e-Book
Add to Wish List

Kagan Owens has a secret. One she thought she'd escaped by leaving New York, but when her past follows her to her temporary new life, Kagan lets a teeny lie slip. And now the town's biggest playboy and flirt, Shane Sullivan, has become her pretend boyfriend--just until she's ready to return to NYC. But the handsome, fun-loving Shane makes it tough to determine where their friendly agreement begins and ends...
Shane has no intention of settling down--in fact, his job depends on it, and nothing's more important than his work. Still, he can't help but agree to Kagan's scheme, if only to find out more about the mysterious beauty. But when every touch from her sets his heart and body on fire, he realizes playing an accidental boyfriend may be more than he bargained for--and more than he can give.
Comments
43 comments posted.
what a great and romantic story Robin! you write wonderful stories but you live them too! I have on accidentally seen one author named Robin Bielman in a blog and said why don't I try her book and I am so happy about it! instant love with you and your books and accidental boyfriend is fantastic. xoxo
(Elena k 3:01am October 14, 2013)
How lovely for you! Wonderful story of your accidental
boyfriend that turned into a love of your life!
(Barbara Wells 8:02am October 14, 2013)
This looks like a book I'd love to read. Thanks so much for the great giveaway!!
(Bonnie Capuano 8:34am October 14, 2013)
Actually I had something wonderful happen to me quite a while ago. A dear friend of mine was out with his Wife, when he ran into someone who I had been holding a torch for, so to speak, for a long time. He had asked them about me, and asked for my phone number. After getting my permission, he gave it to him, and he called me. We finally saw each other after not seeing each other for years, and ended up getting married. We've now been married for over 30 years!! Things have a way of happening, and happen for a reason. He never knew that I carried a torch all of these years. We just went our separate ways, and lived our lives, giving ourselves a chance to grow and experience life in ways that rounded ourselves as people to make our union interesting. I look forward to reading your book very much. I'm sure I'll see a little bit of myself in it.
(Peggy Roberson 9:14am October 14, 2013)
I had dated a guy for 1 1/2 yrs. It was the middle of 11th grade and we broke up. I decided I needed a break...no more boyfriends, just hanging with girlfriends. Well 2 months later I met the guy who swept me off my feet and married him 7 years later. We have been married for 24 years now!
(Sue Galuska 9:39am October 14, 2013)
I've never had the luck for the accidental boyfriend. But I love your story. Sounds great.
(Pam Howell 10:50am October 14, 2013)
What a wonderful adventure... & book! Can't wait to read it!
(Maria Proctor 10:54am October 14, 2013)
I LOVE this story - can't think of any accidentally wonderful things happen to me in my life - yet - but there is still time! :-)
(Felicia Ciaudelli 11:32am October 14, 2013)
No accidental boyfriends...yet.
(Beth Elder 11:37am October 14, 2013)
can't wait to see where this relationship goes!
(Tamara Chaffins 12:24pm October 14, 2013)
I enjoyed reading your post! As for me, at this moment I can not think of any great "accidents"...
(Colleen Conklin 2:02pm October 14, 2013)
i love teh post the book sounds so good really cant wait to
read the book
(Denise Smith 2:04pm October 14, 2013)
sounds great can't think of a great accident
(Patricia Lambert 2:48pm October 14, 2013)
Nothing wonderful happens to me, accidentally or otherwise. The book looks interesting. Thank you for the opportunity.
(Vicky Shirey 3:00pm October 14, 2013)
No accidental boyfriends here.
(Sue Farrell 3:34pm October 14, 2013)
I've never had an accidental boyfriend, but am looking forward to reading your book.
(Carol Woodruff 4:03pm October 14, 2013)
What a great story Robin! I don't have a story, but I'll
share how my parents met. My dad was forced to go a family
friend's birthday party for their daughter because his
parents couldn't go. My mom was in town visiting and went
to the same party with her cousin who knew the girl. My mom
caught my dad's eye as well as his friend's. My dad made a
bet with his friend-who ever got her to dance first would
win $100 & the loser drink a pitcher of beer. His friend
goes up first but my mom says no, not because she wasn't
interested-she didn't speak English at the time. So friend
told my dad she was stuck up and not to bother. My dad goes
up and she explains she doesn't know English and he asks her
in Spanish. They've been married for 34 years & every
weekend they have dates.
(Jessica DeLuna 4:35pm October 14, 2013)
@Elena K Aww, thank you so much! I'm so happy you gave my books a try!
You're a very special reader to me! *hugs*

@Barbara Wells Thank so much for stopping by here today, Barbara! Yes, he
did turn out to be the love of my life! I'm very lucky.

@Peggy Roberson Oh, I love your story, Peggy! Wishing you many, many more
years of happiness!
(Robin Bielman 5:32pm October 14, 2013)
@Sue Galuska Hi Sue! Love hearing that you got swept off your feet when you
least expected it!

@Pam Howell Aww, thanks Pam!

@Maria Proctor Hi Maria! Thank you! I hope you enjoy it!

@Felicia Ciaudelli You bet there's still time, Felicia! And I hope something
wonderful happens when you least expect it!
(Robin Bielman 5:36pm October 14, 2013)
@Beth Elder My fingers are crossed for you that a happy accidents happens
soon! ;)

@Tamara Chaffins Thanks Tamara!

@Colleen Conklin Thank you, Colleen. I'm glad you liked it! Here's to a happy
accident for you, too!

@Denise Smith Thanks so much, Denise!
(Robin Bielman 5:39pm October 14, 2013)
@Patricia Lambert Thanks for stopping by!

@Vicky Shirey Thank you for visiting me here today! Hey, maybe you'll win the
giveaway. :)

@Sue Farrell I think that means all your boyfriends have been intentional and
that's awesome, too!

@Carol Woodruff You can have Shane for a little while. :) Happy reading! And
thank you for being here!

@Jessica DeLuna Jessica! That is the most wonderful story! I love it! Thank you
for sharing it and best wishes to your mom and dad!
(Robin Bielman 5:45pm October 14, 2013)
Something did happen to me out of the blue. I entered a contest and didn't expected to win a performance and free lunch for my office. But I did. The aftermath of winning the free lunch and a performance by a band is another story which will be told another day.
(Kai Wong 5:50pm October 14, 2013)
I loved your story, Robin. Unfortunately, I'm still waiting for something accidentally wonderful to happen to me. *fingers crossed*
(Marcy Shuler 6:12pm October 14, 2013)
I can't think of anything accidentally wonderful that has happened to me,
but I love the premise of your story! Thanks for the chance to win!!!
(Linda Brennan 6:26pm October 14, 2013)
@Kai Wong LOL, Come on, you can't leave me hanging like that. I'm glad you won
something! That's always so fun.

@Marcelyn Shuler My fingers are crossed for you too, Marcelyn!
(Robin Bielman 6:28pm October 14, 2013)
Awww, such a sweet personal story! I can't think of any accidental event
happening to me, but you never know what the future holds.
(Marsha Saenz-Jones 7:06pm October 14, 2013)
@L Lam I like once in a while!

@Marsha Saenz-Jones That's right, Marsha, you never know! I wish all you guys
could come back in say a year and let me know if any wonderful accidents
occurred!
(Robin Bielman 7:54pm October 14, 2013)
My husband worked for my company, but I only knew him by
sight. I was introduced to him at happy hour, but he was
talking to someone else. The next day, I saw him at the gym!
He sat next to me on the bike & the rest is history!
(Sharlene Wegner 8:15pm October 14, 2013)
Sounds like a great book.
(Rhonda Brittingham 8:45pm October 14, 2013)
I'm not sure. I am sure a lot of accidents turned out good in the end, but for some reason, I can't seem to think of one right now. Book sounds great!
(Sally Hannoush 8:52pm October 14, 2013)
I was recovering from surgery and had entered an online fabric contest and I won! It was such a nice pick me up to receive in the mail. My brother liked this one girl in the company he was interning with curing college; he ended up getting married to her friend who was also interning at the same company.
(Laura Gullickson 9:03pm October 14, 2013)
I met my future husband purely by accident since the girl I was visiting liked
him. Sparks flew between and thirty eight married years later that love is
still strong.
(Melanie Backus 9:29pm October 14, 2013)
@Sharlene Wegner Oh, it was meant to be, Sharlene! Love that story!

@Rhonda Brittingham Thank you, Rhonda!

@Sally Hannoush Thank you! And I'm so happy to hear about your happy
endings. :)

@Laura Gullickson Yay on winning the contest! I'm glad that happened when it
did. Love hearing stories about people who liked one person and then fell for
their friend!

@Melanie Backus Oh, Melanie, congratulations on a long and happy marriage!!
I love that. Wishing you lots more sparks!
(Robin Bielman 9:57pm October 14, 2013)
Wow, Congrats on your new book: HER ACCIDENTAL BOYFRIEND. I
love the book cover too! This book sounds like a fantastic
love story to read and enjoy this Fall. Thank You very much.
Cecilia CECE
(Cecilia Dunbar Hernandez 10:26pm October 14, 2013)
I love the happy endings and feeling good after spending a duration reading, this sounds fun!
(Darci Paice 11:28pm October 14, 2013)
@Cecilia Dunbar Hernandez Thank you Cecilia! I'm in love my cover, too! If you
read Shane and Kagan's story, I hope you'll let me know what you thought!

@Darci Paice-Bailey I'm all about the HEA, Darci! Both in my writing and reading!
Thanks for stopping by!
(Robin Bielman 11:51pm October 14, 2013)
I met a wonderful man at a party my brother had. It was completely unexpected and we are still friends today.
(Rhonda Brittingham 9:26am October 15, 2013)
It certainly has.... I introduced my girlfriend to one of my male friends, and she introduced me to one of her male friends, and six months into our relationship, I found out I was good friends with list last girlfriend... and she had nothing but nice things to say about him (they just weren't a good match). Luckily, we are a great match, and have been together for nearly 14 years now (married for nearly 9 of those years).
(Donna Holmberg 11:27pm October 15, 2013)
No accidental boyfriends - but love the sound of it.
(Mary Preston 7:18am October 16, 2013)
I once had an accidental boyfriend-loved that guy! I know what it is like and
will have to read the book to see if you wrote it similar to what i experienced.
(Joy Isley 1:06pm October 16, 2013)
I'm sure it has, but I can't remember one right now (getting
tired, it's late and I'm not used to all these parties -
Rachel's last night and Bliss' tonight) Thanks for the
contest!
(Linda Townsend 10:09pm October 16, 2013)
@Rhonda Brittingham Love that you made a lasting friendship, Rhonda!

@Donna Holmberg It was meant to be! And funny how small the world is
sometimes, isn't it?

@Mary Preston Here's to a happy accident coming your way. :)

@Joy Isley Thank you! I'd love if you read it and then let me know if was
similar, okay?

@Linda Townsend Hi Linda! Thanks for stopping by here - and the Bliss party!
It was great meeting you!
(Robin Bielman 11:24pm October 17, 2013)
My kids have surprised me at times, but it wasn't an accident.
Well, it was more of a plan rather than something that
happened by chance.
(Alyson Widen 6:39pm October 31, 2013)
Registered users may leave comments.
Log in or register now!