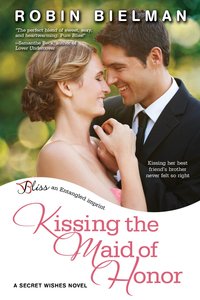 Purchase
Kissing her best friend's brother never felt so right...
Secret Wishes #1
Entangled Bliss
May 2013
On Sale: May 13, 2013
Featuring: Luke Watters; Sela Sullivan
173 pages
ISBN: 1622660889
EAN: 9781622660889
Kindle: B00CK52XB2
e-Book
Add to Wish List

Other Editions
Hardcover (May 2013), Hardcover (May 2013)
Kissing her best friend's brother never felt so right...
Sela Sullivan is resolved to be the best maid of honor ever, even if it means tolerating the best man. Insufferable, too–handsome Luke Watters is not only the guy who humiliated her at a kissing booth in high school, but he also happens to be her best friend's older brother. Positive he's the same arrogant jock, Sela vows to focus on her duties and steer clear of the frustrating—and frustratingly tempting—Luke.
As a world–renowned extreme–sports photographer, Luke is used to undertaking life–risking adventures. But risking his heart for the beautiful Sela Sullivan, who clearly still hates him for his rejection all those years ago? He didn't see that coming. Sela inspires a passion he's never known, and the more time they spend together, the more he craves her. But can he prove to the maid of honor he's become a man of honor?
Comments
46 comments posted.
I would love to find mark Harmon in a kissing booth. Anything he's in is
worth watching. Sexy, great sense of humor and that smile-- be still my
heart
(Debbie Rudder 9:56am May 22, 2013)
Hugh Jackman for sure! He's cute!
(May Pau 9:56am May 22, 2013)
I would be willing to pay any kissing booth amount for Robert
Downey Jr in the booth :O)
(Carin Walker 9:59am May 22, 2013)
Hi Debbie! Oh, I love Mark Harmon! And actually, I've met him. :) Back in
college I did an internship at Entertainment Tonight and got to go to an
interview with him. He is so handsome and so, so nice!

Hi May! Love Hugh, too! Not only is he cute, but he seems like a genuinely
good guy.

Hi Carin! LOL Robert Downey Jr. is pretty awesome all around, isn't he?

Thanks for sharing your fantasy guys, ladies!
(Robin Bielman 10:23am May 22, 2013)
My husband of 50 years will do just fine!
Blessings,
Marjorie
(Marjorie Carmony 10:32am May 22, 2013)
Hugh Jackman
(Patricia Wagner 11:16am May 22, 2013)
I enjoyed your choices to kiss. Know what you mean about Tyler from Private Practice.
Personally, kissing is such an intimate experience for me, I really wouldn't want to be in a kissing booth, because kissing everyone isn't fun.
However, I would like to stare up close and personal at a whole list of gorgeous men. I'd like to gaze into Paul Walker's eyes, because they are a work of art!
(Lynne Marshall 11:35am May 22, 2013)
there are alot of guys i would like to find and kiss brad pitt
when he was younger,a korean actor names hyun bin, also
another korean actor named ji sung
(Denise Smith 11:43am May 22, 2013)
My husband of almost 50 years is fine with me as a kissing partner, like Marjorie's husband is to her, but if George Clooney came along and would accept an older woman, I know that would be okay with me for sure. :)
(Cynthia Blain 12:01pm May 22, 2013)
Love my hubby but should I happen upon Bradley Cooper, Anson
Mount, or Sam Elliott in a kissing booth- I'm afraid I'd be
apt for a smooch with them
(Amanda Ray 12:20pm May 22, 2013)
So many great choices... I will say Stephen Amell.
(Colleen Conklin 12:25pm May 22, 2013)
I'd definitely line up for Luke Watters, played by Josh Duhamel! (Adult Luke, that is...not high school Luke). :)
(Samanthe Tucker 12:56pm May 22, 2013)
Hi Marjorie! Congratulations on 50 years! That is wonderful and I wish you
both many, many more.
(Robin Bielman 12:58pm May 22, 2013)
Hi Patricia! Looks like you'll have to share Hugh with May, but I don't think
he'll mind.

Hey Lynne! Ah, gazing into Paul's eyes would be pretty darn blissful.

Hi Denise! So I just googled Hyun and Ji and they are so cute! Brad's not too
bad either.
(Robin Bielman 1:02pm May 22, 2013)
First of all I loved Kissing the Maid of Honor! It made me laugh and cry, and
that's a good book to me!
I would love to line up to kiss Henry Cavill (sp.?.) from the Tudors, and the
new Superman.
(Pat Fordyce 1:06pm May 22, 2013)
Hi Cynthia! Congratulations to you, too, on almost 50 years! Best wishes on
your big day! I love that you said if George Clooney happened to come
along... LOL Cynthia, I think your hubby is a very lucky man.

Hey Amanda! I love your threesome. And love that you'd be inclined to kiss
them. I know what you mean. ;)

Hi Colleen! Oh, the Arrow guy! Yep, he's pretty kissable!
(Robin Bielman 1:07pm May 22, 2013)
Hey Samanthe! Aww, love your choice!

Hi Pat! Thank you so much! That's such a wonderful compliment and I'm
thrilled you loved Luke and Sela's story! Yep, you spelled Henry's name right -
and omg is he cute! I have to see Superman just because of him.

I am so enjoying everyone's picks! Thank you all for stopping by!
(Robin Bielman 1:13pm May 22, 2013)
Hugh Jackman is my favorite!
(Monica Vargo 1:32pm May 22, 2013)
Ryan Reynolds
(Sharlene Wegner 2:16pm May 22, 2013)
So many choices...
(Laura Gullickson 2:50pm May 22, 2013)
So many to choose from Robin, but I'll be boring and say my hubby in the kissing booth. Although, appealing guys to me are Hugh Jackman and Josh Duhamel. I'm really enjoying Kissing the Maid of Honor!!
(Charlene Sands 3:15pm May 22, 2013)
Too many choices!
(Marina Buffoleno 3:29pm May 22, 2013)
Sam Elliot. Wouldn't even have to kiss him, just have him whisper sweet
nothing's. His voice is sooo sexy.
(Susan Falkler 3:37pm May 22, 2013)
george clooney here! thanks
(Debbi Shaw 4:19pm May 22, 2013)
Any muscular military man will do just fine. And my hubby. LOL
(Marcy Shuler 4:50pm May 22, 2013)
Sounds like lovely fun!
(Irene Menge 4:57pm May 22, 2013)
I haven't read any of your books.... yet! They sound good
tho!! I don't even need a kissing booth (cause I got a great
husband) but.. a let me just look at you booth..well that
would be great LOL!
(Mya Bainbridge 6:53pm May 22, 2013)
Hey everyone! Your kissing booths rock. Thanks so much for playing along!

Charlene, I'm so happy you're enjoying Kissing the Maid of Honor! Thank you
for reading it!

Hi Mya! I like the way you think. I hope you enjoy them. And my booth is your
booth. :)
(Robin Bielman 7:30pm May 22, 2013)
I'm guilty. I was in a kissing booth, ostensibly to raise
money for the Frosh class at my University. It was okay with
most of the guys ( a nice peck), but I have to say that when
one of the Jesuits puckered up he tasted of tobacco---yuck
(besides be most un-priestly in his kiss)

Dream guy to kiss? I think I am with the gals who claim it
as an intimate act saved for someone with whom you have
established some intimacy. Now in my dreams, it might be a
different story...lol.

Great post Robin! Rah, rah---"Kissing the Maid Of Honor" !!
(Christine London 7:53pm May 22, 2013)
that would be robert refold he great actor and does great movies that book seen it on authors site and then i love to read and blog on it
(Desiree Reilly 9:19pm May 22, 2013)
I have never been to a kissing booth. But I have a few dream guys. My two faves would be Brad Pitt or Johnny Depp
(Tiffany Gronn 10:03pm May 22, 2013)
Wow, Congrats on your new book: KISSING THE MAID OF HONOR. I
would love being stuck in a kissing booth with my husband
Jesus since we have been married and if I was still single I
would love to be stuck in a kissing booth with the actor
Jan-Michael Vincent that I always loved watching on the show
Airwolf back in 1984 for a few years. What a hunk. Hee Hee!
Thanks, Cecilia CECE
(Cecilia Dunbar Hernandez 10:33pm May 22, 2013)
My husband Chris - of 27 years! Thanks.
(Dianne McVetty 11:55pm May 22, 2013)
Oh my! You want me to pick/name just ONE guy to kiss?? I would have to say Mark Harmon, as long as Pam Dawber wasn't watching. ;)
(Kathleen Giannone 11:58pm May 22, 2013)
I want a guy, that is kind, thoughtful ,loving, generous and treats me like he never sees another woman so it couldn't be a celebrity it would be a man on the street kind of guy.I am a widow and would love someone like my late husband, except he would carry these qualities.
(Agatha Townsend 3:14pm May 23, 2013)
Not in a kissing booth, but I'd love to kiss Mark Harmon,
Sam Elliott or George Clooney.
(Carol Woodruff 6:30pm May 23, 2013)
Hamish MacBeth, from MC Beaton's mystery series - for days after I've read another one I hear his Highland accent in my dreams!
(Beth Fuller 10:04pm May 23, 2013)
I haven't every experienced a kissing booth either; but I can invision one.
(Gladys Paradowski 10:54pm May 23, 2013)
It would be Chris Hemworth from Thor or Daniel Craig (love him as James Bond).
(Kai Wong 11:18pm May 23, 2013)
GEORGE CLOONEY!
(Shelley Summers 4:53pm May 24, 2013)
Tom Selleck, Sam Elliott, Mark Harmon, Nathan Fillion, Jason O'Mara.
That's just for starters. :) Greedy aren't I?
(Penny Mettert 10:32pm May 24, 2013)
Oh. How could I forget George Clooney? Or Chris O'Donnell? I should
have read the comments first. :)
(Penny Mettert 10:37pm May 24, 2013)
I'm inspired with the surpassing and preachy listing that you furnish in such little timing.
TrueLocal
(David James 7:55am September 28, 2014)
Great data on your website, thank you for setting aside an ideal opportunity to impart to us. Stunning knowledge you have on this present, it's pleasant to discover a site that points of interest such a great amount of data about distinctive specialists. Steven Wyer
(Jason Statham 4:57pm April 5, 2016)
Wasp dudes! Awesome stuff keep it up. cccam server
(Jason Statham 11:09am May 11, 2016)
The data you have posted is exceptionally valuable. The locales you have alluded was great. A debt of gratitude is in order for sharing.. columbus seo service provider company
(Jason Statham 6:30am July 20, 2016)
Registered users may leave comments.
Log in or register now!