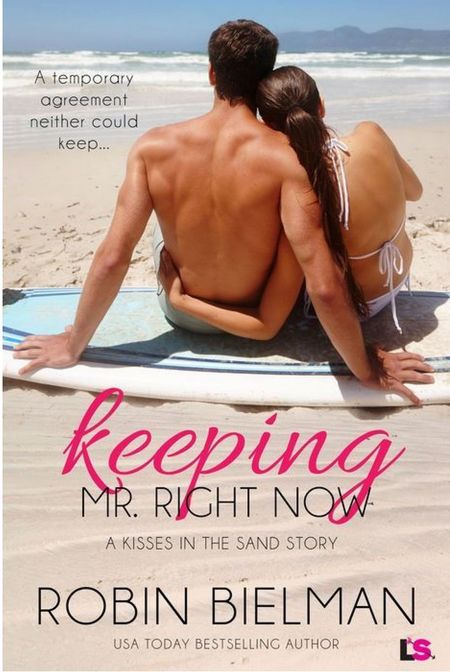 Purchase
Kisses in the Sand
Entangled Bliss
August 2014
On Sale: August 18, 2014
Featuring: Sophie Birch; Zane Hollander
ISBN: 1633750566
EAN: 9781633750562
Kindle: B00M65AWEG
e-Book
Add to Wish List

A temporary agreement neither could keep…
Brainy, organized Sophie Birch is no beach bunny. In fact, she's totally out of her element among the sun-bronzed crowd at a film festival in beautiful White Strand Cove. When a surf lesson introduces her to Zane Hollander, suddenly she's up close and personal with the world's sexiest surf star. But what can a great-looking, experienced athlete possibly see in a klutzy out-of-towner who's never set foot in the ocean?
Zane Hollander's playboy reputation has never been a problem…until recently. Now his management team wants him on his best behavior to entice a meaningful new sponsor. Sophie Birch is the perfect girl to help reform his image. She's genuine and respected—and their relationship is purely fictional. But the more Sophie blooms under the beachy sun, the more Zane knows he'll just break her heart. Because nothing's more important to Zane than following the tide.
Kisses in the Sand
Comments
11 comments posted.
chris hemsworth!he would be a beautiful zane too! this was a
really nice post robin! it is so difficult to overcome our
fears but our family and friends are always there to support
us and give us a boost of cofidence.
(Elena k 10:17am August 19, 2014)
My pick, off the top of my head, considering the fact that I
really don't watch many movies, would have to be Robert
Downey Jr.!! That doesn't mean that we would get much
surfing in, but I'd be all for rolling around on the sand,
or just strolling along the beach with him!! I really
enjoyed your posting today, and found it to be insightful,
and the type of posting that makes you stop and think a
little bit. I'm looking forward to reading your book, and
am sure I'll find it to be an excellent read. Thank you
again for a great posting!!
(Peggy Roberson 10:49am August 19, 2014)
Chris Pine, the actor! Hunky with humor, the best kind of instructor for ANYTHING!! He just HAS to have humor to teach anything...
(Shirley Bennett 11:18am August 19, 2014)
The unknowns are big for me... sometimes it takes me awhile to work myself up to doing something new... who would I choose... maybe Chris Evans... have Captain America help me...
(Colleen Conklin 2:12pm August 19, 2014)
Colin Firth
(Patricia Wagner 12:11pm August 20, 2014)
Sean Astin is a cutie.
Marilyn Collins
(Marilyn Collins 4:47pm August 20, 2014)
Someone qualified to teach me! A handsome actor sounds ok, but
I'd rather have someone who knows what they're doing.
(Jen Barnard 2:01am August 21, 2014)
I would pick Chris Hemsworth. I think he is just so adorable and so ripped!! HA
(Bonnie Capuano 11:21am August 21, 2014)
Does John Stamos know how to surf? He would be my first
choice!
(Maria Proctor 11:35am August 21, 2014)
chris hemsworth. it might make it worth all the embarrassment of falling off. I have no athletic ability at all.
(Angela Parrish 12:25pm August 21, 2014)
George Clooney!
(Denise Austin 3:25pm August 21, 2014)
Registered users may leave comments.
Log in or register now!