Author News
Fresh News from Authors
Tara Taylor Quinn | Fate and Joy
GIVEAWAY: $10 Amazon Gift Card

August 10, 2016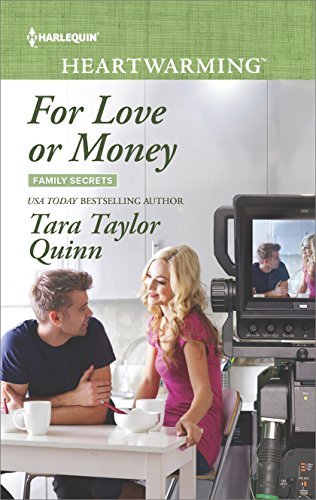 For Love or Money
Tara Taylor Quinn
AVAILABLE
Family Secrets #1

August 2016
On Sale: August 1, 2016
Featuring: Dr. Burke Carter; Janie Young
384 pages
ISBN: 0373367996
EAN: 9780373367993
Kindle: B01C2M213M
e-Book
Add to Wish List

Also by Tara Taylor Quinn:
Falling for You:, October 2017
For Joy's Sake, August 2017
Her Secret Life, March 2017
Her Soldier's Baby, November 2016

I'm a huge believer in fate. When we don't know what's ahead, or can't see how things work, we can trust that Fate is there, stepping in, even if we don't know she's there! I've seen evidence of this so many times in my life. So much so that I've learned to trust. To be comforted, rather than frightened, when Fate takes a hand.
Take, for instance, the year I was invited to take part in a Harlequin anthology celebrating older heroines. This was twelve years ago. I'd been asked to contribute a novella to the anthology. I could write any story I wanted to write – as long as the heroine had a late in life pregnancy.
Of course, I happily accepted! Within a week, I'd had a call from my brother, who'd already had his fortieth birthday, telling me that he and his wife, his same age, had just found out that they were expecting a child. They'd taken measures, physical measures, to have no more children. This child was truly a miracle.
I set out to write my story with joy in my heart.
I started researching immediately. And found that one of the big scares for women giving birth after forty, was having a baby with Down Syndrome. Because of the way a women's body works, eggs breaking down, the risk of have a child with Down Syndrome increases noticeably after age forty.
So, my heroine had a reason to be afraid. That's all I needed. I moved on.
And a week later, received a call from my brother telling me that he and his wife had come from a test that showed that their unborn child had Down Syndrome. He was crying. Absolutely devastated. I cried for him. Hurt for him. But in my heart…I felt sad for him. Not for the child. I'd read about the joy people with Down Syndrome bring to the world. They have challenges, some more than others, but something about genetic being makes them prone to joy. I couldn't wait to meet this very very special miracle child.
Our little guy celebrated his eleventh birthday this summer. He is more joy than I'd even imagined he'd be. He has his challenges. If I could wish them away I would. But I would never, ever wish him away. He is perennial joy. Just being in the room with him, watching him, makes me happy. When I hear his voice on the phone, or get a picture, I just smile. Every time. Our boy is truly that special miracle I'd known he would be. He adores his father. And his father adores him, too.
My nephew was the inspiration for my August release, FOR LOVE OR MONEY. I'd share a picture with you because he's handsome and adorable, but I have a thing about putting my little one's pictures on the internet. You'll just have to trust me. But you can read about Dawson, a four-year-old special spirit who brings joy to those around him. You'll get a slice of the joy my boy brought to my heart. From him through me, to you. In FOR LOVE OR MONEY.
GIVEAWAY
Win a $10 Amazon gift card, just leave a comment below. What brings you joy?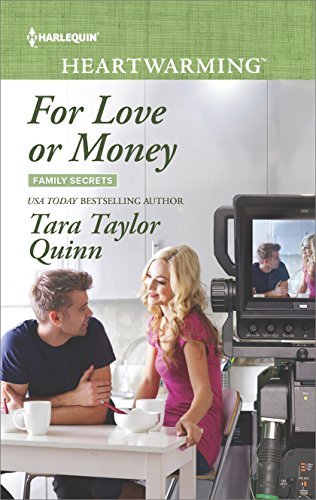 She can't afford to lose this or him
There's no way that struggling single mom Janie Young is going to lose Family Secrets. Not even to Dr. Burke Carter. The prize money and media exposure from the cooking-competition show will secure the future for her and her son, who has special needs. Sure, Burke is a talented chef with his own reasons to win, but he already has so much: wealth, a beautiful daughter, great looks and definitely her attention. As their families become closer, Janie is beginning to care too much about him. But she can't afford to get involved. Not when everything is riding on beating him.
Romance Contemporary [Harlequin Heartwarming, On Sale: August 1, 2016, e-Book, ISBN: 9780373367993 / eISBN: 9781488009167]
Comments
28 comments posted.
Re: Tara Taylor Quinn | Fate and Joy

All six of my grandchildren bring me joy . All are so different in their own special ways from 21 years to 5 years . I love having a ' special ' day with a one on one taking them shopping an going out to eat at their favorite place . It doesn't take much to see a big smile on their face and the things they can tell you are so amazing . I love each one so very much and can't imagine them not in my life . They are my Life .
(Joan Thrasher 9:14am August 10, 2016)
My husband and our daughter. Also the rest of my family. And
things like reading and oil painting also bring me joy. =)
(Britney Vasquez 10:39am August 10, 2016)
My little brother brings me so much joy. I love him so much
and I can't live without him. I cared for him since he was a
little baby and it made me attached to him. When he smile he
light up my whole world.
(Evelyn Nathalia 10:44am August 10, 2016)
My children and my grandson bring me great joy.
(Robbie Bauldree 1:17pm August 10, 2016)
My family, including the four legged ones, and unexpected
kindness from strangers.
(Kathleen Bylsma 7:35pm August 10, 2016)
In the past, my ex-girlfriend and our four-legged "children".
Today, the fact that I can help others brings me joy.
(Edward Washington 10:53pm August 10, 2016)
My Family, my work, and reading bring me joy.
(G. Bisbjerg 12:10pm August 11, 2016)
My family, friends, and my relationship with God all bring me joy.
(Cheryl Castings 12:16pm August 11, 2016)
My grandkids, my dog and living in a great climate.
(Jackie Wisherd 2:01pm August 11, 2016)
For the past 17 years, I had worked as an elementary
school librarian in the inner city. I worked for hugs.
But I must confess, every year, I had someone who made the
break though and took me with them. The third grader who
came to me and said that she needed something longer,
because the beginning chapter books didn't last until her
next visit to the library. Once she checked out her first
LONG book, she came back the following week, proudly
proclaiming that she'd finished the whole thing and it was
just crazy! The fifth grader who heard a friend rave
about a book only to try it out and become a reader... I
lived for those moments. And I will miss them!
(Marcia Berbeza 12:55pm August 12, 2016)
Reading romance stories, my 4 children , my 3 grandchildren, watching beautiful sunsets, taking walks with my husband, listening to music,eating ice cream especially with Denali fudge and eating M&M's!
(Laurie Gommermann 8:04am August 12, 2016)
Joy comes from my wonderful dog, he's a Great Pyrenees, who is such a gentle and loving soul, a true gentle giant.
(Sally Lincoln 4:57pm August 12, 2016)
Reading and loving up on my dog. However, today my niece
called to ask me out to lunch. And unexpected and joyous
surprise!
(Christy Comstock 2:20am August 14, 2016)
What brings me joy? First is always my faith, then my husband and family. Our grandchildren are so wonderful and they make our lives come alive! We are truly blessed!!
(Bonnie Capuano 9:37am August 14, 2016)
Reading your books always bring me joy, some tears, heartbreak
& then leave me on the edge of my seat. My family also brings
me lots of joy My teen son, who always makes me laugh, my teen
daughter who is my best friend & then our 5 month old preemie
son who I wish would NEVER grow up & just stay this age with
the slobbery kisses & looking at the world through his most
innocent eyes. Thanks for the amazing chance!
(Chrissy McPherson 11:40am August 14, 2016)
My family, a beautiful sunny day, my cat Smokey, and reading an interesting book are some of the things that bring me joy. Sometimes JOY unexpectedly appears out of nowhere.
(Anna Speed 2:02pm August 14, 2016)
My brother has special needs and the kind of joy he brings our family is limitless!
(Dianne McVetty 2:04pm August 14, 2016)
Petting cats & dogs brings me joy!
Thanks for the giveaway!
(Joanne Schultz 2:50pm August 14, 2016)
I'm a mom - of course it's my kids that bring me joy!
(Barbara Wright 3:01pm August 14, 2016)
What brings me joy is my grandchildren.
(Gloria Walshver 3:15pm August 14, 2016)
Sharing nature with my family brings me joy.
(Irene Menge 4:16pm August 14, 2016)
Whenever I think of my grandchildren, I think of and then start
sing "You are my Sunshine". They bring me such joy. I tried to
instill in my children, we all are not going to be good at the
same thing, but that is what makes us special. We are all unique
in our talents and gifts.
(Nancy Luebke 4:42pm August 14, 2016)
Music brings me joy.
(Deb Philippon 4:44pm August 14, 2016)
My husband brings me joy. He's loved me unconditionally for over 30 years. He's been a real blessing in my life.
(Nancy Marcho 4:53pm August 14, 2016)
My family & nature.
(Shawn Hogan 7:59pm August 14, 2016)
Seeing the happiness of other family members in their daily
lives gives me joy.
(Kathleen Bylsma 8:10pm August 14, 2016)
I like good book to read and being with friends and family.
(Deb Pelletier 8:38pm August 14, 2016)
My puppies coming to meet me after a long day at work
brings joy into my day.
(Mary Lynn Hayes 9:24pm August 14, 2016)
Registered users may leave comments.
Log in or register now!