Jane Godman | Yours in Anticipation....

September 16, 2015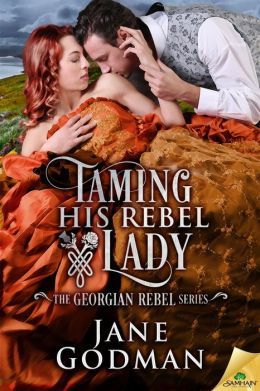 Taming His Rebel Lady
Jane Godman
AVAILABLE
Georgian Rebel #2

September 2015
On Sale: September 15, 2015
Featuring: Iona Cameron; Edwin Roxburgh
ISBN: 1619229897
EAN: 9781619229891
Kindle: B00WYTF4SI
e-Book
Add to Wish List

Also by Jane Godman:
Family Under Fire, December 2019
Colton 911: Family Under Fire, December 2019
Colton's Secret Bodyguard, April 2019
Colton and the Single Mom, April 2018

In the newly released second book of the Georgian Rebel series, TAMING HIS REBEL LADY, newly wed Lady Iona Roxburgh is faced with a difficult dilemma'Ķ How to seduce her husband! Having tried taking matters into her own hands (with disastrous and sometimes comical results), I picture her turning in desperation to the 18th century equivalent of an advice columnist or, as we call them in here the UK, an 'Äėagony aunt'Äô.
Dear Madame M______,
I recently married for the second time. The circumstances were somewhat unusual and I will not bore you with the details. My problem is a delicate one. Although I have been married before, I am seeking your advice in matters of the bedchamber. I was very young when I wed my first husband and he was an older gentleman, who initiated me into the ways of sexual intercourse. Although I never enjoyed it very much (I found all that grunting and panting most unpleasant) it was over with quickly and it didn't happen very often.
When I told my new husband, who is only a few years older than I, that I knew my duty, he laughed and called me foolish. On our wedding night, when I lifted my nightgown and offered to use my hand to make him hard (the way I used to with my first husband) he said he preferred romance and told me to go to sleep. Since then we have slept in separate rooms.
You may wonder what my problem is, since many women of my acquaintance would be delighted at this arrangement! Initially, I was quite relieved that I would not have to perform my wifely duties, but now I find myself increasingly attracted to my husband. He is certainly the most handsome man I have ever seen. Indeed, whenever I am near him, my heart races quite uncontrollably and I get the strangest feelings. My sister-in-law, Martha, tells me it is called 'Äėdesire'Äô and that it is as natural as breathing. She bemoans the fact that my brother, Fraser, raised me almost as a boy and that, as a result, I have no notion of how to flirt. Between us, Martha and I concocted a plan for how I could seduce my husband, but it all went horribly wrong.
The thing is, I believe he may be attracted to me in return. I see a look in his eyes now and then that makes me shiver. It leads me to imagine that the marriage bed with my second husband would be a very different place to the one it was with my first…
So my question, Madame M______, is a simple one. Please tell me how can I discover if my husband is attracted to me, and, if he is, how can I tempt him into my bed?

Yours, in anticipation,
Lady Iona Roxburgh
GIVEAWAY
What's your advice for Lady Iona? Leave a comment below and be entered for a chance to win a e-copy of TAMING HIS REBEL LADY. Three winners will be chosen at random, international entries are accepted.
Jane Godman writes in a variety of genre. Many of her stories are heavily tinged with the supernatural and elements of horror, with haunted characters tormented by dark secrets.
The Jago Legacy Series, her gothic romances, are love stories with a dash of horror and a creepily ever after. Her dark erotic romantic suspense books, The Cunning Prophet Series feature supernatural elements and a charismatic, obsessive villain. Jane also writes steamy historical romance for Samhain Publishing and is working on a three book series for Harlequin in their Nocturne (paranormal) line. Oh, and let's not forget the Young Adult horror novella she has coming out later in the year with MuseItUp Publishing!
Website | Facebook | Twitter | Goodreads | Blog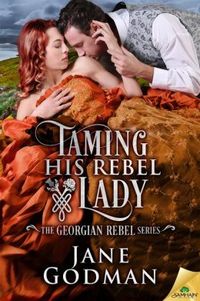 Can the heat of passion burn too bright?
In the six months since the Jacobites met defeat at Culloden, the English have ruthlessly routed the remaining rebels. Now Sir Edwin Roxburgh rides to claim Cameron House, his reward for his loyalty to the king.
His welcome comes at the point of a sword. It'Äôs only after a fierce fight that Edwin discovers that underneath the banned tartan, the 'Äúboy'ÄĚ he'Äôs just wounded is none other than the lady of the house.
If the crown thinks Lady Iona Cameron will allow an English soldier to turn her out of her own home, the crown is sadly mistaken. She never thought her desperate attempt to defy authority would send her to a traitor'Äôs death'ÄĒunless she agrees to marry Roxburgh.
Edwin quickly realizes he has his hands full trying to control the fiery, rebellious widow'ÄĒ and trying to control his own desire to fill his arms with her beautiful body. But he has a dark past that makes love not only impossible, but dangerous'ÄĒespecially if Iona manages to slip past his guard.
Warning: Contains a rebellious heroine with a secret identity, and a hero with a secret past who's determined to tame her wild ways. Be warned: his methods are erotically unusual.
Comments
13 comments posted.
Re: Jane Godman | Yours in Anticipation....

First off, when you ask such a personal question, you at
least give the reader a chance to choose either an e-
copy, or a print version of their book, for giving their
answer. Due to the nature of the answer, therefore, and
because I don't have use for e-copies of books, because I
don't have an e-reader, my very personal answer will have
to remain as such. I would have liked to have read your
book, however, since it did sound interesting.
(Peggy Roberson 9:08am September 16, 2015)
In response to Peggy Roberson, there are ways to read e-
books without an e-reader. I don't have a Kindle or Nook and
I can read e-books with the Kindle for PC app.

Now, on to the question posed by Lady Iona: How Do I Know if
My Husband is attracted to me? Does he have trouble being in
proximity to you? Can you tell if he is physically aroused
in your company? Many heterosexual men are in the company of
a beautiful woman.

Second: Turn Him On. Wear alluring things. Brush up against
him accidentally. Make it clear that you desire him and show
him that you will be his partner in every way, in and out of
bed-or other places for that matter. Make him aware that you
want him and you will have him.
(Edward Washington 9:40am September 16, 2015)
Place yourself in close quarters where your bodies can make
contact.
(Marissa Yip-Young 9:58am September 16, 2015)
Love historicals... sounds like a book I would enjoy... as for advice... I could whisper some to you... it is too embarrassing to say out loud! ;)
(Colleen Conklin 1:27pm September 16, 2015)
How about "accidentally" join him in the shower.
(Maria Smith 9:02am September 17, 2015)
Sleep with him, even if at first he does nothing, but things will
change.
(Nancy Luebke 4:53pm September 17, 2015)
Thank you for the opportunity to win this great book.
(Kathy Church 7:57pm September 17, 2015)
Retire early to his bedchamber and go to "sleep" early in his bed and wait. :-)
(Gloria Shaw 10:33pm September 17, 2015)
I will admit that my age is showing on this advise. Yes,
"accidentally" brushing up against him is good, or
whispering to him, or things of that nature. However,
since your marriage came about in an unusual way the best
think I can tell you is to TALK to him. Just because you
think he is attracted to you may not be the true case. I
would say that if you really want to do it with the FUN
in mind make a game out of it. Ask questions and bid
articles of clothing to see if that works. Be creative.
Get to know him better and you might find that is what he
is really looking for. Mind most men will be good with
the flirting but when it comes down to it they want
someone that will take the time to get to know them.

As a side note. This book I will be getting one way or
another, it sounds very, very intriguing.
(Tina Ullrich 2:24am September 18, 2015)
Thanks for a chance to win your book.
(Linda Hall 8:34pm September 18, 2015)
I have to agree with Tina Ullrich, talking to him is the first
step. If you can bring yourself to be bold enough ask him
outright if he is. If not then try getting some hints with a
few pointed or even roundabout questions in order to get the
answers you are looking for. After that you can do things
like wear something alluring just for him at night, but do it
a after you let him walk in on you taking a bath that has just
the right amount of bubbles to cover what he most wants to
see. Also. The old saying that the way to a man heart is
through his stomach is completely true if he loves good food.
But when you Ser e it make yourself the table. LOL! Once he
has licked chocolate off your thighs I doubt. He will be able
to resist you. 💏. trvlagnt1t@yahoo.com
(Tammy Ramey 4:57am September 19, 2015)
I would love to win! I am not great at giving advice!
(Denise Austin 4:13pm September 19, 2015)
Good luck would be my advice. And therapy.
(Pam Howell 6:24pm September 19, 2015)
Registered users may leave comments.
Log in or register now!