Jill Lynn | 5 Must-Haves in a Romance

August 7, 2015
AVAILABLE

February 2015
On Sale: February 1, 2015
Featuring: Cash Maddox; Olivia Grayson
223 pages
ISBN: 0373879423
EAN: 9780373879427
Kindle: B00O92QAD6
Mass Market Paperback / e-Book
Add to Wish List

Also by Jill Lynn:
Falling for Texas, February 2015

Thanks for having me at Fresh Fiction to celebrate the release of my debut novel, FALLING FOR TEXAS.
I love love. A good chick-flick and a great romance book are two of my favorite things. We live in a world with a lot of tough stuff, so picking up a book I know has a happily-ever-after is a relief for me. I can escape for a few hours knowing the results are going to leave me happy and content.
Before I became a writer, I probably read anywhere from 3 to 5 books a week. Now that I write, those numbers have gone down a bit simply because of time. But it's still my go-to happy place. Add in a beach with my book and I'm a really happy camper.
For me, there's five things that are must-haves in a romance I'm reading or writing.
1. Humor, humor, humor. I love to laugh. The book doesn't have to make me laugh out loud—though it's a plus—but I like finding a smile on my face from what a character is doing, saying, or thinking while no one else has a clue what's running through their head. One reader of Falling for Texas sent me a list of places in the book that made her L.O.L. The best compliment!
2. Real conversation. I like dialogue that snaps along quickly. When writing I have a hard time inserting things between the dialogue because I want it to have the rhythm of normal conversation. I like feeling what they are saying through the way they say it. There's no need for complete sentences. Cut each other off—we do it all of the time in conversation with each other. Finish their thought. Have the heroine get distracted from the conversation by the hero. Insert a kiddo who says something that throws the characters off balance.
3. No sap. I say this, yet I write sweet, heartwarming romance. But that doesn't mean it has to be baked with cheese. This likely comes from the fact that my husband and I don't have a sappy kind of relationship. We laugh a lot. And we also love each other a lot. For us, that love is shown in realistic ways. I try to transfer this over to my characters. I always have a bit of trouble writing the epilogue because things are so good at that point in a romance, I've got to figure out how to make them in love and yet not overly cheesy at the same time. A realistic love goes a long way to winning me over.
4. Strong characters. When they make mistakes, they make them because they are fighting for something and becoming someone. I am not a fan of weak characters. Flawed? Sure. My characters are always making mistakes. Come to think of it, so am I.  I am completely fine with that as long as they have a goal and a reason I can get behind.
5. Secondary characters and a town setting that add to the main characters. Part of the appeal of Gilmore Girls was the quirky characters who made up the town. The teenager in FALLING FOR TEXAS was an absolute delight to write. Rachel is snarky and sassy yet loveable at the same time. I have no idea where her teenage sass came from as I'm sure I was a perfect teenager.
Here's an excerpt from FALLING FOR TEXAS. Cash is raising his teenage sister Rachel who never ceases to cause trouble… and a smile.
"Can I ask you a question?"

"Sure." Rachel stretched the word out, probably wondering why he was acting so strange.

"Have you ever noticed that I don't date anyone?"

She propped her bare feet up on the dash. "I guess. I just assumed no one wanted to date you."

Cash's jaw came unhinged as he glanced at the girl. No humor showed on her face. "Are you joking?"

"Kind of." Her lips quirked up for a quick moment. "But you are my brother. That's weird."

He kept his focus on the white lines in front of him. "What would you think if I did date someone?"

"You mean Coach Grayson?"

Cash nodded.

"Why would I care? I like her better than you anyway."
GIVEAWAY
What's a must-have for you in a book that you can't put down? Leave a comment below and be entered for a chance to win a copy of FALLING FOR TEXAS.
Jill Lynn lives near the beautiful Rocky Mountains with her husband and two children. She writes contemporary inspirational romance for Harlequin Love Inspired. Her first novel, FALLING FOR TEXAS, is available online now.
Website | Facebook | Twitter | Google+ | Blog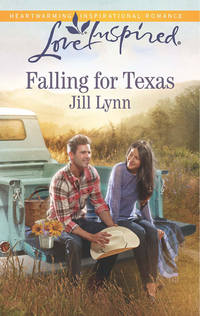 Educating the Cowboy
Raising his orphaned teenage sister isn't easy for Texas rancher Cash Maddox. The girl tests his parenting—and patience—at every turn! But when he asks new teacher Olivia Grayson for help with his sister's grades and attitude, Cash realizes he's facing the toughest trial of all. He made a promise that he wouldn't date and get distracted from his mission of being a good father figure. Yet Olivia's quick wit is drawing him unexpectedly closer to the caring beauty every day. Could it be time to make a new vow…one that'll last a lifetime?
Comments
27 comments posted.
Re: Jill Lynn | 5 Must-Haves in a Romance

needs to have humor
(Tammy Thayer 4:03am August 7, 2015)
strong characters
(Lorelei Frank 6:57am August 7, 2015)
I am glad to see your post. I recently met your aunt in the
pool at Lifetime Fitness in Minnesota and she told me about
her niece and new book. She is so proud of you. I checked on
you on our library system but the book is not available yet. I
said any book about Texas interests me as I am from Texas.
Your book sounds like a great read.
(Leona Olson 9:17am August 7, 2015)
Good characters.
(Marissa Yip-Young 9:42am August 7, 2015)
First off, the characters should be believable. By that, I mean they should be everyday people, not people who do things so over-the-top, that you have a hard time relating to them. The story line is also important. It should move along fluidly. Sometimes an Author gets so hung up on one part of the book, that they forget about the other, and the book starts to drag. Then there's the language. There's no reason to fill up a book with cuss words!! You can get your point across just as easily without swearing all the time. It makes for a more enjoyable read. I also like to laugh, and when I open a book, I want to kick back and enjoy myself, not read a slew of cuss words. I'm not a prude by any means, but if I'm in the mood for that type of book, I know what to look for, either by Author or cover. I don't want to be surprised!! I loved reading your posting today, and am sure that I'll love reading your book!! It sounds as if you've put a great deal of thought, as well as love into your books!! Congratulations on what I'm sure will be a big hit!!
(Peggy Roberson 10:15am August 7, 2015)
Things that could happen in the real world and life with Romance , sad and funny parts ,and a little mystery will keep me turning the pages . Thanks for this giveaway .
(Joan Thrasher 11:14am August 7, 2015)
Must-have's for me would be a story that's believable not totally off-the-
wall, perhaps an unexpected thing that I didn't guess would happen, and of
course the romance.
(Laurie Bergh 11:15am August 7, 2015)
A book that touches my emotions!
(Colleen Conklin 12:42pm August 7, 2015)
Leona, that is amazing you met my aunt! So fun. I'm trying to
guess which one. :)

Thanks for commenting, everyone!
(Jill Lynn 12:43pm August 7, 2015)
Going above and beyond - going the distance.
(Trish Fesmir 1:02pm August 7, 2015)
love me some cowboys
(Emily Stemp 3:03pm August 7, 2015)
Characters and a plot that leaves you wanting to turn the
pages quickly!
Marilyn
(Marilyn Collins 5:19pm August 7, 2015)
I love books that have characters that I can actually
imagine being friends with. Like reading about community
and how they fit in or not.
(Sandie White 12:50pm August 8, 2015)
Looking forward to reading your book. Love image of being in place where
novel takes place.
(Virginia Clayton 8:41am August 8, 2015)
Characters that I want to see what will happen with them.
(Pam Howell 12:21pm August 8, 2015)
Can't wait to read the book
(Jeri Dickinson 1:59pm August 8, 2015)
a hot romance
(Emily Stemp 4:01pm August 8, 2015)
i love your books, would like to read this one.
(Wilma Frana 11:26am August 9, 2015)
hope to read the book soon
(Jeri Dickinson 1:23pm August 9, 2015)
The suspense. Just when I want to put the book down, the suspense makes me want to know what is going to happen next.
(Kai Wong 12:34pm August 10, 2015)
The plot is make it or break it for me. If a story has a boring, uninteresting plot, you can bet I'm not finishing the book.
(Heidi Ingalls 3:08am August 10, 2015)
In a romance, it can't be too predictable. I realize
this can be hard to do with a romance, but if I always
know what is going to happen I usually lose interest.
Humor is also important. There must also be other strong
elements to the story besides the romance. Two or more
strong themes going at one time makes a book I cannot put
down.
(LaCinda Jameson 3:09am August 10, 2015)
humor and a plot that's engaging! Thanks.
(Dianne McVetty 11:50am August 10, 2015)
A mystery with a lot of twists and turns and a plot that keeps
me engrossed from page 1.
(Denise Austin 1:27pm August 10, 2015)
I need a plot that keeps me rushing to find out what is going to happen next.
(Anna Speed 1:34pm August 10, 2015)
The book sounds like it will be really good
(Jeri Dickinson 5:36pm August 10, 2015)
This book is definitely going on my TBR list :)
(Ida Stone 2:35am August 30, 2015)
Registered users may leave comments.
Log in or register now!