Thanks for having me over today to celebrate the release of Wicked Ride, the first book in the Realm Enforcer series! As you can tell from the cover, the hero rides a motorcycle. Yep. What you can't really tell is that he's a fire-throwing witch enforcer with an Irish brogue.
The Irish know how to make a sexy hero with a smooth brogue, right? I'm thinking of Michael Fassbender here. So fun to watch! Anyway, in Wicked Ride, Kellach Dunne leaves his homeland and joins a Seattle MC in order to infiltrate the drug scene in Seattle and find out who's manufacturing and distributing a drug that kills witches.
Of course, he doesn't count on a stunning Seattle Vice cop named Alexandra Monzelle who's also on the hunt for drug dealers…and who has no problem shooting him if necessary.
I like stories that put the hero and heroine on opposite sides initially, because it's so much fun watching them fight their attraction to each other. They're opposites, in fact. She really can't afford to date a criminal, and he doesn't have the time to spend in chasing an independent cop around town when he should be doing his job. And yet…
Kell's gaze cut through throngs of gyrating drunks, zeroing right in on her in what felt like a claiming. Hot, wet, and physical. Her body thrummed alive for the first time that night, once again reminding her that she was more than a cop, more than a weapon. She could be all woman.

Going on instinct, she gave him a look, slid off her stool, and headed for the twisty path to the bathrooms.

He reached her in an odd alcove, as she'd planned.

Turning, she grabbed his arm and used a spin move to put his face against the wall. He turned easily and with a suffering male sigh. If he was holding a weapon, she'd take him downtown and start questioning him again.

Bending, she started at his ankles and patted up, frisking every inch of hard muscled male. Could he freakin' be real? Not an ounce of fat. Nothing but pure solid steel filled her palms. She had to stretch up on her tiptoes to finish, finding neither weapons or contraband. But did a man his size need weapons? Probably not.

Finally, she stepped back.

"All done?" he asked, amusement dark in his voice.

"Yes," she said, a bit too breathlessly. Then he moved.

She knew he moved because she ended up face-first against the wall, but she didn't see him move. He held her at least a foot off the ground with one arm wrapped around her waist.

A foot off the ground. Her breath whooshed out of her lungs and tingles exploded in her abdomen. Her mind fuzzed.

He held her easily, his breath fanning the side of her neck. "My turn," he rumbled.
So, what do you think? Do opposites attract?
Rebecca Zanetti is the author of over twenty-five dark paranormals, romantic suspense, and contemporary romances, and her books have appeared multiple times on the New York Times, USA Today, Amazon, Barnes & Noble, and iBooks bestseller lists.
She lives in the wilds of the Pacific Northwest with her own Alpha hero, two kids, a couple of dogs, a crazy cat…and a huge extended family. She believes strongly in luck, karma, and working her butt off…and she thinks one of the best things about being an author, unlike the lawyer she used to be, is that she can let the crazy out. Her current series are: The Dark Protectors, The Maverick Montana Cowboys, and the Sin Brothers series. Upcoming series are: The Realm Enforcers and The Scorpius Syndrome.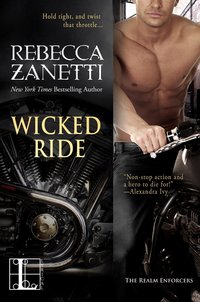 If you love the Dark Protectors, these wicked hot Realm Enforcers are for you!
Alexandra Monzelle is a hard-fighting, heat-packing Seattle vice cop, and she's not much interested in being protected. Her short skirt and sex-kitten heels are tools to lure her suspects into talking about the deadly new drug hitting the streets. She can take care of herself and then some. Unfortunately, she can't seem to get that through to Kellach Dunne.
Kellach is a fresh import from Dublin, and he's landed at the heart of a vicious motorcycle club that deals in guns, narcotics, and mayhem. He's all male, all rough power—and all interference in her damn investigation. Maybe he's one of the good guys. Maybe not. Lex knows an affair with an immortal like him would risk everything. No matter how delicious he looks…
1 comment posted.
Loved the Dark Protectors and I know this series will be just as amazing with this fantastic start. Good Luck Rebecca!!
(Annetta Sweetko 8:43pm June 25, 2015)