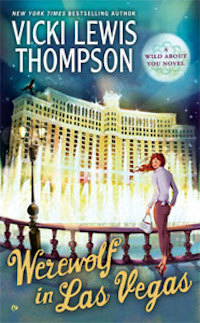 This month Vicki's sixth werewolf novel, WEREWOLF IN LAS VEGAS, hits the shelves, featuring Giselle Landry, the female werewolf who was introduced in Werewolf in Denver WEREWOLF IN DENVER and Werewolf in Alaska WEREWOLF IN ALASKA. Now it's Giselle's turn to find her mate, and to celebrate, one lucky reader will win a personally autographed copy of WEREWOLF IN LAS VEGAS and a $25 Barnes and Noble gift card.
Werewolf in Las Vegas
Giselle Landry is in Las Vegas to haul her wayward brother back home. But casino owner Luke Dalton is also looking for her brother, who has run off with his little sister. The two should join forces, but Luke is unaware that Giselle's brother is also fleeing his duties as the future alpha of the Landry werewolf pack —which includes his Were bride. The Landrys don't believe in Weres mating with humans, and Giselle is no exception. Though Luke is wealthy, gorgeous, and protective, Giselle can't let herself get close to him, even to solve their shared dilemma. But the tension wears away her resistance, and after a wild night with Luke, she is shocked to find she's fallen for him. But Luke still doesn't know Giselle's true identity. And once their siblings are found, Giselle must return to San Francisco. Can they overcome the odds—or will what happened in Vegas stay in Vegas?
Contest ends: March 31, 2014