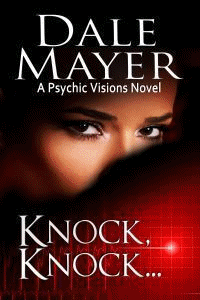 Don't miss the chance to read Dale Mayer's latest book, KNOCK, KNOCK... and win an Amazon gift certificate as well so you can try some of the other Psychic Vision series! What a deal!
There's no best–by date for revenge.

Wealthy and beautiful Shay Lassiter runs the prestigious Lassiter Foundation, but her connections and resources prove worthless when her fiancé tries to murder her. Now, she's guarding her heart and using her knack for reading people's intentions — both good and evil — to guide her. But when the Foundation's clients start dying, she must turn to the new man in her life...one who's giving her mixed signals.
Computer specialist and ex–cop, Roman Chandler, has a secret. It involves Shay and could ruin the fragile relationship he's building with her. Though he can't tell her the truth, he needs to convince her to trust him. He fears that whoever is behind this is about to turn his vengeance on Shay...
And vengeance can be deadly.
US / Canada Addresses only
Contest ends: September 30, 2013