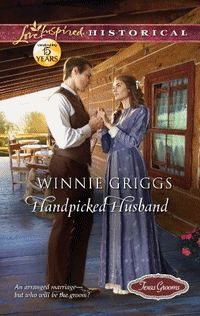 You could win signed copies of the first two books in the Texas Grooms series - HANDPICKED HUSBAND and THE BRIDE NEXT DOOR
In anticipation of the October release of the third book in Texas Grooms series, A FAMILY FOR CHRISTMAS, Winnie's giving away the first two books to give some lucky reader the chance to get caught up


An Unexpected Gift
Eve Pickering knows what it's like to be judged for your past. So she's not about to leave the orphaned boy she's befriended alone in this unfamiliar Texas town. Since Chance Dawson's offer of shelter is the only way to look after Leo, Eve is determined they'll have a warm, welcoming home for the holidays.
Chance came from the big city to make it on his own despite a painful secret. But Eve's strength is giving him a confidence he never expected—and a new direction for his dream. With a little Christmas blessing, he'll dare to win her heart—and make their family one for a lifetime.
Win the prize of two books...
Free-spirited photographer Regina Nash is ready to try. But unless she marries one of the gentlemen her grandfather has sent for her inspection, she'll lose custody of her nephew. So she must persuade them - and Adam Barr, her grandfather's envoy - that she'd make a thoroughly unsuitable wife.
Adam isn't convinced. Regina might be unconventional, but she has wit, spirit and warmth - why can't the three bachelors he escorted here to Texas see that? He not only sees it, but is drawn to it. His job, though, is to make sure Regina chooses from one of those men - not to marry her himself!
Can Reggie and Adam overcome the secrets in her past, and the shadows in his, to find a perfect future together?
* * *
Love Thy Neighbor?
After years of wandering, Daisy Johnson hopes to settle in Turnabout, Texas, open a restaurant, perhaps find a husband. Of course, she'd envisioned a man who actually likes her. Not someone who offers a marriage of convenience to avoid scandal.
Turnabout is just a temporary stop for newspaper reporter Everett Fulton. Thanks to one pesky connecting door and a local gossip, he's suddenly married, but his dreams of leaving haven't changed. What Daisy wants – home, family, tenderness – he can't provide. Yet big–city plans are starting to pale beside small–town warmth...
Contest ends: September 30, 2013