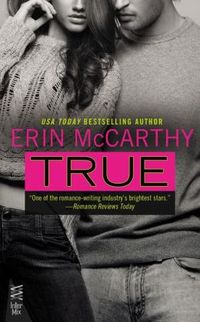 Leave a comment today on Erin McCarthy's guest blog post for a chance to win your own copy of TRUE.
When Rory Macintosh's roommates find out that their studious and shy friend has never been with a guy, they decide that, as an act of kindness they'll help her lose her virginity by hiring confident, tattooed bad boy Tyler Mann to do the job... unbeknownst to Rory.
Tyler has told Rory that he's not good enough for her. She's smart, doctor smart, while he's barely scraping by at his EMT program, hoping to pull his younger brothers out of the hell their druggy mother has left them in. But he can't seem to stay away from her, and even when Rory knows she should push him away, something about him makes it nearly impossible for her to resist—even though her heart is at stake
You must leave a comment on Erin McCarthy guest blog post to win.
Contest ends: June 2, 2013