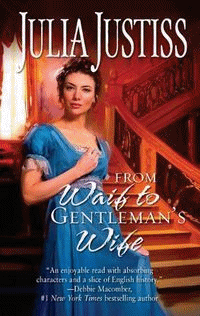 Like the Ransleigh Rogues, not all the Wellingford cousins grew up in wealth and ease. This sister and brother, children of a vicar who served with the East India Company, had to make their own way in the world. In FROM WAIF TO GENTLEMAN'S WIFE, searching for her brother, governess Joanna Merrill turns up in desperate straits on the doorstep of Sir Edward Greeves. Operating under an assumed name, Ned doesn't want to attract attention, but what can a gentleman do but offer shelter to a lady in distress? In SOCIETY'S MOST DISREPUTABLE GENTLEMAN, Joanna's missing brother, Greville Anders, has problems of his own. Abducted and sold to a press gang, the wounded Greville is returned to England to recover at the home of Lord Bronning. His vow to reform his dissolute rake's ways is severely tested by the beautiful, disdainful daughter of his host. Amanda Neville has trained all her life to make a brilliant marriage and become a great political hostess. She's not about to risk that dream by succumbing to her unfortunate attraction to a moneyless younger son, not matter how seductively handsome he might be. What does the future hold for these siblings? Julia is offering two winners a set of both books. Enter below for your chance to win!

Society's Most Disreputable Gentleman
Order Today
Greville, who was fired from his job as estate manager and then abducted and pressed into the Royal Navy, returns after 8–month's service at sea a radically different man. Eager to obtain his release and pursue an honest career, he has little interest in the idle Society he used to frequent. But despite his vow to reform his rake's ways, how could he help but flirt with his host's beautiful daughter Amanda?
For her part, Amanda Neville has dreamed since childhood of becoming a brilliant Society hostess. She's not about to risk that goal by dallying with a younger son of little fortune, no matter how scandalously attractive he might be!
US / Canada Addresses only
Society's Most Disreputable Gentleman



Contest ends: July 31, 2013