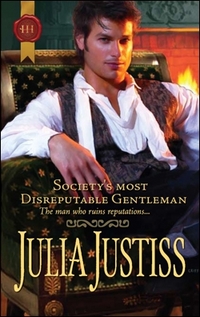 Purchase
Society's Most Disreputable Gentleman
Julia Justiss
The man who ruins reputations...
Harlequin Historical Romance
February 2011
On Sale: February 1, 2011
Featuring: Amanda Neville; Greville
288 pages
ISBN: 0373296282
EAN: 9780373296286
Kindle: B004JF6D6C
Paperback / e-Book
Add to Wish List

Greville, who was fired from his job as estate manager and then abducted and pressed into the Royal Navy, returns after 8-month's service at sea a radically different man. Eager to obtain his release and pursue an honest career, he has little interest in the idle Society he used to frequent. But despite his vow to reform his rake's ways, how could he help but flirt with his host's beautiful daughter Amanda?
For her part, Amanda Neville has dreamed since childhood of becoming a brilliant Society hostess. She's not about to risk that goal by dallying with a younger son of little fortune, no matter how scandalously attractive he might be!
Author Note
I discovered the character of Greville Anders when I wrote FROM WAIF TO GENTLEMAN'S WIFE, his sister Joanna's story. In that book, we learn that Greville, a charming rake and only son much indulged by his family, has been fired for mismanaging the small estate given into his care by his cousin, the Marquess of Englemere. By the end of Joanna's book, we know it is Greville's farm manager who abused the tenants, embezzled money, and when Greville finally discovered his crimes, knocked him unconscious and sold him to a press gang. Though Joanna's story was over, I remained fascinated by Greville. What would happen to a landsman and gentleman of leisure when he is suddenly thrust into working as a common sailor'
I knew that the Greville who left England would not be the same man who returned, badly wounded, nine months later. As I began exploring his character, I realized that he would have to have suffered a sea change that turned all his notions of the world and his place in it upside down.
Enter Amanda Neville ' another minor character from WAIF. WAIF hero Ned Greaves, an enthusiastic agriculturalist like Amanda's father, Lord Bronning, met her while visiting her home and for a time, hoped she might make him the perfect wife. However, Amanda has no intention of staying mired in the country; her dream is to become a great political hostess, like her grandmother's friend Georgiana, Duchess of Devonshire.
Having already turned down Ned's offer, she's less than pleased when, while she preparing to leave for her London debut, the man whom her father agrees to house as a favor to the Marquess turns out to be a common sailor. She's even less pleased when this quite ineligible person, after changing his sailor's rags for proper gentlemanly attire, is far too attractive.
For his part, both amused and piqued by Amanda's thinly-veiled disdain, Greville decides to beguile his time by tweaking with some idle flirtation this girl who yearns to be part of a London Society he no longer values. Amanda would like to resist Greville'but the more time she spends in his company, the harder it is to remind herself that he is nothing like the sort of rich, powerful, politically-well-connected man she seeks for a husband.
Watching the two of them try to resist each other was great fun. I hope you'll enjoy it as well.
Comments
57 comments posted.
Re: Society's Most Disreputable Gentleman

I think we are all attracted to "rakes" to some degree. There was always that bad boy in high school that the girls just loved. We are attracted to the rebel attitude but the first thing we then try to do is change him. That's fine IF he wants to change, but if not you can't make him! I admit that I have always been attracted to the "rakes" in life, probably why I am still single. LOL
(June Manning 2:35am February 9, 2011)
I do like to read about about the exciting Bad Boys and like to think there is some good in each of them waiting to shine through. I also believe once a Bad Boy finds the Right Woman, he finds inner peace & direction within himself and sheds the Bad Boy persona and in a sense can become tame.
(Christine Stack 8:18am February 9, 2011)
Hello Julia

You allready know that I simply adore your books so I wont give a long comment just a short one to say thanks for the great blog post and the stunning contest -so cool !
Keep up the great work

All the best
Desere
(Desere Steenberg 8:53am February 9, 2011)
Rakes are exciting and bring the thrill of touching the wild side of like with them.
(Lindsey Ekland 9:27am February 9, 2011)
I like reading about them, but I'm not sure the bad boys I read about would translate well to this day and age. haha
(Heather Cowley 9:36am February 9, 2011)
I do like reading about rakes but I really want to be able to believe that they have changed, otherwise it's hard to believe in their HEA.
(Maureen Emmons 9:51am February 9, 2011)
If not for the bad boy I don't think I'd even read. I also don't want to see that bad boy's spirit crushed so you must leave a little bad in the boy before he becomes a wuss. Nothing wrong with changing diapers but don't change him too much.
(Christina Harrison 10:24am February 9, 2011)
This book sounds great.
(Clio Teixeira 10:24am February 9, 2011)
Ooooh! This bad boy sounds interesting.
(Anna Speed 11:55am February 9, 2011)
Never underestimate the power of a man. The bad boys are always pleasers to any situation.
(Anthonia Sharp 12:08pm February 9, 2011)
i want to read this book!
(Debbi Shaw 12:13pm February 9, 2011)
I like reading about bad boys, but don't think that a women can tame them unless they want to be tamed.
(Leni Kaye 12:16pm February 9, 2011)
I think the appeal of the bad boy is a bit like that of the cute little boy caught
with his hand in the cookie jar. He throws you that smile that you just can't
resist. You know he is a devil, but he is still a sweetheart inside. As he gets
older, it just takes the special person to find that "sweetness" and make him
realize it is time to settle down with "the one."
There is a big difference between the Bad Boy and a bad person. The Bad Boy
in romances is rarely a bad person. He may be a bit misguided, rude,
arrogant, and need a good swift kick in the butt, however he isn't evil.
(Patricia Barraclough 12:39pm February 9, 2011)
I love reading about the rake who finds the woman who tames him...hehe.

I would like something a little tamer in real life...although I married a bit of a rake and he is still a ladies man and loves to flirt with the ladies.

But, he has proven over and over again that he loves me, would never leave me and we have a deep seated trust. After 33 years and eleven kids...it's been earned!!!

Valerie
in Germany
(Valerie Bongards 1:04pm February 9, 2011)
I am so glad that there are no "bad boys" in my life, but I love to read about them.
Blessings,
Marjorie
(Marjorie Carmony 1:31pm February 9, 2011)
I love to read about rakes. They are so exciting to read about that you have to fall in love with them. You can even imagine yourself in the heroine's shoes. When I was dating, I dated quite a few of them, to my chagrin. Alas, and to the better, I am sure, I was not the woman to tame them.

In real life, I have been married to a wonderful, exciting, caring, giving, honest, and loving man that was never a rake for almost 38 years now.
(Cathy Phillips 1:40pm February 9, 2011)
I can't think of any female friends of mine that don't appreciate a "Bad Boy" for what he is. Some of them even married theirs! I'm not sure if I'd go that far, but I'd certainly enjoy him while it lasted!!

Later,

Lynn
(Lynn Rettig 1:51pm February 9, 2011)
Take the bad boy, let him fall in love and all that 'bad' can be a marriage full of fun.
(Lori Howe 1:56pm February 9, 2011)
Seems like we are all attracted to the "bad boys" in our life---I even married one---then divorced him a couple years later. Now I'm married to a steady, unexciting accountant show makes my life wonderful---I guess I learned my lesson to look but not touch those bad boys.
(Sue Farrell 2:10pm February 9, 2011)
I was attracted to a bad boy, ran into him after I grew up, and was so relieved that I missed out on that one! I did date another bad boy and will always regret that he was in my life. I was young and stupid!
(Brenda Rupp 2:12pm February 9, 2011)
I have had enough of the bad boys when I was younger. Now I just want a nice one. Honestly, I don't know if they ever change. From my experience they don't.
[email protected]
(Debbie Penny 2:18pm February 9, 2011)
Oh my, I have had a few "rakes", and thankfully I now am married to someone who is a "good" man who wants to be "bad" with me. I call this the Clark Kent/Superman Deal and I thank God almost every day for my husband.
(Debra Simning-Chapman 2:44pm February 9, 2011)
I love the screamingly great sex with a Rake, then I wake up. ha, ha. Bad boys are very exciting but not someone I want to marry. I really want to read your new book. Thanks for the contest.
(Kathleen Bianchi 2:47pm February 9, 2011)
Ah but everyone should love a rake because they make the very best husbands! I should know I married one 41 years ago!

Julia, I know you may have based some of your rakes on my husband and I really don't mind - just writing your wonderful stories!

I can't wait to read Society's Most Disreputable Rake sitting in front of a warm toasty fire while sitting next to my very favorite rake!
(Jeanne Miro 3:04pm February 9, 2011)
The Bad Boy has a charisma that he retains even after he's "tamed". In real life, I find myself drawn. But I've grown careful and look for the good guy.
(r w 3:16pm February 9, 2011)
I would love a chance to read your book and I also love to
give reviews of books!

[email protected]
(Stephanie MacDonald 3:23pm February 9, 2011)
your writings are best described in one word AWESOME
(Melisa Clark 3:34pm February 9, 2011)
Yeah, there's something about the lure of the bad boy and the
belief that we could be "the one" to tame him. I don't know if
it can be done or not, but it sure is fun reading about the
women who try!
(Margay Roberge 3:47pm February 9, 2011)
The lure of a bad boy is that he's not boring... unless he's just so full of conceit... They are seem to always be looking for adventure or at least something new around the corner...
(Cate Sparks 3:56pm February 9, 2011)
Ah yes that yummy "bad boy" with the twinkle in his eye that lets you see that cute little sweetie he might have been when he was a little tyke! And as a woman, loving the change from "man about ton" to faithful & maybe "not so sure of himself" wanting the love of one special woman & all the ups & downs that brings. Sighhhhh!! Julia you keep us dreaming!!!
(Jean Merriott 3:58pm February 9, 2011)
I love reading about bad boys. But I think most women know that
while they may not be able to "tame" them they may be able to
harness that energy a bit. Been there, done that, and no way in
hell would I marry it. The high highs can't begin to overcome
the low lows.
(Lisa Richards 3:59pm February 9, 2011)
I love when Rakes find the one woman that can tame them... :) Enjoy that vibe that Bad Boys give off, but in real life I want a more down to earth kinda guy!
(Colleen Conklin 4:13pm February 9, 2011)
I love reading about bad boys. I don't WANT them tamed too much. Just enough to be even more lovable.
(Mary Preston 4:14pm February 9, 2011)
Would like to try reading this book
(Sharon Nelson 4:28pm February 9, 2011)
Oh yes I do like reading about Bad Boys! No, they can't be tamed. The right woman may be to get a handle on them, but not tame them. That would be a shame.

Of course, I married "more reliable" in real life. But let me tell you. He is alpha through and through. No beta in this one. :)

I want this book------BADLY!!! Okay, now I'll beg.
(Cynthia Netherton 4:34pm February 9, 2011)
Sounds good. Love romance books.
(Barbara Nolan 4:56pm February 9, 2011)
The men you create for us are so damn bad - they're simply delicious!
(Tammy Ryan 5:30pm February 9, 2011)
Thanks for giving me a chance to win your book. It sounds interesting.
(Linda Hall 5:34pm February 9, 2011)
Hope I win, right now I'm having a problem with Antivirus system 2011 , it won't take no for an answer.
(Deb Pelletier 6:30pm February 9, 2011)
Rakes and rogues make for exciting plots. The HEA demands that they reform when they get married but I don't think this happens much in real life. As part of being a rake, a man must have a value system that finds that behaviour acceptable. I don't think value systems change that easily and infidelity in marriage is more likely to come later on.
(Carol Drummond 6:48pm February 9, 2011)
Yes I love to read about the Rake, Rogue, general BAD boy, and yes I would love to try one for myself, but I also think that they can be tamed, if/when and only if/when they find their one and only true love! Thanks for the contest.
(Lisa Kendall 7:48pm February 9, 2011)
I adore bad boys! When the rake falls, he falls hard and lucky is the lady that snares him. He will be hers forever, at least I like to think so!
(Pamela Stewart 9:08pm February 9, 2011)
The bad boys we love aren't evil, they just don't yet have a reason to be good, but when they find the reason....look out!
(Diane Sallans 9:09pm February 9, 2011)
There's nothing much left for me to add to this praise for the rake/rogue. I don't think I'd ever have looked for a "bad boy," but who knows, I might have found one. I guess the appeal is both the redemption of someone who's had problems and that of letting ourselves love someone a little difficult.
(Sigrun Schulz 9:29pm February 9, 2011)
I think every girl enjoys taking a walk on the wild side with a rebel or bad boy. Thanks for the contest!
(Teresa Ward 9:58pm February 9, 2011)
With the little bit of experience I had, it seemed as if the bad boys were always attracted to me for some reason. I always prided myself on being a good person, and can't explain it, but it happened. Anyway, I found they can be redeemed, but take a lot of work. I do enjoy reading about them as well. They're the type of person that keeps life interesting, and keeps you on your toes!!
(Peggy Roberson 10:06pm February 9, 2011)
I love this cover because the character looks like Michael C. Hall from Dexter and I think he's HOT!!!
(Renee Pajda 10:16pm February 9, 2011)
A book would be dull if everybody was on his/her best behavior. It's fun to read about the bad boy who gets tamed by love.
(Ginger Hinson 11:32pm February 9, 2011)
Bad boys definitely have their appeal and are fun to dream, watch, and
read about. But a nice, reliable guy is more likely to stick around.
(Mona Garg 8:46am February 10, 2011)
I'll take a reformed rake/rogue any day. Aren't we lucky they still exist? You get the loyalty, commitment and passion all rolled up into one tidy package! Thank you for your time and contest.
(Theresa Thompson 5:30pm February 10, 2011)
I love a rake. They are anything but boring. Bad boys have always had their appeal. I don't think they will ever go out of style.
(Stacie Deramo 6:27pm February 10, 2011)
The bad boy that has changed is appealing and keeps the readers attention. Thank you
(Barbara Ryan 12:48pm February 11, 2011)
Give me a hot bad boy anytime.
(Pam Hager 1:30am February 11, 2011)
Every man has some "bad boy" in him. The best shows that side only to the
"one" they love. It's a secret for them. They look like every man and save the
"bad boy" for the bedroom.
(Sandra Spilecki 6:44am February 11, 2011)
I think the eason we are attracted to rakes is becouse we all love the idea of tameing the Bad Boy and making him a one women man that out of all the girls we could snag that one guy that all want.
(Vickie Hightower 10:52am February 11, 2011)
Yes...the Bad Boy tamed by love. He loves a woman so much that he wants to please her. I really love reading about the rakes in the Regency.
(Ann Garland 12:46pm February 11, 2011)
Rakes and bad boys hold a bond of fascination. I wonder how they can turn the charm on and off and get away practically with murder and other dastardly deeds.
(Alyson Widen 10:14pm February 27, 2011)
Registered users may leave comments.
Log in or register now!