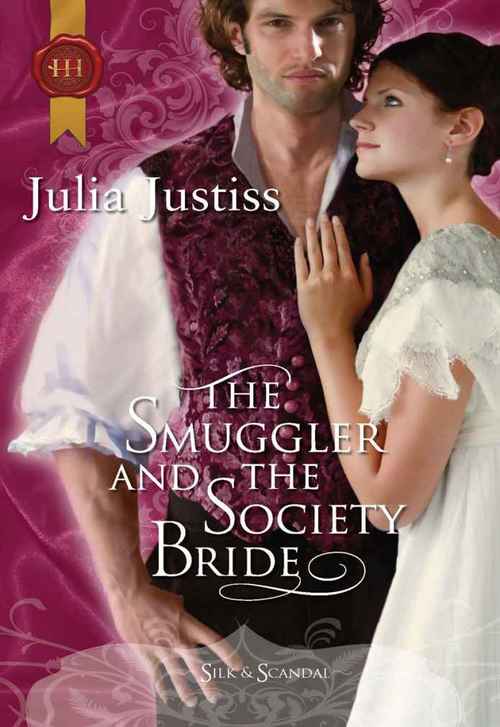 Purchase
The Smuggler And The Society Bride
Julia Justiss
Silk & Scandal #3
Harlequin Historical Romance
August 2010
On Sale: August 1, 2010
Featuring: Gabriel Hawksworth; Honoria Carlow
288 pages
ISBN: 0373296045
EAN: 9781426864667
Kindle: B003U89SQ6
Mass Market Paperback / e-Book
Add to Wish List

Lady Honoria Carlow, leading Diamond of the Ton, is in disgrace. Her spirited nature has led her too far this time and she is, in reputation at least, ruined.

Indifferent to polite London society, Captain Gabriel Hawksworth is a gentleman in bandit's clothing. On the storm-tossed coast of Cornwall, this smuggler is reckless, sexy and sinfully tempting….

Gabriel is luring Honoria right back to what she's escaping—trouble! Only this time her impropriety won't be quite so innocent…
Author Note
"It isn't fair!" I think everyone, from children old enough to say the words to octogenarians, can identify with the outrage and disappointment of experiencing something that just isn't fair. Even learning as we grow older that very often life isn't "fair" doesn't much reduce the intensity of the reaction.
After the co-authors finished brainstorming the themes and characters for our eight-book miniseries REGENCY SILK & SCANDAL, we got to pick the character we wanted to write. I was drawn to the story of Lady Honoria Carlow, an innocent who is targeted for destruction by the revenge character in retaliation for the destruction of his innocent life by the original scandal.
After a shocking disgrace, Honoria flees to Cornwall, anxious to distance herself as far as possible from London and the family who didn't believe in her innocence. Always the rebellious sort, she's skirted the edge of what is considered respectable behavior for a virtuous ton maiden, but the ruin visited upon her, coming about through no fault of her own, isn't fair. After taking shelter with an aunt in the small village of Sennlach, she encounters dashing local smuggler Gabe Hawkhurst. With her future destroyed and her life in a shambles, the last thing this earl's daughter needs is to find herself beguiled by a low-born free-trader known as "The Hawk."
Once hero Gabe Hawkhurst, who's in Cornwall temporarily captaining a smuggling vessel for the army friend who saved his life, charms a reluctant Honoria into confiding her story, it's his sense that she's been unfairly treated that prompts him to try to discover who targeted her and why. As they work together, the attraction that has drawn them together from the first intensifies, until a friendship that should never have been becomes a compulsion too powerful to deny.
I hope you'll enjoy Gabe's quest, Honoria's vindication and the triumph of their unlikely love!
More Information
This is a season of secrets, scandal and seduction in high society! Set in Regency England, this continuity sweeps you from glittering ballrooms, to a smuggler's cove in Cornwall, to the wilds of Scotland, a Romany camp, and back again. Each story has a passionate, intense, central relationship but the thread linking them together is a darkly dangerous, yet sexy stranger, who is out for revenge, delivering a silken rope as his calling card. Through him, a long-forgotten past is stirred to life, and the notorious events of 1794 which saw one man murdered and another hanged for the crime, are brought in to question. Was the right man brought to justice or is there still a treacherous murderer at large?
Regency Silk & Scandal
Comments
48 comments posted.
Re: The Smuggler And The Society Bride

While I haven't read anything by this author I am looking forward to reading this book.
(Lisa Kendall 5:17pm August 1, 2010)
Congrats on the new release, Julia. For me the best part of reading romance is watching the hero and heroine overcome adversity to find their HEA.
(Jane Cheung 4:10am August 4, 2010)
The RWA conference sounds like such a fun and learning experience. How wonderful to have that many people all interested in creating novels that readers love to consume.
(Joanne Reynolds 6:18am August 4, 2010)
Sound like a great read thanks
(April Strength 9:48am August 4, 2010)
I can't stand books set in the future so the past is my answer. I like strong heroines not wishy washy ones. Your book sounds like a lot of fun! Count me in the giveaway, please.
(Karen Gervasi 10:07am August 4, 2010)
Sounds like a good read...I like books that have passion, yet they overcome adversity to a happy ending, and preferably not in the far future. I do like stories set in the current time or past..I like time travel where they travel back in time to another era for romance, too!
(Leanna Morris 10:31am August 4, 2010)
I like to read about characters who have dealt with tough times and now they get their HEA.
(Maureen Emmons 10:40am August 4, 2010)
Another great book to read!! I really enjoy reading the books in the regency period, just seems more romantic time.
Thanks!
(Julie Parrish 10:40am August 4, 2010)
Sounds like a hot summer read! I'd love to win this one!
(Leanna Morris 11:14am August 4, 2010)
I enjoy paranormals the most. I like being taken to other places and meeting the strange and wierd...hehe!!

of course, I adore the romance. The tension between the hero and heroine. How they overcome obstacles and how they find their happy ever after. Ok, falling in love with the hero isn't bad either..hehe!!!

Valerie
[email protected]
in Germany
(Valerie Bongards 11:28am August 4, 2010)
I prefer to follow the couple through the trials of overcoming what holds them apart all the way to their HEA.
(Leni Kaye 11:40am August 4, 2010)
I enjoy watching the characters overcome adversity.
(Cathie Veres 11:44am August 4, 2010)
i would love to read this
(Debbi Shaw 12:04pm August 4, 2010)
this sounds like a great story
(Sagrario Vigil 1:42pm August 4, 2010)
Congrats on your new release, Julia! Your conference sounds like a dream come true. I love reading about a feisty heroine and the wonderful man she chooses to bedevil for their HEA. The more passion, the better the read.
(Cathy Phillips 1:52pm August 4, 2010)
I love the journey through the pages... seeing all that the characters encounter to get to their HEA!
(Colleen Conklin 2:01pm August 4, 2010)
I enjoy imagining myself in the heroine's shoes in the Romantic past.
(Sue Farrell 2:15pm August 4, 2010)
I am sure the confeence was a lot of fun. I have attended conferences in the past of folks with like-interests and I always enjoyed them so much.
(Gladys Paradowski 2:23pm August 4, 2010)
Congrats on the release. I always enjoy historical romances, the characters always have to overcome such obstacles to achieve their HEA
(Jean Patton 2:36pm August 4, 2010)
Congrats on the release.

For me, I think it's about taking a break from your crazy, hectic, zillion things to do today will I get everything done, from life.

You can transport yourself into a place that you may never get to go or be someone else for a time.

Living vicariosly through others, kind of way.

Wishing you happy sales,
Fallon Hadley
(Fallon Hadley 2:56pm August 4, 2010)
As a librarian I got to attend one of the RWA conferences and it was a really fun experience! I love the twists and turns the characters use to overcome all obstacles and fall happily into each others arms. Love to think of myself wearing all those lovely regency gowns!!!(would hide all my flaws)
(Liz Campbell 3:43pm August 4, 2010)
Congrats on your new release, I have read your books before and really enjoyed them.
(Gail Hurt 3:43pm August 4, 2010)
Happy endings, Wonderful!!!
Blessings,
Marjorie
(Marjorie Carmony 3:59pm August 4, 2010)
Since I love several different
genres of romance, I have to
say that my favorite aspect is
something they all have in
common. I love to live
vicariously through the
characters, especially when
the love is believable and the
characters strong and likable.
(Jacqueline Cook 4:06pm August 4, 2010)
I love historical romances.It's so interesting reading about other times and places. This book sounds really good, I am adding it to my must read list!
(Cheryl Lynne 4:48pm August 4, 2010)
Congratulations. Another must read book. Well done.
(Mary Preston 6:26pm August 4, 2010)
Congrats on the release. What I love is the whole story. The falling, learning, adapting and sometimes change to get what you truely want.
(Maude Allen 6:46pm August 4, 2010)
Congrats on your release!

What I like about romances is the HEA. Sometimes (okay, often), I just want to read a book that I *know* will end on an up note for the characters.
(S Tieh 7:34pm August 4, 2010)
Congrats on your release! The book sounds excellent:)

[email protected]
(Yadira Alonzo 8:48pm August 4, 2010)
Passion gets me every time. I love reading about all that good news.
(Alyson Widen 9:44pm August 4, 2010)
I love all aspects of romance,
but especially the beginning
stages of love between the hero
and the heroine.
(Margay Roberge 10:07pm August 4, 2010)
I read to escape my dull and boring life,
pure and simple. That's why I love
reading historicals because I can imagine
myself in the past.
(Molly Wilsbacher 10:33pm August 4, 2010)
When I read a book, I usually follow the storyliine, and put myself in the place of the heroine, trying to feel what she's feeling. If the author is really good, I end up going through the gamut of emotions that particular author has portrayed. There are several books that have left me devastated, and others that have left me on cloud nine!! They have all been well-written books, and I commend the authors that I have read. This book also sounds like it should be a good read.
(Peggy Roberson 11:33pm August 4, 2010)
Congrats oon the new release. Historicals are my favorite genre. I love your stories. Thanks for the giveaway.
(Phyllis Crabtree 11:38pm August 4, 2010)
I guess I like to see the characters
overcome hardship and roadblocks to
get to their HEA. I want more than just
a relationship story. I want a bit of
intrigue and suspense. Throw in a bit
of danger and a misunderstanding or
two to spice things up.
Have enjoyed your books and look
forward to reading this one.
(Patricia Barraclough 11:49pm August 4, 2010)
I loved the excerpt! Thanks. I would love to read the book!
dancealert at aol dot com
(Brenda Rupp 1:07am August 5, 2010)
I think the part I enjoy most
is seeing the wonder on their
faces and hearing in the
voices when they realize that
they have met their soul mate.
Watching them overcome the obstacles to their love,
especially if there is humor
involved. One thing I don't
see much of and wish authors
would capitalize on is revisiting the happy couple
for a later story when the
everyday things in life have
caused one or the other to
wonder if they made the right
choice and seeing them
rediscover their love.
(Lisa Richards 1:25am August 5, 2010)
My biggest interests are history and languages. That's one reason I love historical fiction and romances, especially if they are also set in non-English-speaking countries. For whichever country the action takes place in, I take out my trusty maps and follow the locales. (For this I really don't find the Internet as useful.) But give me a romance or at least love-interest any time. I like seeing how the romance develops.
(Sigrun Schulz 1:56am August 5, 2010)
I love a fiesty heroine who plays hard to get but all is resolved in the end - a bad guy helps too.
(Barbara Hanson 3:54am August 5, 2010)
This sounds like a great book to escape reality for a while.
(Karen Hofmaier 1:46pm August 5, 2010)
I have to say I love escaping to different eras,different countries, different jobs, etc. I love being able to explore the world without leaving my chair, and knowing it will end happily ever after.
(Renee Grandinetti 3:47pm August 5, 2010)
Congrats, sounds like enjoyable reading.
(Betty Miles 3:52pm August 5, 2010)
Can't wait to read it, hopefully
I win!
(Shardae Allen 4:32pm August 5, 2010)
Book sounds like a fun read, so meny books so little time but I'll be adding you book to my list of books to read
(Vickie Hightower 4:59pm August 5, 2010)
yeah! Can't wait to read this one! yum. : )
(Ramona Ice 5:23pm August 5, 2010)
Would love to read your books!
(Trish Wakeman 9:26pm August 5, 2010)
It's all about memorable characters, chemistry, and passion. Of course, it also good to learn things from the books.
(Kai Wong 10:10pm August 5, 2010)
I enjoy tales from the past!
(Darci Paice 2:31am August 6, 2010)
Registered users may leave comments.
Log in or register now!