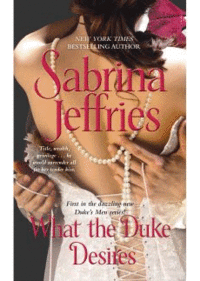 Fans of New York Times bestselling author Sabrina Jeffries will rejoice knowing that she's written a brand new, sexy Regency romance series—The Duke's Men—which premieres on June 18 with the series launch book, WHAT THE DUKE DESIRES (Pocket paperback.) This fabulous novel about a Regency–era missing persons agency, has already received a great deal of attention with a starred review in Publishers Weekly and 4˝ stars and Reviewer Top Pick designation from RT Book Reviews. The lucky winner of Sabrina's June contest will receive a $25 gift card to the winner's bookstore of choice to purchase a copy of WWHAT THE DUKE DESIRES and other great books for their summer reading pleasure.

WHAT THE DUKE DESIRES
Order Today
Maximilian Cale, the Duke of Lyons, accepted long ago that his kidnapped brother was dead. When a cryptic note from investigator Tristan Bonnaud claims otherwise, Max seeks out Tristan's sister, Lisette—and is infuriated to learn that Tristan has also mysteriously vanished. Have the siblings perpetrated an elaborate hoax? Or is the fiercely protective beauty as innocent as she claims them to be?
Fearful that the powerful duke will destroy Tristan's career in his zeal for the truth, the clever Lisette convinces Max to accompany her to Paris in a joint search for their loved ones. But their journey takes a seductive twist when they pose as an ordinary husband and wife—not an English duke with a tarnished family name and the illegitimate daughter of a viscount—and discover an exhilarating passion free from the damning secrets of the past. With the line between danger and desire enticingly blurred, they discover that some mysteries, like those of the heart, are answered tenfold in the bliss of a true and trusting love.
"The first of the Duke's Men series offers fans a totally engaging, adventurous love story, dovetailing with the Hellions of Halstead Hall series and delighting readers with a strong plot, steamy desire and an oh–so wonderful ending."
—RT Book Reviews, 4˝ stars, Top Pick
"This unusual tale of interlocking mysteries is full of all the intriguing characters, brisk plotting, and witty dialogue that Jeffries's readers have come to expect."
—Publishers Weekly, starred review
To keep up with Sabrina, follow her on Pinterest, Twitter,and Facebook. You can also check out her website at www.SabrinaJeffries.com. Be sure to download her free app from your mobile phone app store for the very latest news.
Contest ends: June 30, 2013