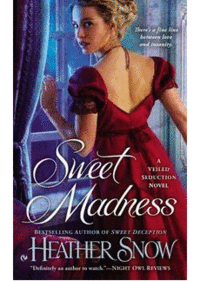 Do you have spring fever? Well, there's only one cure for that: a great book, of course! But your case is severe, you say? Winter was long and cold? Well, then we shall just have to increase your dosage of great books to two! Win Heather Snow's upcoming April release, SWEET MADNESS as well as a $10 gift card to your bookseller of choice so that you may choose another book to complete your recovery!

SWEET MADNESS
Order Today
Ever since her husband's sudden and tragic death, Lady Penelope Bridgeman has committed herself to studying the maladies of the mind, particularly the trauma of soldiers of the Napoleonic Wars. It is this expertise that brings the Marquess of Bromwich's family to her door.
Gabriel Devereaux's unexpected and unpredictable episodes are unlike any Penelope has studied. The once proud soldier has been left shaken and withdrawn, but Penelope manages to build a fragile trust between them. Strangely, Gabriel seems completely lucid when not in the grips of his mania, and during the calm bouts between, she is surprised by how much she is drawn to him.
Despite his own growing feelings, Gabriel knows that he is fit for no one and is determined to keep Penelope away from his descent into madness. But even though she knows firsthand the folly of loving a broken man, Penelope cannot stop herself from trying to save him, no matter the cost.
US / Canada Addresses only
Contest ends: April 8, 2013