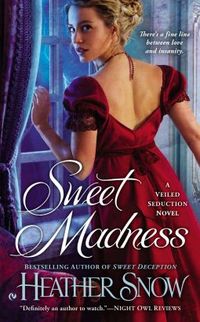 Purchase
A Veiled Seduction Novel
Signet
April 2013
On Sale: April 2, 2013
Featuring: Gabriel Devereaux; Penelop Bridgeman
384 pages
ISBN: 0451239679
EAN: 9780451239679
Kindle: B008MG1G3E
Mass Market Paperback / e-Book
Add to Wish List

Ever since her husband's sudden and tragic death, Lady Penelope Bridgeman has committed herself to studying the maladies of the mind, particularly the trauma of soldiers of the Napoleonic Wars. It is this expertise that brings the Marquess of Bromwich's family to her door.
Gabriel Devereaux's unexpected and unpredictable episodes are unlike any Penelope has studied. The once proud soldier has been left shaken and withdrawn, but Penelope manages to build a fragile trust between them. Strangely, Gabriel seems completely lucid when not in the grips of his mania, and during the calm bouts between, she is surprised by how much she is drawn to him.
Despite his own growing feelings, Gabriel knows that he is fit for no one and is determined to keep Penelope away from his descent into madness. But even though she knows firsthand the folly of loving a broken man, Penelope cannot stop herself from trying to save him, no matter the cost.
Veiled Seduction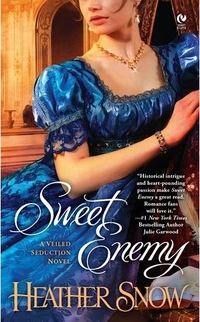 Sweet Enemy
#1.0
Amazon.com | BN.com | | |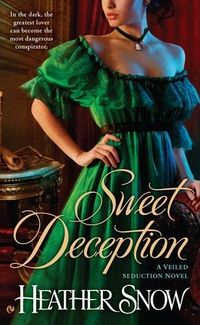 Sweet Deception
#2.0
Amazon.com | BN.com | | |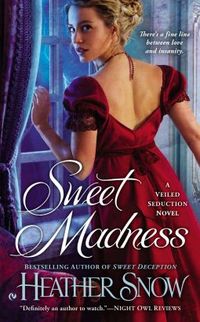 Sweet Madness
#3.0
Amazon.com | BN.com | | |
Comments
33 comments posted.
Re: Sweet Madness

Blue would be my color! Can't wait to read the book!
(Ashley C 10:41am April 5, 2013)
black was always my favorite however I am being more drawn to
pink these days
(Carin Walker 10:51am April 5, 2013)
Teal blue is my favorite color..and I think it does match me. I was just discussing colors with one of my girls because we are painting her room and she was trying to convince me to go with a dark purple and all the reasons why! We didn't go really dark, but dark enough!
(Sue Galuska 10:57am April 5, 2013)
At my age, I find pink is kinder to me, so I'll have to go with pink as my favorite. Also, I like the description you gave for pink.
(Anna Speed 11:17am April 5, 2013)
Red! But only because it goes with my colouring!
(May Pau 11:25am April 5, 2013)
Blue would be my colour. I just love the colour blue. I am looking forward to reading this book :D
(Aimee Robison 11:33am April 5, 2013)
Yellow...the brighter the better. That's me, a crazy ray of sunshine. ;)
(Deb Diem 11:36am April 5, 2013)
I think that it fits me perfectly. I do think that the colors I stay away from
may need to be looked at also. Hmmm. Thanks for the lesson. I am also
looking forward to reading Sweet Madness. I love to see the characters
progressing throughout a series.
(Patti Paonessa 12:16pm April 5, 2013)
blue,yes
(Kent Cook 12:31pm April 5, 2013)
I like blue. I wear a lot of blue because it brings out the blue in my eyes. Heather I read Sweet Enemy and I loved it.
(Rita Wray 1:31pm April 5, 2013)
My fav color goes back & forth between green & blue... I can see some of those things being a part of me...
(Colleen Conklin 1:41pm April 5, 2013)
My favorite color is coral and then turquoise. I wear a lot of those colors since
they go with my complexion.
(Joy Isley 3:28pm April 5, 2013)
I love pink and navy blue. The description for pink fits me
to a tee.
(Susan Clickner 4:20pm April 5, 2013)
Hi everyone! Sorry I'm a little late to our colorful party, but the Heir and the Spare are both home today and not really keen on Mommy getting on the computer when I could be playing with them :)

Ashley C -- Thanks so much! I do hope you love it!

Carin - it's interesting how often those two colors go together anyway, like 2 sides to a coin

Sue -- there are some gorgeous purples out right now in paint colors...it's so IN :) I've even seen it done on houses recently and it looks awesome, which I never would have expected

Anna - Pink is nice :)

May -- It's funny how we gravitate towards the colors that look best on us!

Joanne--blue is lovely. I do hope you love Sweet Madness!

Deb--nothing wrong with a ray of sunshine! I like bright and cheery. Yellow was Penlope's color of choice once, too :)

Patti -- It was tough for me to do such rotten things to poor Penelope, who was such a sweetheart in the first book. But, I think she comes out of it stronger :)

Kent--blue is very popular. Such a nice color!

Rita--I'm SO glad you enjoyed SWEET ENEMY! It's always interesting to me to see what people think, especially as they read through the series. For some people, SE is their fav. Others say Sweet Deception, which just won the Gayle Wilson Award of Excellence in published historical romance. And now that people are reading Sweet Madness, most are saying it's their fav (though not all)...funny how different we all are! I just hope it means I'm putting out a good product every time :)

Colleen -- I'm like you, my favorite vascillates

Joy--Oooh, island colors! I like it :)

Susan--Those two go nicely together, too! Especially when the pink is very pale.
(Heather Snow 4:52pm April 5, 2013)
Blue would be my favorite color with Loyalty, reliability, honor, trust, peace and professionalism!
(Timothy Younger 5:06pm April 5, 2013)
I always loved orange from the time I was very young into my late twenties, and according to your description I would say that color was me...enthusiastic, cheerful, and creative (since I loved craft projects making them for gifts and to sell, and always loved to paint when I was just a kid too). My favorite color changed to turquoise later and I still like that color because I'm so fond of turquoise jewelry. Not sure if that falls into the blue or green catagory (since it's a little of both)?
(Linda Luinstra 5:50pm April 5, 2013)
Timothy -- all admirable qualities to have! Thanks for stopping by

Linda -- Orange is lovely, a great flair color! And turquois is very complementary to that, so it's no wonder you love it, too! Thanks for stopping by!
(Heather Snow 6:08pm April 5, 2013)
My fave color is blue and parts of the description fits me well (loyal, reliable, peaceful, trusting) but I'll have to disagree with being cold and bored! Congrats Heather on your new release, can't wait to read it, and for winning the Gayle Wilson Award!
(Anita H 7:00pm April 5, 2013)
Definitely purple! Magic, mystery... Yep! Thanks for the contest AND congrats on your new release!
(Linda Townsend 7:13pm April 5, 2013)
Blue has always been my favorite color. Didn't know this about
color.
(Gail Hurt 7:22pm April 5, 2013)
My favorite color has always been Blue. It it does seem to fit, as I've been described by
friends. And congrats on the release of, "SWEET MADNESS"! I can't wait to read it. :)
(Lazydrag0n Puff 7:55pm April 5, 2013)
My favorite color is purple, and has been for as long as I can remember. The meaning partially suits me, both past and present. I hope the future is even better!! I would love to read your book, since the story line is unlike anything I've ever heard!! I have no idea how an Author, such as yourself comes up with an idea such as this for a book, but it sounds like a great read - especially now before the colors come up for Spring!! Congratulations on your latest book!!
(Peggy Roberson 8:00pm April 5, 2013)
Congrats on the new book! I've always been partial to green,
I'm not the jealous type but I do try to be optimistic and
calm. So in some ways, the color suits me, but I'm more a
mixture of all the colors!
(Ada H. 8:32pm April 5, 2013)
My favorite all time color is red. I wear red all the time. Congrats on the books.
(Vicki Hancock 8:44pm April 5, 2013)
Because of my coloring, my favorite colors to wear are yellow, orange or
peach. My home is furnished in cream, browns and greens.
(Monica Vargo 8:59pm April 5, 2013)
Purple. Yes, it fits very well. I am very much a queen, of course ;-)
(Chelsea Brooks 9:50pm April 5, 2013)
It's really a toss up between teal and purple. The blue part of teal (or purple!) probably fits me best.
(Janie McGaugh 10:11pm April 5, 2013)
Hi Heather!

Yellow is my favorite color because it remind me of spring and the yellow daffodils that pop up from a long cold winter to spread cheer and bring back the sunshine that we've been waiting all through the cold winter to return once again. To be yellow brings me the wonder of springtime all year long and always brings a smile to my face. Like your wonderful books yellow is the color of hope and happiness all year long!
(Jeanne Miro 10:21pm April 5, 2013)
I love orange it is my favorite. I also love to wear turquiose with it. Thanks for a chance to win.
(Linda Hall 10:47pm April 5, 2013)
I LIKE PURPLE best and the book sounds great
(Debbi Shaw 11:57pm April 5, 2013)
Orange is my power color - I wear orange and feel right.
(Beth Fuller 12:24pm April 6, 2013)
I've always liked green.
(Kathy Sullivan 11:07am April 6, 2013)
I like looking at colours that I don't necessarily wear as they would not suit my colouring. Light purple is nice to look at, blue, silver grey - which goes with most strong colours!
(Clare O'Beara 2:02pm April 6, 2013)
Registered users may leave comments.
Log in or register now!