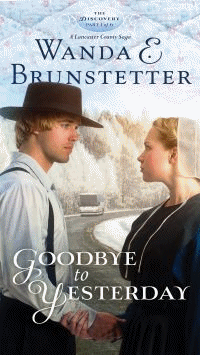 Award–winning and New York Times bestselling author Wanda E. Brunstetter, one of Amish fiction's earliest and most well–known authors, continues The Discovery Saga, a 6–part serial novel series with Book 2, THE SILENCE OF WINTER. The Discovery offers a compelling love story brilliantly mingled with an unexpected twist.
To celebrate this unique serialized story, as well as the Amish focus on good food, family and friends, Wanda will award one grand prizewinner a 16–quart stainless steel stockpot and a set of rustic bowls from Sur La Table, as well as copies of GOODBYE TO YESTERDAY, Book 1, and THE SILENCE OF WINTER, Book 2. Four additional winners will each receive copies of GOODBYE TO YESTERDAY, Book 1, and THE SILENCE OF WINTER, Book 2.

THE SILENCE OF WINTER
Order Today
Meredith can't wait to hear from Luke. . . .
Meredith Stoltzfus longs for the sound of her husband's voice. She needs to know Luke has arrived safely in Indiana and hear his excitement about a new career opportunity. Most of all she needs reassurance of his love. Financial stress has taken its toll. Surely this new job will be the light at the end of the dark tunnel their young marriage seems to be trapped in. And maybe this call would be a good time to finally share her big news . . .
But Luke's call never comes. Instead, Meredith receives news that tears her heart to shreds and leaves her in a dark pit of despair.
How will Meredith go on?
To learn more about Wanda's novels, Amish facts and to see photos of her travels, visit www.WandaBrunstetter.com.
Contest ends: March 31, 2013