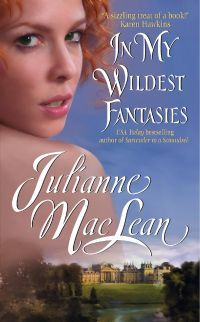 Win an autographed copy of Julianne MacLean's IN MY WILDEST FANTASIES!
Don't miss the thrilling first book in the Pembroke Palace Series...

IN MY WILDEST FANTASIES
Order Today
Four years ago, a mesmerizing stranger pulled Lady Rebecca Newland from her runaway coach, galloping to her rescue in a fog-shrouded forest. Though she was just seventeen, Rebecca felt an irresistible desire for the mysterious man, and swore that she would someday be his bride. But now she is betrothed to another man whom she detests - and Devon Sinclair, the future Duke of Pembroke and her hero, lies tantalizingly beyond her reach...
Will she find the courage to pursue her own happiness and make all her wicked fantasies come true? Join her at the palace to find out, where you will delight in meeting the very enticing gentlemen of Pembroke.
US / Canada Addresses only
Contest ends: February 28, 2013