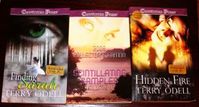 Read the first two Pine Hills Police books, Finding Sarah and Hidden Fire in the original print edition from Cerridwen Press. Also featured is a collection of short stories, including Coping Mechanisms, which appeared for the first time in print in this volume. Never offered for sale in print, it's a genuine collector's item. All books will be autographed by the author.

Finding Sarah
Order Today
Being robbed at gunpoint wasn't part of Sarah Tucker's business plan. Neither was falling in love with the detective who arrived to solve the case.
All Sarah wants is success for her gift boutique, the one she and her husband created. Now, she's living a hand-to- mouth existence. Her husband died a year earlier in a car accident—an accident that was ruled suicide, denying her his life insurance money. Burdened by guilt that she was somehow to blame for his death, Sarah faces one business setback after another. Determined to succeed on her own, she fights off a meddling sister-in-law as well as offers of financial assistance from a former boyfriend. Unaware someone is setting her up for failure, she's totally unprepared to find herself fighting for survival.
Police Detective Randy Detweiler thinks the crook is a thief who's been evading cops all over the state. A routine robbery investigation turns into the biggest challenge of his career when he falls in love with the victim, and he starts crossing professional boundaries. When Sarah disappears, he's afraid all his detective skills might not be enough to find her in time to save her life.
Finding Sarah was previously published by Cerridwen Press. This version has been revised, updated, and includes some material not found in the original.
Contest ends: December 31, 2012