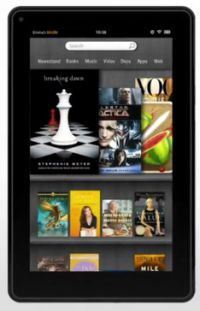 A Kindle Fire!!!
Plus a host of great ebooks! "The Fire is a marvelous device." - Chicago Sun Times
The Story Garden--where good friends make good books
Who are we? We are authors who have been friends for over fifteen years. Most of us started our internet circle before we'd published our first books. Over the years, our careers and our friendships have grown. Come visit us at www.facebook.c om/thestorygarden. We love to talk to readers, especially about books. We have free promotions and giveaways, plus we are always looking for new friends who enjoy reading.
PLUS, we are giving you fab reads to load up that Kindle Fire
And come visit us. Get to know us--
Teresa Hill www.teresahill.net
Trish Jensen www.trishjensen.com
Eve Gaddy www.evegaddy.net
April Kihlstrom www.aprilkihlstrom.blogspot.com
Brenda Hiatt www.brendahiatt.com
Kathleen Eagle www.kathleeneagle.com
Beth Pattillo www.bethpattillo.com
Sandra Hill www.sandrahill.net
Melissa McClone www.melissamcclone.com
Jill Barnett www.jillbarnett.com
Anne Stuart www.anne-stuart.com
Kristina Douglas www.kristinadouglas.com
Maggie Shayne www.maggieshayne.com
Katherine Garbera www.katherinegarbera.com
Mary Strand www.marystrand.com
Lynn Kerstan www.lynnkerstan.com
Books for your Fire: Sandra Hill-THE NORSE KING'S DAUGHTER; Trish Jensen- STUCK WITH YOU; Jill Barnett-BEWITCHING & DREAMING; Anne Stuart-HIGH SHERIFF OF HUNTINGDON & MOONRISE; Lynn Kerstan-THE SPINSTER AND THE RAKE; Melissa McClone-NOT SO PERFECT PRINCESS; April Kihlstrom-THE AMBITIOUS BARONET; Maggie Shayne-ANNIE'S HERO; Judith Arnold-SAFE HARBOR; Brenda Hiatt-SCANDALOUS VIRTUE
Contest ends: February 29, 2012