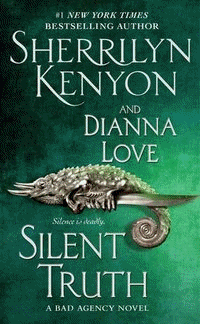 You'll receive all three BAD agency novels, including autographed copies of PHANTOM IN THE NIGHT, WHISPERED LIES, and the brand new SILENT TRUTH, which will be out April 20th. Along with the books you'll receive a monogrammed "I'm In A BAD Mood" tote bag, an "I'm In A BAD Mood" t-shirt, BAD agency passport, note pad, and button, plus a cute mini-umbrella to carry in your tote for when it's raining BAD.
Order SILENT TRUTH Today
Tough-as-nails Bureau of American Defense agent Hunter Thornton-Payne is no stranger to uncomfortable top-secret missions, but tonight takes the cake. He just needs to stick out a stuffy charity fundraiser long enough to find the ruthless assassin he's hunted for four years. It's a rogue operation, but Hunter's got nothing to lose—until a beautiful brunette unexpectedly pulls him into her own dangerous agenda.
Abbie Blanton will do anything to find out why her healthy mother has become critically ill. When a high-profile heiress is shot as Abbie tries to blackmail her for the truth behind her mother's mysterious illness, Abbie realizes she's stumbled into an unforgiving conspiracy—and she's the next target. She and Hunter discover an alarming connection that puts them at opposing goals as they begin a treacherous battle against an evil enterprise a secret organization will go to terrifying lengths to keep hidden. Death is inevitable for someone before it's all over.
Previous BAD books:
Order WHISPERED LIES Today
Order PHANTOM IN THE NIGHT Today

Spring is my favorite season because I can open the windows to the warm air, ride my BMW motorcycle through the back roads, and best of all, sit on my patio and read. You can find an excerpt from Hunter and Abbie's story, SILENT TRUTH, on my website along with ideas for a bunch of other great spring reads.
Contest ends: April 12, 2010