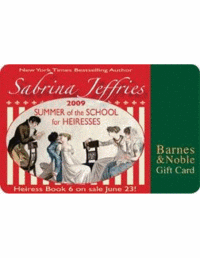 When Sparks Fly, chances are a Sabrina Jeffries story has fanned the romantic flames. Such is the case in the enchanting A SNOWY NIGHT WITH A STRANGER anthology featuring New York Times bestselling author Sabrina Jeffries' contributing story, "When Sparks Fly." The grand prizewinner in Sabrina's September contest will be able to snuggle down with an autographed copy of A SNOWY NIGHT WITH A STRANGER, then brave the cold to shop with a $25 Barnes & Noble gift card.
Order A SNOWY NIGHT WITH A STRANGER Today

In "When Sparks Fly" Sabrina Jeffries takes readers back into the world of her New York Times bestselling School for Heiresses Series for a little Regency Christmas.
In Sabrina's story in this holiday anthology, a carriage mishap on the way home to Sheffield for the holidays leaves Ellie Bancroft, the wealthiest heiress in North England, and her party stranded at the remote manor of the notorious Black Baron.
Weary of being courted for her fortune, Ellie feigns disinterest in her host, the aloof lord of the manor, but there is no discounting the sparks that fly between the head-strong heiress and the mysterious Martin Thorncliff.
Neither Ellie nor Martin may have seen romance in their future, but they soon realize the holidays take on a whole new glow when you share them with one you love.
"This trio of novellas makes good use of wintry snow and ice to set the stage for delightful romantic encounters that are touched with passion and adventure and perfect fireside fare." —Library Journal
For Sabrina Jeffries excerpts, news and a sampling of her Regency-inspired Will and Jane cartoons, visit www.SabrinaJeffries.com.
Contest ends: September 30, 2009