Stefanie London | Bad Boys
Giveaway: A copy of BAD BACHELOR (the book, not app)

March 23, 2018
Not all bad boys are created equal. The Bad Bachelors app is currently helping with women of New York sort the good from the bad, and the bad from the terrible. It's a fine line. Personally, I love a little bad sprinkled in with the good. So, I'm here to talk about my three favorite categories of bad boys.
The Suit
One of my personal favorites. A guy who's smart, in control, looks incredible and has big dreams and goals. What can I say, ambition is a turn on! The key thing to look out for is how he treats those who work closely with him—if he's cruel and manipulative, then he's veered into alphahole territory and you should steer clear. But if he shows kindness (especially if he thinks no one is watching) then you have yourself a winner.
Take Reed McMahon, for example. Sure, everyone thinks he's a womanizer and a player, but he cares about his executive assistant so much he agrees to do some pro bono work for her grandson's favorite library. And he hates libraries! He's an alpha Suit with a heart of gold.
The Wild Boy
These are the guys you mother probably warned you away from. They're fun, impulsive, daring. Just the kind of guy to push you out of your comfort zone and make you try something new. Maybe he's got a bit of a reputation? For these guys, life isn't ordinary. And we all want a bit of the extraordinary from time to time, right?
Watch out for Wes Evans, the hero of Bad Reputation (Bad Bachelors #2) and the guy dubbed "The Anaconda" by the reviewers on Bad Bachelor.
The Lone Wolf
There's something mysterious about these bad boys. Maybe they've suffered a broken heart and have turned their back on the world. Maybe they've got a dark secret. Whatever the reason, a little mystery is a good thing in the world of online dating and social media where everyone's information is accessible with the touch of a screen. These guys are like a big, sexy puzzle just waiting to be solved.
Those are my three favorite types of bad boys. What are yours? Or maybe you prefer a good guy? Let us know in the comments.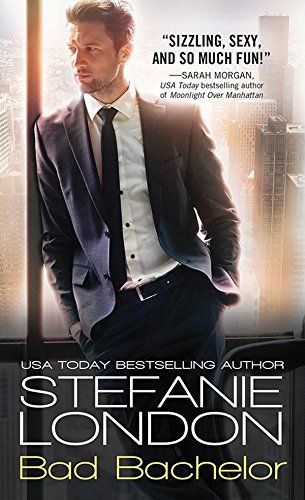 Everybody's talking about the hot new app reviewing New York's most eligible bachelors. But why focus on prince charming when you can read the latest dirt on the lowest-ranked "Bad Bachelors"―NYC's most notorious bad boys.
If one more person mentions Bad Bachelors to Reed McMahon, someone's gonna get hurt. A PR whiz, Reed is known as an "image fixer" but his womanizing ways have caught up with him. What he needs is a PR miracle of his own.
When Reed strolls into Darcy Greer's workplace offering to help save the struggling library, she isn't buying it. The prickly Brooklynite knows Reed is exactly the kind of guy she should avoid. But the library does need his help. But as she reluctantly works with Reed, she realizes there's more to a man than his reputation. Maybe, just maybe Bad Bachelor #1 is THE one for her.
Romance Contemporary [Sourcebooks Casablanca, On Sale: March 6, 2018, Paperback / e-Book, ISBN: 9781492655176 / eISBN: 9781492655183]

Can a dating app find true love?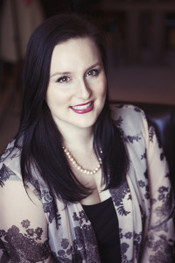 Books that make you laugh a little, and love a lot.
Stefanie London is the USA Today bestselling author of over fifteen contemporary romances and romantic comedies.
Stefanie's books have been called "genuinely entertaining and memorable" by Booklist, and her writing praised as "Elegant, descriptive and delectable" by RT magazine. Her stories have earned prestigious awards such as the RT Top Pick and have achieved bestseller status with USA Today and iBooks.
Growing up, Stefanie came from a family of women who loved to read. After sneaking several literature subjects into her 'very practical' Business degree, she got a job in Communications. But writing emails for CIOs didn't fulfil her creative urges, so she turned to fiction and was finally able to write the stories that kept her mind busy at night.
Originally from Australia, she now lives in Toronto with her very own hero and is currently in the process of doing her best to travel the world. She frequently indulges in her passions for good coffee, lipstick, romance novels and anything zombie-related.
What is your favorite bad boy type? Tell us below!
Comments
17 comments posted.
Re: Stefanie London | Bad Boys

No particular fave... just enjoy seeing how their stories unfold.
(Colleen Conklin 1:13pm March 23, 2018)
It depends on my mood really, but currently finding appeal
in the lone wolf.
(G. Bisbjerg 3:25pm March 23, 2018)
A man who has undergone many trials and tribulations but still
has strength to continue.
(Sharon Berger 2:41pm March 24, 2018)
I like one who is a mixture but is basically good. There's nothing like a good loving'
man!
(Sandra Spilecki 1:39pm March 25, 2018)
You've pretty much covered it!
Who I'm liking at the moment depends on my mood. One
constant is humor, heart and loyalty.
(Kathleen Bylsma 3:35pm March 25, 2018)
Hi
(Emily Stemp 8:01pm March 25, 2018)
I like a bad boy mostly good
(Jean Benedict 4:15pm March 27, 2018)
I like a bad boy but with a pinch of a mannered bad boy.
peggy clayton ptclayton2@aol.com
(Peggy Clayton 12:15pm March 30, 2018)
At first I thought I preferred the wild boy, but then remembered good books with the lone wolf, and come to think of it, the same with the suit. I guess I like all of those you mentioned and it depends upon the story.
(Anna Speed 1:35pm March 30, 2018)
I want the bad boy with the good heart. no matter which category he's from.
(Sharon Mitchell 3:31am March 31, 2018)
I like a good boy who might be a little bad if needed.
(Sharon Extine 1:55pm March 31, 2018)
I want them all- heart, humor, a touch of wicked but true to
his!
(Kathleen Bylsma 4:32pm March 31, 2018)
The bad boy with the heart of gold is the best kind.
(Lynn Rettig 4:48pm March 31, 2018)
The bad boys that have compassion but are very spirited.
(Darci Paice 6:24pm March 31, 2018)
a bad boy with a heart of gold that he keeps hidden
(Jean Patton 7:39pm March 31, 2018)
I really don't have a favorite type. It just depends on the story for sure!
(Rita Spratlen 10:04pm March 31, 2018)
I do not care. I just read what ever sounds good.
(Cynthia Cook 11:32pm March 31, 2018)
Registered users may leave comments.
Log in or register now!