Stefanie London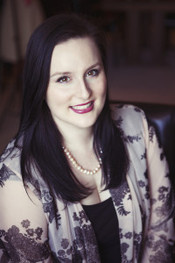 Blogging at Fresh Fiction
Stefanie London | Exclusive Interview: FOREVER STARTS NOW
June 29, 2021
Danielle: Welcome back to Fresh Fiction, Stefanie! Please tell us a bit about yourself and your new book, Read More...
Stefanie London | Exclusive Excerpt: KISSING LESSONS
November 6, 2020
"I did not call you a sex robot." The woman behind the counter flushed almost the exact same color as Read More...
Stefanie London | 20 Questions: HER AUSSIE HOLIDAY
September 1, 2020
1--What's the name of your latest release? Her Aussie Read More...
Stefanie London | Why I love Disney Movies... Even as an Adult
June 17, 2019
Growing up my favourite Disney movie was The Little Mermaid. I wanted to have Ariel's signature red hair, and I loved shiny things like Read More...
Stefanie London | The Book I'm Most Excited to Reading this Year!
February 26, 2019
I am SUPER excited for The Chai Factor Read More...
Stefanie London | Bad Boys
March 23, 2018
Not all bad boys are created equal. The Bad Bachelors app is currently helping with Read More...
Stefanie London | Fact or Fiction?
May 2, 2017
I love sprinkling little bits of the "real world" into my books, whether it's a real place or landmark, a real story or a Read More...
Stefanie London | What's Under the Tree?
November 15, 2016
Hi Fresh Fiction readers! If we haven't met before, I'm Stefanie London. Lovely to meet you! As I'm writing this Read More...
Stefanie London | No More Boring Dates
January 21, 2015
While writing my latest release, THE RULES ACCORDING TO GRACIE, I was looking Read More...
Stefanie London is the award-winning, USA Today bestselling author of contemporary romances and romantic comedies.
Stefanie's books have been called "genuinely entertaining and memorable" by Booklist, and "Elegant, descriptive and delectable" by RT magazine. Her stories have won multiple industry awards, including the HOLT Medallion and OKRWA National Reader's Choice Award. She has also been nominated for the Romance Writers of America RITA award.
Originally from Australia, she now lives in Toronto with her very own hero and is currently in the process of doing her best to travel the world. She frequently indulges in her passions for good coffee, lipstick, romance novels, and anything zombie-related.
Log In to see more information about Stefanie London
Log in or register now!
Series
Behind the Bar | What Happens in Vegas | Dangerous Bachelors Club | The Dangerous Bachelors Club | Melbourne Ballerinas | Scandalous Wentworths | Bad Bachelors
Books:
Forever Starts Now, July 2021
Mass Market Paperback / e-Book
Christmas Actually, December 2020
e-Book
Kissing Lessons, November 2020
Kissing Creek #1
e-Book
The Rebound: A Scorching Hot Romance (Close Quarters), September 2020
e-Book
Her Aussie Holiday, September 2020
Patterson's Bluff #2
Mass Market Paperback / e-Book
Bad Bachelor, March 2020
Bad Bachelors #1
Trade Size / e-Book
The Aussie Next Door, September 2019
Patterson's Bluff #1
Mass Market Paperback / e-Book
Faking It, September 2019
Close Quarters
e-Book
How to Lose a Fiance, June 2019
e-Book
Bad Influence, March 2019
Bad Bachelors
Mass Market Paperback / e-Book
Beauty and the Greek Billionaire, November 2018
e-Book
Bad Reputation, August 2018
Bad Bachelors #2
Mass Market Paperback / e-Book
Unmasked, April 2018
Melbourne After Dark
e-Book
Bad Bachelor, March 2018
Bad Bachelors
Paperback / e-Book
Trouble Next Door, November 2017
e-Book
Betting the Bad Boy, May 2017
Behind the Bar #3
e-Book
Taken by the CEO, March 2017
Scandalous Wentworths #1
e-Book
Mr. Dangerously Sexy, February 2017
Dangerous Bachelors Club #4
Paperback / e-Book
Millionaire Under the Mistletoe, November 2016
e-Book
A Dangerously Sexy Secret, October 2016
The Dangerous Bachelors Club #3
Mass Market Paperback / e-Book
A Dangerously Sexy Affair, April 2016
The Dangerous Bachelors Club #2
Paperback / e-Book
Loving the Odds, March 2016
What Happens in Vegas #14
Paperback / e-Book
A Dangerously Sexy Christmas, December 2015
The Dangerous Bachelors Club #1
Mass Market Paperback / e-Book
Pretend It's Love, October 2015
Behind the Bar
e-Book
Small Town Summer, July 2015
e-Book
The Tycoon's Stowaway, March 2015
Mass Market Paperback / e-Book
The Rules According to Gracie, January 2015
Behind the Bar #1
e-Book
Breaking the Bro Code, October 2014
Melbourne Ballerinas #2
Mass Market Paperback / e-Book
Only The Brave Try Ballet, July 2014
Melbourne Ballerinas #1
Mass Market Paperback / e-Book