Fresh Chat
Conversations With Authors
Kat Martin | Back with INTO THE WHIRLWIND

June 8, 2016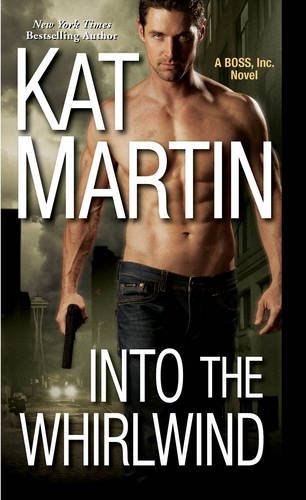 AVAILABLE
BOSS, Inc. #2

June 2016
On Sale: May 31, 2016
400 pages
ISBN: 1420139029
EAN: 9781420139020
Kindle: B01501H2BS
Paperback / e-Book
Add to Wish List

Also by Kat Martin:
Guilty, June 2023
Peril, June 2023
Against the Fire, May 2023
The Last Mile, February 2023

Last week Kat Martin published her latest novel INTO THE WHIRLWIND to great fanfare here at Fresh Fiction! Reviewer Helen Williams instantly put down the book and wanted to know more from Martin about her BOSS, Inc. series, how she picks the right leads for her books, and what she has coming out next.
Helen Williams: Did you already have Dirk and Meg's story developed when writing Ethan and Valerie's story?
Kat Martin: Originally, I didn't plan to give Dirk a story at all, but at the end of INTO THE FURY, he was so sad I had to give him one! I had to make things right for him and Meg. (smile here)
HW: Do you find it difficult to continue a series or does each story flow right into your next story?
KM: Sometimes the stories flow, as with INTO THE WHIRLWIND, where I knew the characters, immediately realized the kind of threat Meg might have to face could involve her child. Other times, I struggle, which I am doing now on a new project.
HW: Since some of your characters have some sort of military or special ops background is this from experience or do you just enjoy these types of stories?
KM: No special background, except that I live in a family of mostly men. Some have had military experience, all are very supportive of men in the service. I have a high respect for the military and I believe the kind of background a former soldier has makes him a good candidate for a hero.
HW: When you decide on a story what comes first -- the character or the storyline?
KM: It can go either way. In WHIRLWIND, I knew Dirk and Meg from Into the Fury so the story came as a result of what happened in that book. In FURY, Ethan Brodie's story, I knew the setting would be Seattle and that the hero would be related to the Brodie brothers of Alaska. But actually that book started more with story. I thought a book revolving around a group of beautiful lingerie models and hot bodyguards would be interesting and fun.
HW: How do you decide what makes a good story for the characters?
KM: I wish I could tell you. As I said, story and character go hand in hand for me. One has to fit the other. I really have no idea how I decide, just little elements that have to come together.
HW: How long does it take to develop and then write the story?
KM: I spend a total of six months writing a novel and I work pretty much every day.
HW: Looking forward to Luke's story in February 2017 -- will there be more?
KM: Luke's story, INTO THE FIRESTORM, turned out to be one of my personal favorites (so is Whirlwind. I loved Dirk and Meg together). After that I'm heading to Texas for a trilogy that begins with BEYOND REASON, out in June of 2017. Multi-millionaire, Lincoln Cain goes head to head with Carly Drake, a woman determined to compete in a man's world.
HW: Do you plan to write anymore stories in the Against Series/Raines of Wind Canyon?
KM: I think the Texas Trilogy will be a little more along those lines. Two brothers, Linc and Josh Cain, and Cain's business partner, Beau Reese. I've got a lot of work ahead of me to get those three written.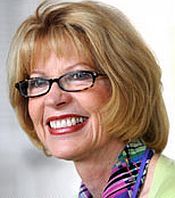 For New York Times bestselling author Kat Martin, a career in real estate led her down the road to romance.
Through real estate, Kat found her own perfect match--her husband, Western author Larry Jay Martin.
"We were on opposing sides of a transaction--I represented the seller and he represented the buyer," Kat recalls.
A short time after the two became acquainted, Larry asked her to read an unpublished manuscript of an historical western he'd written. Kat fell in love with both the book and the author!
"It was quite a romantic story," she admits. "I'd still like to see it get published." Then, after doing some editing for her future husband, she thought she'd try her own hand at writing.
Kat moved on to become the bestselling author of over fifty historical and contemporary romance novels. To date, 15 million copies of her books are in print, and she's been published around the globe, including Germany, Norway, Sweden, China, Korea, Bulgaria, Russia, England, Estonia, Lithuania, South Africa, Italy, Poland, Thailand, Portugal, Turkey, The Slovak Republic, Spain, Argentina, Estonia, Czech Republic and Greece.
When she's not writing, Kat also enjoys skiing and traveling, particularly to Europe. Currently, she's busy writing her next book.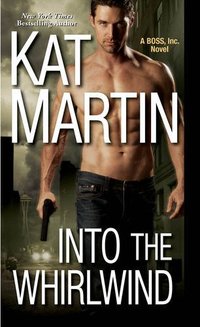 A bodyguard, a bounty hunter, a private investigator, no one can handle the heat like the men of BOSS, Inc.
Megan O'Brien is at her wit's end. Her three-year-old son has been kidnapped. No police, says the ransom demand. Fearing for her son's life, Meg has no choice but to turn to her former bodyguard, Dirk Reynolds.
Dirk's never forgiven Meg for the way she left him after their brief affair. But with bounty hunter Luke Brodie on his side, Dirk knows he's got to help Meg rescue her son.
The few clues they've gathered send them spiraling into a murky world of big banking and international crime. Meg may be way out of her depths, but she's seeing a side of Dirk she never suspected—one no woman could possibly resist.
Giveaway
Win a copy of INTO THE FURY by commenting below
Comments
19 comments posted.
Re: Kat Martin | Back with INTO THE WHIRLWIND

Good Q&A! Each writer is so different I love hearing how various authors come up with their story lines and characters or if the characters come up with their own stories.
(Annetta Sweetko 2:23pm June 8, 2016)
Great comments and questions! I have just started in on
INTO THE WHIRLWIND but only complaint is that I do not want
to put it down ... how am I going to get all my errands
done when I need to know what happens next?
(Audrey Lawrence 3:59pm June 8, 2016)
I have read several of your books. Would love to read this
one
(Sharon Salituro 6:48am June 9, 2016)
Love the interview. Like Annetta, I too love hearing
about the background of the books, the ideas,
inspirations, storylines etc. of each story and
characters. It makes the story all the more special when
I get to reading it.

The blurb sounds intriguing that I want to pick and read
the book. :D
(Mahvish Saeed 1:27pm June 9, 2016)
I love your books ! They are always sooo exciting and a constant page turning . Keeping my fingers crossed for this one . Thanks for the chance to win .
(Joan Thrasher 1:31pm June 9, 2016)
Kat- I'm a bit jealous at all the countries you've been to.
(Kimberly Miller 9:23pm June 9, 2016)
I love your books - especially Luke's story! Can't wait to read more!
(Lily Shah 11:27am June 10, 2016)
Love your books - thanks for the contest. Have a great summer!
(Suzanne Walker 2:29pm June 10, 2016)
I would absolutely love to read this book thank you so much for the
opportunity
(Debbie Rice 5:36pm June 10, 2016)
Enjoyed the interview. I always enjoy your books.
(Melinda Marks 9:20pm June 10, 2016)
I really enjoy your books! I look forward to reading INTO THE WHIRLWIND too!
(Joanne Schultz 4:31pm June 11, 2016)
Your books capture my attention from page one to the very end.
(Joanne Hicks 10:42pm June 11, 2016)
Have a couple of you books. Would love to read this.
(Valerie Miller 9:44pm June 12, 2016)
I've enjoyed reading many of the other books you have written and would love to read this one. It's the type that makes it hard for me to put down until I finish it. Thanks for the giveaway.
(Anna Speed 12:02pm June 13, 2016)
I can't even imagine what it would be like to have 2 authors in one house! How fun! I hope you do write your own romance story someday!
(Sandy Fielder 7:13pm June 13, 2016)
Love your books. One of my favorites is The Summit
(Vicki Clevinger 8:40pm June 13, 2016)
These books are so fun! Thanks so much for the opportunity!
(Marcia Berbeza 9:18pm June 13, 2016)
Enjoy your books Thanks
(Dianne McVetty 9:40pm June 13, 2016)
What an exciting book! Great interview. Thanks for sharing.
(Bonnie H 1:43pm June 27, 2016)
Registered users may leave comments.
Log in or register now!