DiAnn Mills | DEADLOCKED: Which Character Would Have a Parrot?

October 21, 2015
AVAILABLE
FBI: Houston #3

October 2015
On Sale: October 1, 2015
Featuring: Thatcher Graves; Bethany Sanchez
416 pages
ISBN: 1414389957
EAN: 9781414389950
Kindle: B00UCEKR3Y
Paperback / e-Book
Add to Wish List

Also by DiAnn Mills:
Concrete Evidence, October 2022
Trace of Doubt, September 2021
Airborne, September 2020
The Oregon Trail Romance Collection, November 2019

Sometimes characters grab our hearts and sometimes the settings in our stories, but in writing DEADLOCK, I fell in love with Jasper, the African Grey parrot. He belonged to my heroine Bethany, or maybe she belonged to him. In any event, they are a tight couple.
When I first had an idea for an African Grey, I conducted the typical online research. The more I learned, the more fascinated I became with this brilliant breed of parrot. My interest moved from YouTube videos to a TV documentary. The owners of these intelligent birds shared favorite moments, the mimicking of human speech, and behavioral patterns.
The bird is grey except for a bright red tail and eats basically fruit, nuts, and seeds. My kind of diet.
Their temperament can require patience, while they are charming. One of the resource sites compared their sensitive nature to a two year old.
View a few videos to detect their unique personality and social skills. Note some African Grey parrots are a one person bird even when the household has many parrot lovers. They've been known to pick up on stress and depression from the humans around them.
As Jasper showed the reader in DEADLOCK, these parrots are able to repeat words and phrases quickly—so owners need to watch their language. A friend has an African Grey that spouts, "Get the gun," whenever anyone new enters the home. Jasper has the same phrase. Not only do they mimic humans, but frequent sounds around them. Imagine running to answer your phone only to realize your parrot is imitating the sound . . . or the doorbell . . . or the fire station outside its window.
Researchers believe these parrots come to understand what they are saying. They need stimulation to challenge their intelligence, just like a child, which means they need toys.
Life expectancy is around fifty years old. This is a bird an owner can receive, train, and love as a child, then take the bird to college, marriage, parenthood, and possibly into the owner's grandparent stage. If you think about it, an African Grey's companionship is like getting married.
In DEADLOCK, Jasper provides insight into a serial murder crime that Bethany is investigating with her FBI partner. Readers come to experience one smart bird.
Are you ready for an African Grey parrot? The decision will take a commitment to learn all you can, but the rewards of these unusual pets can last—a lifetime.
GIVEAWAY
Do you have or did have a pet? What was their name? Leave a comment below and be entered for a chance to win a copy of DEADLOCK.
DiAnn Mills is a bestselling author who believes her readers should expect an adventure. She combines unforgettable characters with unpredictable plots to create action-packed, suspense-filled novels.
Her titles have appeared on the CBA and ECPA bestseller lists; won two Christy Awards; and been finalists for the RITA, Daphne Du Maurier, Inspirational Readers' Choice, and Carol award contests. Library Journal presented her with a Best Books 2014: Genre Fiction award in the Christian Fiction category for Firewall.
DiAnn is a founding board member of the American Christian Fiction Writers; the 2015 president of the Romance Writers of America's Faith, Hope, & Love chapter; a member of Advanced Writers and Speakers Association, and International Thriller Writers. She speaks to various groups and teaches writing workshops around the country. She and her husband live in sunny Houston, Texas.
DiAnn is very active online and would love to connect with readers on any of the social media platforms listed at her website.
Website | Twitter | Facebook | Pinterest | Google+ | YouTube | Goodreads | Blog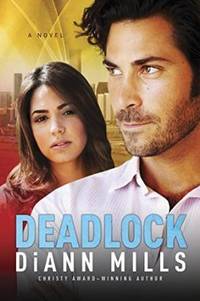 Two murders have rocked the city of Houston. Are they the work of a serial killer, or is a copycat trying to get away with murder?
That is the question facing Special Agent Bethany Sanchez, who is eager for her new assignment in violent crimes but anxious about meeting her new partner. Special Agent Thatcher Graves once arrested her brother, and he has a reputation for being a maverick. Plus, their investigative styles couldn't be more opposite: he operates on instinct, while she goes by the book.
When hot leads soon fizzle out, their differences threaten to leave them deadlocked. But an attempt on their lives turns up the heat and brings them closer together, and a third victim might yield the clue that will help them zero in on a killer. This could be the case of their careers . . . if they can survive long enough to solve it.
Comments
37 comments posted.
Re: DiAnn Mills | DEADLOCKED: Which Character Would Have a Parrot?

I had a pet alpha housebunny, who just passed after 10
years.
(Deb Philippon 10:26am October 21, 2015)
I have never had a parrot for a pet, but I like the fact that their life expectancy is fifty years.
(Bonnie H 10:53am October 21, 2015)
I have a guinea pig for a pet. His name is Benson and he is adorable.
(Kathy Morrison 12:41pm October 21, 2015)
I have had pets through the years... a bird named Oscar that was a wonderful friend, a beautiful dog named Misty that was my best friend, a hamster named Frisky, and so many more.
(Colleen Conklin 12:42pm October 21, 2015)
A small fish name Blue
(Marissa Yip-Young 5:53am October 22, 2015)
We had a boxer named Remus - he was definitely a part of our family - we definitely miss him! My son, who was about 2 1/2 years old when Remus passed, remembered him a bit and remembered Remus following him, as if to guard him.
(Felicia Ciaudelli 2:16pm October 22, 2015)
A dog named Bogie who was sensitive, smart and loving.
(Sharon Berger 2:21pm October 22, 2015)
I have a cat named Cosmo. He is grey with a stub tail. Apparently he was born with the short tail. definitely has a personality.
(Charline Bonham 2:39pm October 22, 2015)
We had a black cat named Siete. We adopted him after he was
abandoned in our parking complex in El Paso. He got that
name because my GF got tired of calling him from the
parking lot, "C-A-T! C-A-T!" and asked me, "What's Spanish
that sounds like C-A-T?"
(Richard Brandt 2:39pm October 22, 2015)
I have a little five pound yorkie named Charleigh. She will soon be eleven
years old. We were never told to have her spayed to prevent breast
cancer. She was an indoor dog with a doggie door and fenced in yard.
And she never went in heat. We recently found out she had cancer and the
vet did surgery. It had already went into her nodes. It's just a matter of
time but so far she still has an appetite.
(Gail Hollingsworth 3:12pm October 22, 2015)
Have a bird now named beba. Had a hamster named pushy.
(Yaritza Santana 4:28pm October 22, 2015)
In my childhood had a cat called Twinkle and a rabbit named Benjy. In my teens another cat named Tara.
(Lesley Walsh 5:26pm October 22, 2015)
My beloved dog, Lilly has been gone for several years, but she had a profound influence on my life. I once thought I wanted a parrot, but was a little daunted by their loud vocalizations and ability to get into mischief. I always loved reading about Alex the African Grey. Thanks for the giveaway and good luck with the release!
(E Felder 7:07pm October 22, 2015)
I have a Miniature Australian Shepherd named Cooper. He is
our 4-legged baby. He was diagnosed with diabetes about 3
months ago, and even though he does have his limits in
exercise and what he can eat, he is still the best dog in
the world!
(Terry Trahan 7:38pm October 22, 2015)
I HAVE GOT TO READ!TI SOUNDS GREAT! MY KIND OF BOOK!
(Marsha Baurns 8:30pm October 22, 2015)
My last dog was called Homer. He was a Golden Retriever. He has been gone for 10 years now but I still think of him often.
(B Tritt 9:16pm October 22, 2015)
We have had several dogs. Each was special. The one that picked us out was a stray that walked up our driveway in the middle of know where. We named her Tiffany but she was an older dog. She brought the family closer. Now we just spend on feeding the birds outside.
(Melinda Marks 10:56pm October 22, 2015)
Have had many pets - our two favorites were Trixie a terrier mix dog and Misty a cat that looked just like the gray cat in the Sheba?? commercials. Both these pets were extremely intelligent and loving; unfortunately both are gone, but definitely NOT forgotten.
(Linda Chesick 5:28am October 23, 2015)
I had a cat named Cuddles for almost 16 years. He died
last summer and I miss him!
(Lori Raines 7:48am October 23, 2015)
Never had a pet, not even a goldfish since I have some phobia and get super scared when I'm near any sort of animal.
(Lisa L. 3:41pm October 23, 2015)
My first pet was an English Setter named Jamie. Actually,
my father owned him and he was supposed to be a hunting
dog, but he was actually MY dog since he only hunted for
me.
(Irene Menge 3:43pm October 23, 2015)
Hoping to win this exciting book
(Dawn Byers 12:28pm October 24, 2015)
We had two dogs - PeeWee and Prince. I miss them both.
(Pam Howell 10:16am October 24, 2015)
I always said I would never have an indoor pet, but I found a tiny kitten that was abandoned. Well, to make a long story short, I now have an indoor cat named Smokey.
(Anna Speed 11:55am October 24, 2015)
I had a dog named Goldie that I loved until someone
poisioned her
(Shelia Hall 12:03pm October 24, 2015)
We have two dogs currently, Gizmo and Cali. A boxer and jack Russell. We lost our Chihuahua, Tequila and our guinea pig Bolt just last year
(Jolene Allcock 12:14pm October 24, 2015)
A dog and his name is Kodi, he is an Akita.
(Jean Patton 4:20pm October 24, 2015)
I did have a little toy fox terrier named Mitzi.
(Diane Sallans 8:07pm October 24, 2015)
We have had big dogs. Out last was named Hunter. The mischief that dog
got into is legendary.
(Laura Gullickson 8:34pm October 24, 2015)
We have two dogs, spot and wally
(Nicole Bouchey 8:39pm October 24, 2015)
A Jack Russell terrorist named Toby who lives up yo his name.
(Suzie Johnson 9:07pm October 24, 2015)
I've had a pet cat, her name was Slinky and she lived to the age of 22. When we moved to a farm she wouldn't associate with the barn cats, apparently she decided they belonged to the farm and she belonged to us...or we belonged to her! My daughter had a pet goat named Cindy and our two eldest (girl & boy) had horses; now that I live in the north my "pets" are the moose that come around our property.
(Betty Gelean 9:29pm October 24, 2015)
I had a cat named Whiskers
(Joanne Balinski 9:32pm October 24, 2015)
I had a very feisty siamese growing up named Tinkerbell.
(Denise Austin 10:12pm October 24, 2015)
Had a cat named Tabby.
(Fred Holmes 10:17pm October 24, 2015)
I have a cat that is half Maine Coon and Half barn cat. His name is Juno.
Yes, named after the movie! Talk about identity crisis.
(Susan Scheelk 2:13pm October 25, 2015)
We have 5 rescues currently..... 4 weims & a great dane :)
(Liz Digman 7:39pm October 27, 2015)
Registered users may leave comments.
Log in or register now!