Nancy G. West | Five Ways Writers Are Weird: A Confession

September 28, 2015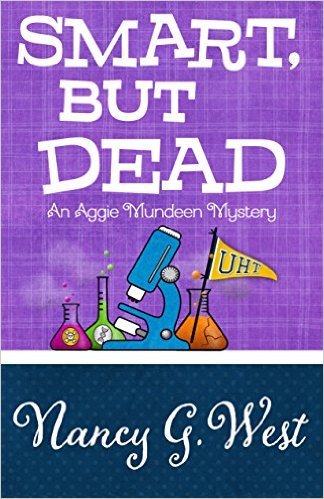 AVAILABLE
Aggie Mundeen #3

November 2015
On Sale: November 17, 2015
Featuring: Aggie
242 pages
ISBN: 1943390258
EAN: 2940150976047
Kindle: B0147MW9RS
Paperback / e-Book
Add to Wish List

Also by Nancy G. West:
River City Dead, January 2017
Smart, But Dead, November 2015
Dang Near Dead, October 2014
Fit To Be Dead, August 2014

I'm a writer. I know a lot of writers. I confess to you now that we are all weird.
1. For us, writing is not a past time, hobby or someday-I-will fantasy. It's an obsession; we must do it. If we don't, we get cranky or bitchy. For us, writing is a biological need, like sleeping, eating or sex. We can go a while without it, but don't expect us to remain charming. I can be away from the chance to write for a week or ten days. After that, count on my being testy.
2. We share a fetish for writing paraphernalia: pencils, pens, notebooks and colored inks. Pencil cups and binders draw us like ants to sugar. The office/school supply section of Office Max, the grocery store or pharmacy beckon to us like nymphs from The Odyssey or Brother, Where Art Thou.
Don't I need that pen? If I cast my feelings inside that tantalizing leather journal, won't my renderings be unforgettable? If I reorganize my office with those beautiful accessories, won't my writing improve a thousand percent?
Time out for individual confessions:
I use violet ink, so none of the guys in the house want to use them or mysteriously walk off with them. ~ Layna Carlisle
I rat-hole pens and pencils in remote cubbyholes of the house without realizing I've done it. Until my husband finds them. ~ Me.
3. Writers are creative in other areas. We paint, sculpt, are gourmet cooks, fashionistas, decorators, and musicians. I like to tile table tops. We call these things our hobbies. Actually, they are ways to rest our writer brains while we happily maintain our creativity. We LOVE to go to Hobby Lobby, Michaels, Lowe's, furniture showrooms, open houses, museums, art shows, sculpture galleries—any place that abounds with creative possibilities. We struggle to resist plunging into new projects that we know will suck time and energy from our writing.
4. We are constantly working. You think we're taking time off to enjoy that movie with you? Well, yes, but we're also dissecting the plot, studying characters, and noting how setting affects the story. Can my work use something from this? I admit it. We are thieves. We read newspapers searching for plot lines and books with an eye to structure, pacing, character development and word choices. We enjoy the book, too, but we see underpinnings and overlays.
5. Each book we write is a birth and a death complete with five stages of grief:

a. Denial. What made me think I was a writer? I cannot write a new book. The last one I wrote was a fluke. I should quit. Now. While I can hold up my head.

b. Anger. What possessed me to sign a contract? How can they expect me to write one or two books a year? Could they do it? I'll tear up the contract and make them sue me. It will be less painful. I'll write the book when I'm ready.

c. Bargaining. Okay. I'll give it a try. I've written books before. The other one(s) came out all right. How hard can it be? I'll plead illness and negotiate for an extended contract.

d. Depression. Other writers say they write crappy first drafts. Not this crappy. How did I ever write this drivel? Whipping this puppy into shape is impossible. I'll never write another good book. This fiasco is going into a drawer. I'm a goner.

e. Acceptance. There are parts here that aren't so bad. With some rearranging, cutting, and rewriting, I see possibilities. There was only one Shakespeare. Didn't somebody say, 'Writing is re-writing?' Okay. I can do this.
The book comes out. People like it. Reviews are good. I begin to believe what the reviewers say. Until the next time….
GIVEAWAY
What makes you a little weird? Leave a comment below and be entered for a chance to win a signed copy of SMART, BUT DEAD.
Nancy's first Aggie Mundeen mystery, FIT TO BE DEAD, was Lefty Award Finalist for Best Humorous Mystery. DANG NEAR DEAD was named a "Must Read" by Southern Writers Magazine.
SMART, BUT DEAD is available for pre-order (Nov. 17 release.)
"Smart. Aggie Mundeen is smart. But. But she's also a little clumsy, irrepressible, and irresistible. Dead. She might well end up dead if she continues nosing around the university where her questions are not wanted. Smart, But Dead is the perfect combination of brains and heart. A tight mystery, an irrepressible heroine, and superb writing." _James W. Ziskin, author of the Ellie Stone Mysteries and Anthony Award-Finalist for No Stone Unturned.
When Nancy was seven years old, she and her mother wrote poems to each other on special occasions. The poems were pretty awful, but she learned if you wrote something, people had to pay attention. In high school, the Library Journal Pegasus published Nancy's poem. Since journalists were underpaid and English majors were selling lingerie, she studied General Business at the University of Texas (Austin and Houston) and earned a BBA.
A few years later, married, with two daughters, Nancy realized she had to study English literature and write. She read numerous books on writing fiction and wrote articles, poetry, and the biography of artist Jose Vives-Atsara. She founded Book Publishers of Texas, edited their trade journal and promoted their books for seven years.
While earning her MA in English literature at University of the Incarnate Word, San Antonio, she began writing a story set at a university. NINE DAYS TO EVIL, a tale of psychological suspense, Shakespeare, and nonstop-action, won the Blether Gold Award.
Her poem, Time to Lie, was featured by "Theme and Variations" and broadcast on NPR. She wrote book reviews for San Antonio Woman's Book Shelf column for three years and articles for other publications.
As West finished Meredith Laughlin's story, NINE DAYS TO EVIL, Meredith's "mature" graduate school friend, Aggie Mundeen, demanded that Nancy write a book about her. Or maybe a series. Here's how it happened: https://stayyoungwithaggie.wordpress.com/
The result was the Aggie Mundeen mystery series.
Website | Facebook | Goodreads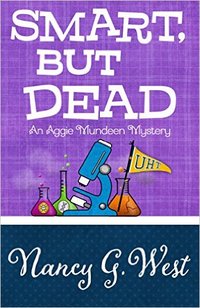 Skirting forty and appalled by the prospect of descending into middle-age decrepitude, Aggie Mundeen blasts off to the local university to study the genetics of aging. In addition to providing youthful hints for readers of her column, "Stay Young with Aggie," Aggie is doggedly determined to stay young.
Despite conflicts with her professor, she learns about the Human Genome Project and DNA. When she discovers a dead body, Detective Sam reminds her not to "help" with the investigation. But dangerously curious and programmed to prod, she races to solve the crime, winds up the prime suspect and is on target to become next campus corpse.
Comments
64 comments posted.
Re: Nancy G. West | Five Ways Writers Are Weird: A Confession

What makes me a little weird is that I don't like it when
things are out of place. My husband sometimes will put
things elsewhere or leave something somewhere and then i
put it back. One time he left the bread by the compost so
last week he went to make his sandwich for work and said
where is the bread and I told him that he left it near
the compost so i took it out to the bin. He threw a fit
as he had just left it there not to be put in compost it
was a loaf of good bread. Well I didn't know you set
something near the compost and my way of thinking is that
is where it goes. Just a little humor for you not sure
if that is weird but a little of what goes on when there
are no kids only us and our 4 -legged girls. Without the
2 of them I would be weird that is what I tell my
husband.
(Peggy Clayton 1:06pm September 28, 2015)
Me, Weird? Only if you consider my obsession with reading
books and crocheting. I can find a way to do either almost
anywhere (except donating platelets at the red cross).
(Amber Kuehn 1:30pm September 28, 2015)
I tend to write crazy stories will end up dead in odd
manners like a piano falling through a ceiling.
(Marissa Yip-Young 1:54pm September 28, 2015)
I apparently have a rather weird sense of humor--at least I am always being told so. Personally, I just think that other people can take life too seriously--better to laugh than to cry.
(Cindy Gowett 2:29pm September 28, 2015)
I am not a person who goes out to lunch ever. Weird or no.
(Sharon Berger 2:35pm September 28, 2015)
I also love stationery things and can't avoid the area in a store. I have a huge collection of beautiful stationery that I can't bear to use because it is so nice.
(Linda Levine 4:04pm September 28, 2015)
Weird is the norm in our house! Now that we're down to empty nesters
here, he's diabetic & im not big enough to n eating meat, we go weeks of
Bly eating salads & baked potatoes. Visitors would be dissatisfied with
dropping by at mealtime.
Also, as a retired teacher serving as a children's librarian, I collect pens,
bookmarks, & author swag for my book clubs. However, I've now got quite
the collection, despite the giveaways!
(Wl Hutch 5:15pm September 28, 2015)
What makes me weird? Everything about me - really! :-)
(Felicia Ciaudelli 6:05pm September 28, 2015)
The company I keep.
(MaryEllen Hanneman 6:16pm September 28, 2015)
It's all true! The "constantly working " bit amuses my friends no end, as I'll
suddenly say in the middle of a conversation, "Hey, I could kill someone that
way."
(Cindy Brown 7:04pm September 28, 2015)
...AND I THOUGHT WE ALL JUST HAD SPLIT PERSONALITIES. YOU'RE SO RIGHT. WE'RE HOPELESS. CONSTANTLY AT WORK, FULL OF SELF-DOUBT WITH MOMENTS OF HYPER HAPPINESS WHEN THINGS COME TOGETHER. CONGRATS ON YOUR NEW BOOK, NANCY.
(Nancy Cole Silverman 7:24pm September 28, 2015)
Ha, I was born weird! I am a foreigner who speaks english
better than those around her - possibly because my nose
is in a book all the time. I often read 4 or 5 books at
the same time, one in the bathroom, one in the kitchen,
one on the porch and one with the cats. My sister is the
same way, so I never thought it was weird. I just thought
other people were boring.
(Dagmar Finch 9:20pm September 28, 2015)
Your latest book sounds great!
(Susan Mahaffey 9:45pm September 28, 2015)
Purple pens? I thought I was alone.Hiding pens from my husband? Oh dear. Can one be weird and much like someone else?
Loved this and hope your book is a smash,
Bourne Morris
(Bourne Morris 2:01am September 29, 2015)
What a great post, Nancy! I agree with all five points, but especially #4. Even the most mundane tasks become fodder for plotting that newest book. Non-writers don't always understand that you don't have to be seated, pen in hand, to be working.
(Wendy Tyson 7:08am September 29, 2015)
I want to read this book to see who else is weird besides
my husband (not me of course)
(Jeri Dickinson 9:00am September 29, 2015)
Thank you ALL for sharing your weirdness with me. Now I know I'm not alone.

Anyone else?

Nancy
(Nancy G. West 9:36am September 29, 2015)
People seem to think I'm more than a little weird. My
tastes in reading and music and movies don't line up with
the popular mainstream hits, so people I work with think
there's something wrong with me.
(Deb Philippon 10:00am September 29, 2015)
I really think I need to write that book that's been in
my head all of those years!!! I share so many of your
traits, and was drinking my coffee while reading your
posting. I almost spit my coffee out from laughter, when
I saw myself in a few of your postings!! lol For now,
I've volunteered to teach a knitting and crochet class,
which takes up a lot of time. The rest of my time is
spent reading. Waking up early is a Godsend, so I can
squeeze in extra hobbies, as well as getting extra things
done. I do collect pens, pencils, and notebooks. I also
print out a lot of patterns for my knitting and crochet
class, and have binders full of them. Will I use them??
Who knows, but there's always a new technique or pattern
out there, as well as a beautiful item that comes along
that somebody is going to want to make. I like to be
prepared!! Your book sounds wonderful, and I'm really
looking forward to reading it!! I've put it on my TBR
list. Thank you for the wonderful posting, and for
letting us know about your book!!
(Peggy Roberson 10:16am September 29, 2015)
Weird? I like to say UNIQUE - in every way. Who wants to be normal anyway? Too boring. I've loved reading all the responses to your question. Seems like there are a lot of us "individual" types out there. Good luck with your book. Thanks for the chance to win.
(Nancy Reynolds 11:08am September 29, 2015)
All my friends say I'm weird because I like to iron my clothes. They say no one irons these days except me . It's no different (to me ) than getting all the weeds and grass out of your flower beds .What really bugs me ,and I mean really bugs me is for my husband or children to leave the cabinet doors or drawers open in my kitchen . That drives me CRAZY . Well , enough , now you see how weird I am .LOL
(Joan Thrasher 11:18am September 29, 2015)
Deb, my tastes in music, books and movies don't always line up either. Not to worry. Nancy, I agree, totally normal can be boring. Joan, ironing can be creative...gives you a sense of accomplishment and creativity. Peg, write that book! You have so much creative potential. Read A. Sokoloff's Screenwriting Tips for Author; then go for it!
(Nancy G. West 11:27am September 29, 2015)
I always have to remind my family that I'm not really
having a conversation with myself, but am working out
dialogue. I also can't seem to have enough books,
scrapbooking supplies, and quilting items in the house.
Every time I promise myself no more, I find something I
absolutely must have. How can I leave the cute fabric in
the store? I might need it one day.
(Christina Freeburn 12:09pm September 29, 2015)
Christina, I can identify!
(Nancy G. West 3:05pm September 29, 2015)
I'm not sure I would classify myself as "weird", but
certainly there are things about me that do not fit the
"stereotype" of what a person of my age and ethnicity
"should" be.

I read romance novels.
I listen to various forms of music that people like me
generally don't, including rock and country.
I collect books, both paperback and e-books.
I like women's sports.

Some people may find those things "weird" about a mid-
forties, heterosexual, multi-ethnic male, but that's who I
am, and if others find that "weird", then I will wear that
title proudly.
(Edward Washington 3:20pm September 29, 2015)
Loved the post! I can't go into a fabric store without buying some fabric for quilting, even if I don't have a project in mind. Even if I don't need it, the colorful fabric is coming home with me.
(Bonnie H 4:31pm September 29, 2015)
I'm a little weird because I see things other people don't.
Once I saw a almost dead puppy in the ditch. I rescued it.
I always see the injured and sick. Even bugs. I am that
strange woman who fishes the earthworm out of the puddle.
(Dagmar Finch 9:51pm September 29, 2015)
i read too much they say! lol
(Debbi Shaw 10:06pm September 29, 2015)
I set up a huge front yard display/walk through haunted house
for the kids to go through every year or Trick or Treat. They
have to get to the end to get to me to get candy.
(Diana Thomas 11:59pm September 29, 2015)
I love to read and will resd anything.
(Cynthia Cook 5:06am September 30, 2015)
I love to read and if it is weird that is wonderful. I
enjoy it all. Must read this book as it fits me to a tee.
(Shirley Sego 9:48am September 30, 2015)
I tend to be a Pollyanna (even when it goes against all logic). Some people call it denial, others call it annoying but most everyone calls it weird. From my point of view, I see everyone as depressingly negative. Oh well, I'll just go back to my happy place and let the rest of the world wring their hands.
(Nancy Marcho 1:44pm September 30, 2015)
I'm shy and introverted. I read a lot and buy books even faster than I can read them. I like cats more than dogs. I'm sure if you asked the people around me they could come up with a million other "weird" things about me. I just tell them it's not weird to me.
(Kerry Shaw 3:11pm September 30, 2015)
What I consider normal, others might think is weird. I love to read, don't have to have lots of company, and really don't like for others to put pressure on me to do things they want done.
(Anna Speed 4:52pm September 30, 2015)
I sing. I can break out in song almost anywhere. I was known for
my singing at the library where I worked as a custodian for over
20 years.
(Nancy Luebke 5:02pm September 30, 2015)
Weird? No, just highly unique!
(Nancy Ludvik 5:42pm September 30, 2015)
I feel like what makes me weird is i'd rather just be alone with my books, my dog and my family then be out in real life.
(Janiera Eldridge 5:42pm September 30, 2015)

(Nancy Ludvik 5:42pm September 30, 2015)
I know I am weird. I enjoy the calm the quiet, of the day. I am happy with 5 books a soda and the comfort of my husband, and/or cat. I like to read about the rest of the world!
(LeAnn Knott 6:55pm September 30, 2015)
I still cook most everything from scratch - I don't know
anybody else who does.
(Dagmar Finch 8:40pm September 30, 2015)
People, even my son, say I'm weird but I'm not sure
why. Perhaps because I'm a horse person. Perhaps
because I love fossil hunting. Perhaps because I enjoy
teaching my grandchildren useful things like how to
use a microscope. Perhaps because I believe ETs are
possible. Is that so weird?
(Irene Menge 8:46pm September 30, 2015)
I'm not sure if this makes me weird, but I love dark, dreary,
rainy days. Nothing better to make me curl up and read a good
book.
(Gloria Burke 10:00pm September 30, 2015)
I think everyone has weird moments. I certainly do. I ready everything,
listen to all types of music and like way out comcs.
(Cindy Rader 10:13pm September 30, 2015)
This looks like a good story
(Beverly Ross 12:32pm October 1, 2015)
OMG I am a crazy person when it comes to colored pens, markers, sharpies, etc!!
(Jennifer McKinney 2:27pm October 1, 2015)
I'm very OCD and absolutely nuts about color coordinating
pens and markers!!!
(Michelle Lilly 2:38pm October 1, 2015)
You all are fabulous! I got goosebumps delighting in how unique each of you is: reading, creating, singing, enjoying music, collecting, empathizing, helping, loving, enjoying being happy, teaching, hunting for treasure, curling up listening to the rain, reveling in color. Never give up qualities that make you distinctive. Celebrate them. Develop them. There's only ONE like you. Think about that. What a blessing. You're not hurting anyone. You're enjoying life! And enriching mine.
(Nancy G. West 5:30pm October 1, 2015)
I was born on Friday 13 so of course my Dad always said I
was weird
(Jeri Dickinson 7:16pm October 1, 2015)
Terrific post. My weird habit is that I have to start
writing each day on paper, to get warmed up. I work that
way for half and hour or so until I'm just itching to get
to the keyboard because the words are coming faster than I
can write them out by hand.
(Ritter Ames 9:33pm October 1, 2015)
I can't stand to have my purse on the floor, even in the car.
(Angela Daffern 12:44pm October 2, 2015)
WHEN MY FAMILY MEMBERS TALK ABOUT DEATH AND SICKNESS DURING THE HOLIDAYS. THAT'S JUST KILL MY JOY!!!
(Tiffany Miles 6:11am October 2, 2015)
i don't cook in my family.
(Ann Unger 6:23pm October 2, 2015)
I prefer the term quirky and lovable. :-) Let's see: I
believe in magic, must leave the house with my right foot
first for good luck, keep a container of salt in my car
for trips to explore old cemeteries (can't have ghosts
and evil following you home), and secretly wish I
could've danced with Gene Kelly.
(Bonnie Davis 6:59pm October 2, 2015)
These are some things that make me weird and unique. Loud chewing, smacking, slurping, nose whistling annoys me. Yet, when I heard people burp or let one go I laugh. Fussy/Picky eater I don't like pork (especially deli meat ham), Cheese Cake, I'm not a huge fan of onions. I apologize to insects when I kill them, sometimes I'll apologize out loud when I throw drinks down the drain. I'd rather shop at Second Hand Stores then the latest, hippest, happening place. Similar to Bonnie Davis' response/answer I also believe in Magic(k), I do believe we live in a physical world and we live in a spiritual world as well. So, therefore, I do believe there are ghosts, spirits, angels, demons, faeires, etc. Another weird fact about me is I never enjoyed reading books until I was in Gr.9 or Gr.10 and to be honest I didn't read Romance Novels until 2 or 3 years ago. There are plenty of other things that make me weird and unique but we'll just leave it at that. :)
(Holly Loch 4:45am October 3, 2015)
It would have to be my sense of humor.
(Mary Preston 8:12am October 3, 2015)
define weird aren't we all a little bit sometimes
(Jeri Dickinson 3:13pm October 3, 2015)
What makes me a little weird is my extreme love of books and reading. I have over 8000 books and more ebooks on my Kindle.
(Mary Songer 8:04pm October 3, 2015)
what makes me weird I guess maybe to some my avid book reading or maybe that I love some of the old time music or yet again still love Cinderella and other old fairy tales. Thanks for the contest love those kinds of stories.
(Gloria Vigil 5:19am October 4, 2015)
Ritter, I only wish the words would come faster than I can write them.

I think you are ALL quirky and lovable.!!
(Nancy G. West 12:46pm October 4, 2015)
Weird I am not weird. Ok maybe just a little weird.
(Denise Austin 2:40pm October 4, 2015)
I guess I am weird because since I am female and love
football (Redskins) and baseball (Nationals) and watch them
when ever they are on TV.
(Jeri Dickinson 4:37pm October 4, 2015)
I am a little weird because I borrow my kids textbooks
while they are sleeping and do math problems and answer
questions. I loved school and miss it.
(Carrie Edmunds 12:28pm October 5, 2015)
I've never had such fun reading responses to a column. You all are wonderful and extraordinary. Wish I could give each of you a hug.
Nancy G. West
(Nancy G. West 11:34am August 28, 2016)
In addition to constantly carrying on conversations in my head, I give
names and personalities to inanimate objects in my home. I have life sized
soft sculpture doll reminiscent of my mother in law in my living room and a
car Gracie. Is that odd?
(Nancy Cole Silverman 5:32pm September 4, 2016)
Registered users may leave comments.
Log in or register now!