K.C. Tansley | 5 Things from My Life that Trickled into My Worldbuilding

July 30, 2015
The Girl Who Ignored Ghosts
K.C. Tansley
AVAILABLE
The Unbelievables #1

August 2015
On Sale: July 31, 2015
Featuring: Evan Kingsley; Kat Preston
256 pages
ISBN: 1943024006
EAN: 9781943024001
Kindle: B00WZOJ028
Paperback / e-Book
Add to Wish List

Also by K.C. Tansley:
The Girl Who Saved Ghosts, October 2017
The Girl Who Ignored Ghosts, August 2015

When I'm drafting a story, I steal from my reality to form my fiction. Things filter into the book in ways that my readers might not catch, but that my nearest and dearest definitely do. Here's a peek at five things that came from my reality and became fiction in THE GIRL WHO IGNORED GHOSTS.
1. My protagonist, Kat Preston has tortoise shell glasses and is tall, curvy, and pale with long blonde hair.
At one point when I was pitching this story, I was not only tall, curvy, pale, and blonde, but I was wearing tortoise shell glasses. At least, my hair was short and wavy. But yes, this is the very first protagonist I ever wrote, so I stole my basic appearance in college for her prep school looks. It's easier to write a character who looks like you as your first character. Or at least, it was for me.
2. Castle Creighton is located on the private Isle of Acacia off the coast of Connecticut. It is only reachable by land via a sandbar that appears at low tide.
The idea for the Isle of Acacia and Castle Creighton sprung from a high school trip to Mont St. Michel in Normandy, France. I fell in love with the isolation of the place.
Growing up in Connecticut, I'd been to Gillette Castle in East Haddam, CT, which fed into the idea for a castle in New England.
The Isle of Acacia was also heavily inspired by a small, uninhabited island off the coast of Westbrook, CT, which I walked out to once during low tide. It felt like such a cool thing—a place that was only reachable at certain times of day. It fit the Gothic mood of my story perfectly.
3. Kat attends a private school, McTernan Academy, in Washington, D.C., which is right next door to her dream college, Georgetown University.
I went to a private prep school, St. Margaret's-McTernan (now Chase Collegiate) in Waterbury, CT. McTernan Academy was inspired by it.
After graduation, I moved to Washington, D.C., and attended my dream college, Georgetown University.
4. Evan is half-Chinese and half-British. He also loves languages.
I had a boyfriend who was half-Thai and half-Chinese and grew up in Kentucky. He always felt caught between two cultures. One of my oldest friends loves languages. Sometimes I borrow traits from the people around me and blend them together to create a character.
5. The Langley family figures very prominently into the mystery.
One of my closest friends in college, Jesse Langley, was diagnosed with cancer our senior year. He passed away before he could finish his degree. I never wanted to forget him so I named one of the main families in my series after him. That way he's never far from my mind.
GIVEAWAY
What part of your reality would make great fiction? Leave a comment below and be entered to win a signed copy of THE GIRL WHO IGNORED GHOSTS plus author goodies.
Kourtney Heintz writes award winning cross-genre fiction for adults. Her debut novel, The Six Train to Wisconsin, is a gripping story about a man named Oliver, who attempts to save his wife Kai from her out-of-control telepathy, and brings her to the quiet Wisconsin town he abandoned a decade ago, where he must confront the secrets of his past to save their future.
Kourtney has been featured in the Republican American, on WTNH's CT Style, and Everything Internet on the radio.
As K.C. Tansley, she writes young adult. Her debut YA time travel murder mystery novel, THE GIRL WHO IGNORED GHOSTS, is about a teenage girl, Kat Preston, who ignores ghosts so she can have an normal life. The ghosts, however, have other plans for her.
Her article "Know Thy Genre" appeared in the May 2011 CTRWA newsletter and was selected by several RWA chapters for reprint in their newsletters. She is a member of the Mystery Writers of America, Romance Writers of America, the Society of Children's Book Writers and Illustrators, and Backspace.
She has been a panelist and presented workshops at writing conferences, universities, bookstores, libraries, and fantasy conventions. (Check out the News section for a list of her previous and upcoming author events.)
She resides in Connecticut with her Shih-Tzu Lhasa Apso warrior lapdog. Years of working on Wall Street provided the perfect backdrop for her imagination to run amuck at night, dreaming up worlds where the unbelievables thrive.
Website | Facebook | Twitter | Pinterest | Blog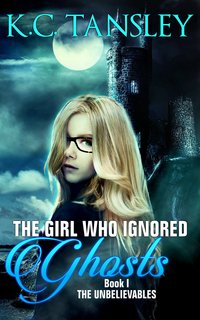 She tried to ignore them. But some things won't be ignored.
Kat Preston doesn't believe in ghosts. Not because she's never seen one, but because she saw one too many. Refusing to believe is the only way to protect herself from the ghost that tried to steal her life. Kat's disbelief keeps her safe until her junior year at McTernan Academy, when a research project for an eccentric teacher takes her to a tiny, private island off the coast of Connecticut.
The site of a grisly mystery, the Isle of Acacia is no place for a girl who ignores ghosts, but the ghosts leave Kat little choice. Accompanied by her research partner, Evan Kingsley, she investigates the disappearance of Cassie Mallory and Sebastian Radcliffe on their wedding night in 1886. Evan's scientific approach to everything leaves Kat on her own to confront a host of unbelievables: ancestral curses, powerful spells, and her strange connection to the ghosts that haunt Castle Creighton.
But that's all before Kat's yanked through a magic portal and Evan follows her. When the two of them awaken 129 years in the past with their souls trapped inside the bodies of two wedding guests, everything changes. Together, Kat and Evan race to stop the wedding-night murders and find a way back to their own time—and their own bodies—before their souls slip away forever.
Comments
54 comments posted.
Re: K.C. Tansley | 5 Things from My Life that Trickled into My Worldbuilding

Love time travel and ghosts too. This is the book for me.
Would love to read and review this. Thanks for the great
opportunity.
(Sherry Cockerham 12:47pm July 30, 2015)
That I'm a beautiful woman who wears glasses ;) But, seriously, I'm a Book Worm, I treat people with respect yet I don't let people walk all over me, I'm an ambivert, and the list goes on...
(Holly Loch 1:56am July 30, 2015)
The people I have met
(Marissa Yip-Young 6:05am July 30, 2015)
In answer to your question, I'd have to say that my life in the country would make great fiction. I'm up early in the morning to feed all the birds that congregate here, putting out the hummingbird feeder, as well as suet for the woodpeckers, jelly for the orioles, and seed for all the other birds that come. I also feed my 2 fur babies (cats), who stay indoors, and love to watch the birds from the sliding door. The deer are out in the field by then, and once Winter gets here, and food is scarce, my Husband and I try to get food to them. Some days the wild turkeys are out in the field as well. We also have 2 stray cats that someone conveniently dropped off, and we have adopted, which we feed every day. They eat outside, of course, and their meal is taken to a special secluded spot outside. Our job is done until late afternoon when the raccoons come on the deck to see what's for dinner. It's a Mother and her baby, and my Husband loves to feed them, and watch them eat. My cats go insane when they show up, wanting to play with them in the worst way!! lol By nightfall, when the bats are flying, we start to bring in the suet and hummingbird feeder, or risk losing it to the raccoons by morning. One day a week I also volunteer to teach a knitting class, which is a lot of fun. My Husband and I are caretakers where we live, and no two days are really the same. There are other tenants here, so you can imagine what it's like. I apologize for the long answer. I have your book on my TBR list, and am really looking forward to reading it!! Congratulations on your book!!
(Peggy Roberson 9:24am July 30, 2015)
I love ghost stories because I believe in ghosts. My
husband is caretaker for a historical place and he is also
a believer having felt their presence.
(Ruth Bousquet 11:06am July 30, 2015)
Hmmm...that I had left home for a celebratory trip abroad
expecting to be away for a few months and did not move home
again for years.
(G. Bisbjerg 12:18pm July 30, 2015)
Hmm. I guess the most story worthy thing I've done was to
take a 3 month leave of absence to travel around the
Netherlands.
(Deb Philippon 1:33pm July 30, 2015)
To experience a medical crisis and learn a great deal from
this and appreciate life.
(Sharon Berger 2:38pm July 30, 2015)
Excited about this opportunity....tried and succeeded in getting my 15 year old daughter to take up serious reading and not just school assigned material...I search, find a book, read it, and then recommend it to her. I am intrigued with the description of this book and think it will be a great one to recommend to my daughter after I get done reading it. Thanks!!...
(Michelle Arredondo 3:24pm July 30, 2015)
Sherry, I'm delighted to hear that. Best of luck in the giveaway!
(K.C. Tansley 3:26pm July 30, 2015)
Holly, I wear glasses too. :) Lots of cool things that come from your reality
and would make for good fiction. Good luck in the giveaway!
(K.C. Tansley 3:27pm July 30, 2015)
Peggy, your life in the country sounds so cool. I would love to be around all
those animals. :) Thanks so much for adding it to your TBR list. Best of luck
in the giveaway!
(K.C. Tansley 3:29pm July 30, 2015)
Marissa, I hear you. I steal from my friends and family to create my
characters. Sometimes one character is a blend of 8 people. :) Good luck in
the giveaway!
(K.C. Tansley 3:30pm July 30, 2015)
Ruth. I'm a believer too. I think the people that are more open to the idea of
ghosts tend to sense them more. Part of my worldbuilding is that ghosts can
come through more easily in historical places! :) Good luck with the
giveaway!
(K.C. Tansley 3:31pm July 30, 2015)
G., now that sounds intriguing. I bet there were a lot of adventures during
that time. Good luck in the giveaway!
(K.C. Tansley 3:32pm July 30, 2015)
Deb, that sounds really cool! Three months of traveling--I bet you have a ton
of fun stories. Good luck with the giveaway!
(K.C. Tansley 3:33pm July 30, 2015)
Sharon, that definitely sounds like a life experience that would make for great
fiction! Losing our health makes us see everything differently.

Good luck with the giveaway!
(K.C. Tansley 3:34pm July 30, 2015)
Michelle, that's awesome. I wanted to create a book a teen, mom and
grandmother would all enjoy reading. There's just enough romance and
adventure for everyone. Good luck in the giveaway!
(K.C. Tansley 3:35pm July 30, 2015)
I currently like in a senior citizens mobile home park
and some of the things I see would make lovely
humorous fiction. Like a month or so ago when I saw
someone in an SUV towing a push lawn mower down the
street on a rope. Why not put it in the back of the
SUV. The hatch was open and the back was empty. Or the
previous owner of my home who lived here with his
daughter and bought the home across the street for his
wife. Had dinner with her every night, too. He fought
in WWII and brought his wife home from France after
the war. Or the woman who takes her dog for a walk in
a baby stroller. There are some interesting characters
here.
(Irene Menge 5:59pm July 30, 2015)
I certainly believe in ghosts. I have had plenty of
strange experiences in my old house. Just last week I
had two occasions where one of my cats ended up in a room
that I had not opened the door to in weeks. THIS week
whenever I can't find one of the furry guys, I start to
kind of freak out.
(LaCinda Jameson 8:30pm July 30, 2015)
Irene, you definitely have an exciting cast of characters around you. Sounds
like a great place to write about. :)
(K.C. Tansley 10:43pm July 30, 2015)
Elaine, that's one of the big "writing rules." I think it can extend to anything
in your emotional experience too. :)
(K.C. Tansley 10:44pm July 30, 2015)
LaCinda, I've had those kind of unexplainable things happen too. I really do
believe in ghosts. I can understand why you'd freak out a little bit over the
cats.
(K.C. Tansley 10:44pm July 30, 2015)
I always feel like my life is so ordinary, but I think that's what people actually want in their fiction. They want ordinary situations they could see themselves in and then analyze if and how they would respond. Would they give in to temptations or would they be the rock solid one that everyone depends on?
(Flora Presley 11:24am July 31, 2015)
Flora, I think people want the immersion and escape. They want to go to
another world. Ordinary people do extraordinary things. Quiet moments have
lots of significance and can be just as beautiful. :)
(K.C. Tansley 2:36pm July 31, 2015)
I believe in ghosts and angels . I believe angels have helped take care of me all my life. Things have happened in my life that I could not have dealt with , had it not been for God and the Angels watching over me . The reality that would make a great fiction would be when my mother told me and three other siblings to get and stay out of hers and our little brothers life . I forgive and go on with my life . You have to make the most out of life and that is what I'm doing now . I hope to read your book soon . Thanks for the giveaway .
(Joan Thrasher 3:57pm July 31, 2015)
Honestly, my fiction would either be a fun kid's book all about my cats (the adorable wee devils), or a modern contemporary about my sad attempts at dating!

Now don't I sound like a cliche? Thanks for the chance!
(Rebecca Diederich 7:28pm July 31, 2015)
My husband thinks it's interesting that whenever we take a walk that streetlights go out when I walk past them and electronics will act funny around me but work perfectly for him, when doing the exact same thing!
(Gloria Shaw 11:34pm July 31, 2015)
Hi Joan, that would be a great way to take something painful and turn it into
something beautiful. Capturing that experience would help others who have
felt something like it. Thanks for entering the giveaway!
(K.C. Tansley 6:29am August 1, 2015)
Rebecca, I love them both. Dating horror stories make for fun reads. :) Good
luck in the giveaway!
(K.C. Tansley 6:31am August 1, 2015)
Gloria--ooh that's a great premise for a paranormal! You should write it. :)
(K.C. Tansley 6:31am August 1, 2015)
my love of reading, definitely! :-) I can get VERY engrossed in my books!
(Felicia Ciaudelli 1:57pm August 1, 2015)
I was hanging with the wrong kind of people and doing things I shouldn't do. I am so lucky to be a live.
cant wait to read sounds great
(Jennifer Beck 2:20pm August 1, 2015)
Just our little town of Wewahitchka would make for great fiction. It is filled with people who are giving and always open to helping their neighbors but then there are the sad times when some family has been stricken with sudden health issues or dead. It's just everyday life.
(Bonnie Capuano 2:54pm August 1, 2015)
Hi i love reading romance books
(Emily Stemp 2:55pm August 1, 2015)
Felicia, I hear you. I feel like I get sucked into the world of the book and it
truly exists. :)
(K.C. Tansley 7:05pm August 1, 2015)
Jennifer those are the stories people need to hear. So glad you are here. :)
(K.C. Tansley 7:05pm August 1, 2015)
Emily, this one got a romantic element, but it's a mystery. Romances are a
ton of fun too. :)
(K.C. Tansley 7:06pm August 1, 2015)
I've had a long term interest in the occult and some of the people I've met would make for interesting stories.
(Mary Songer 8:13pm August 1, 2015)
Looking forward to reading it.
(Sandy Mangarella 9:51am August 2, 2015)
The part of my reality that would make great fiction is my
autistic daughter. Being part of her world is fascinating
stuff! I wish there were more books featuring those on the
spectrum.
(Wendy Sebastian 9:54am August 2, 2015)
My daughter is a single mother by choice and that would make a
great story.
(Denise Austin 1:30pm August 2, 2015)
I can't wait to read it!
(Racquelle Robinson 5:58pm August 2, 2015)
Part of my reality is flying single engine planes and gliders so a book about
females in aviation gaining male acceptance is important.
(Nadine Stacy 7:44pm August 2, 2015)
My daughter has taken a number of pictures that have orbs in
them. Once, I saw it also, she was taking a picture of the kids
and there was an orb. She said it was her grandmother, (my
mother) at her fathers's (my husband) birthday party. All the
pictures are outside ones. I will add your book to my TBR list.
(Leona Olson 7:51pm August 2, 2015)
We lead a fairly tame life, but my husband and I keep bunnies
for pets. After handling them, every other animal seems to
have a coarser fur now! We live a fairly small town, so it's
not uncommon to sit down in a restaurant next to a complete
stranger and end up comparing stories about the people we
know. I once stood in line behind a lady talking about a
couple of kids and I knew immediately whose children they
were. Wilmington, DE may seem like a mid-size urban area, but
it's really a small town at heart. Makes for a great setting!
(Marcia Berbeza 11:59pm August 2, 2015)
Mary, I definitely would agree with that. Some really interesting people are
drawn to the occult. I came across them during my research. ;)
(K.C. Tansley 12:49pm August 3, 2015)
Thanks Sandy!
(K.C. Tansley 12:50pm August 3, 2015)
Wendy, that sounds like an intriguing concept for fiction and something you
could write in depth. :)
(K.C. Tansley 12:51pm August 3, 2015)
Denise, I agree. That sounds like a great contemporary woman's fiction
story.
(K.C. Tansley 12:51pm August 3, 2015)
Thanks so much Racquelle! :)
(K.C. Tansley 12:52pm August 3, 2015)
Nadine, that would be a very cool trait of a female character. What you do is
fascinating.
(K.C. Tansley 12:53pm August 3, 2015)
Leona, that's really creepy cool. Gives me goosebumps. Thank you so much!
(K.C. Tansley 12:54pm August 3, 2015)
Marcia, who doesn't love bunnies? LOL. That's cool I never knew that about
Wilmington. I went to college in DC so I drove through your neck of the
woods on my way to and from CT.
(K.C. Tansley 12:55pm August 3, 2015)
Registered users may leave comments.
Log in or register now!