Duffy Brown | Learning to Ride

December 2, 2014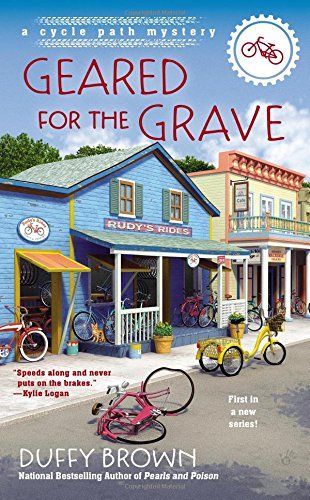 Geared For The Grave
Duffy Brown
AVAILABLE
A Cycle Path Mystery

December 2014
On Sale: December 2, 2014
Featuring: Evie Bloomfield; Rudy Randolph; Bunny Harrington
304 pages
ISBN: 0425268942
EAN: 9780425268940
Kindle: B00JJXV47W
Paperback / e-Book
Add to Wish List

Also by Duffy Brown:
Lethal in Old Lace, March 2018
Braking for Bodies, April 2016
Demise in Denim, April 2015
Dead Man Walker, February 2015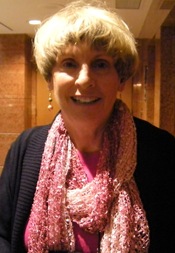 Question: What is the hardest part of learning to ride a bike?
Answer: The pavement.
Evie Bloomfield here, all the way from Chicago to the happy land of Mackinac Island, the setting for GEARED FOR THE GRAVE. There are no cars, no motor anything on the island. Fact is, if you want to get somewhere it's by horse or foot or bike.
See that Chicago reference above? I'm a city girl and that means I have zip history with horses and with bikes. I got the foot part down from running after trains and buses but even an eight mile island it a lot to take in on foot.
I could jump on a horse-taxi here on the island of course but that's expensive so that brings us to the bike mode of transportation. And there's another reason I should learn to ride a bike...I work at a bike shop. Rudy's Rides.
So how do you learn to ride a bike? I asked Rudy the guy who owns the shop and this is his advice.
(warning: Rudy is a little crusty around the edges so if you are easily offended you might want to stop here.)
Rudy said learning to ride a bike is a lot like sex:
It's best to wear protective gear when going into unfamiliar territory.

It's easier to learn with the help of someone who has a lot of experience.

It's usually hard to control your speed the first few times you try.

You don't need any special clothing, but you can get some if you are really into it.

If you're with someone who is having trouble keeping up, it's usually best to slow down and wait for them.

Most people think it looks easy until they try it for the first time.

Once you learn, you never forget how.

If you fall off, get right back on.
Not sure if Rudy has all the answers but these seem pretty sound…maybe?
So the question is… Do you know how to? Ride a bike, of course.
Catch you later especially if I'm on my bike.
Evie Bloomfield
Comment below to enter to win one of three GEARED FOR THE GRAVE totes.
Comments
19 comments posted.
Re: Duffy Brown | Learning to Ride

Sounds like a very interesting book to read. I love reading a book from an author I have not had the opportunity to read before, so I hope to be lucky and win...thank you so much
(C Culp 12:54pm December 2, 2014)
In my younger days I rode a Harley. At 71 I now realize I break easy. I still
miss the thrill of the ride.
(Pat Freely 3:00pm December 2, 2014)
I like Rudy's advice! I do ride a bike, though not much
here in the Rocky Mountains-- I'm too much of a wuss.
(Mary Ann Dimand 3:01pm December 2, 2014)
Sounds like a great book and brings back memories from days when I first tried to ride my mothers bike at age 5. I had to get help from the older neighbor girl to hold me up, while I pedaled. In no time, I was riding all over standing up. I was much too small to sit up on the seat! Fabulous book cover!
(Linda Luinstra 7:41pm December 2, 2014)
Would love to read and review. The hardest part of staying on the bike is overcoming fear and learning to balance.
(Jane Squires 7:43pm December 2, 2014)
I remember bike riding and all the scraped knees NEVER ride on gravel with a skirt.

Sounds like a book I would enjoy reading.
(Roseann Moss 8:25pm December 2, 2014)
sounds like a fun book.

I do know how to ride a bike. I have a distinct memory of going down a hill without my parents holding the back of it and falling into a fence. Didn't get too banged up and it was an awesome lesson to learn. Of course, haven't ridden a bike much in recent years, so who knows how proficient I am at it!
(Rachel B 12:29pm December 3, 2014)
Yes and I have always loved to ride just for pleasure. I love your list of reasons--
what a hoot!
(Sandra Spilecki 10:27am December 3, 2014)
I haven't been on a bike for years even though I have one.
When it warms up again, I should try to bike again. I'm
only 1 1/2 miles from the library, so round trip it
wouldn't take long on a bike.
(Anne Muller 10:55am December 3, 2014)
This looks like a book with humor.
(Seanna Yeager 11:54am December 3, 2014)
I know how to ride a bike. Learning how was very scary!
Love the book's title!
(Maria Proctor 12:10pm December 3, 2014)
Trusting that your parents aren't going to just let you go
when you aren't ready.
(Kimberly Woodall 12:25pm December 3, 2014)
I watches by 2 older sister and my older brother and
figured I could do that. I took my brothers 10 speed bike
and just started peddling. The only thing I didn't learn
was how to break. But, skinned elbows, knees, back, and
forehead are healable. Right?
(Tina Ullrich 12:44pm December 3, 2014)
Oh goodness! Learning how to ride a bike .. it is
exhilarating but painful that's for sure! I learned to ride
with my twin sister so it became a competition on who could
learn first. It was probably a big deal at the time .. but
i'm no even sure who won.
(Rachael Whitzman 2:54pm December 3, 2014)
I can ride a bike, but my balance is very iffy!
(Joanne Schultz 5:01pm December 3, 2014)
Even though I haven't had a chance to ride my bike for a
couple of years, it's one of my favorite things to do!!
Being a person who lives in Michigan, I've never been to
Mackinac Island, but would love to read your book, since
even though you haven't said much about it, I'm taking it
that that's where the setting is. When you read a book
about an area that you're familiar with, it's like putting
on a pair of your favorite shoes - it's very comfortable,
and makes the experience that much more rewarding!! I would
love to read your book, whether or not it's set there, just
to find out what it's about, and think that the cover is
just beautiful, too!! Congratulations!!
(Peggy Roberson 6:59pm December 3, 2014)
Bike riding was an everyday and wonderful activity. Through
the neighborhoods, to the library and pool. Loved every single
day of life then.
(Sharon Berger 7:44pm December 3, 2014)
The first time I was on a bike, I broke my leg. Years later
I tried again but my cousins kept jumping out at me and
putting obsticles in my way. Finally when I went to college
in the hilly town of Huntsville Texas I bought a bike,
determined to learn. After practice at home for a month, I
was starting to feel confident. My first weekend at the
university, a friend and I went for a practice run. At the
bottom of a hill, I hit a pinecone, flipped the bike and
collected asphault for every inch of skin and teeth I left
behind. Starting college with a broken front to is so
delightful. I gave up then and there. Walked the bike
back, thouwing up as I went an sold it for a pittance. The
bike won.
(Billie Jackson 9:58pm December 3, 2014)
Bike riding is a skill one should never lose once
acquired! :)

Living in Michigan, I have many fond memories of visiting
Mackinac.
(Jennifer Ingman 11:17pm December 5, 2014)
Registered users may leave comments.
Log in or register now!