Check out these new summer reads this September.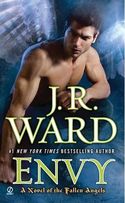 ENVY by J.R. Ward (Signet, September 6, 2011, $7.99, Fallen Angels)
Officers DelVecchio and Reilly are aided in their hunt for a serial killer by a mysterious stranger enlisted to save the soul of the killer's latest victim, which is hovering between heaven and hell. The battle lines between good and evil are drawn-and the price may be nothing less than total damnation.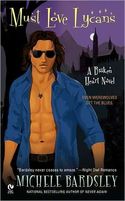 MUST LOVE LYCANS by Michele Bardsley (Signet, September 6, 2011,$7.99, Broken Heart Vampires)
Since the moment Damien showed up-gloriously naked-Kelsey Morningstone has been having a hard time keeping her relationship with the clinic's latest amnesiac patient strictly professional. Even with her empath abilities, Kelsey's not sure she can get past Damien's anger to find the cause of his delusions. After all, falling for a patient is bad enough, but falling for a patient who thinks he's a werewolf is a whole other kind of crazy.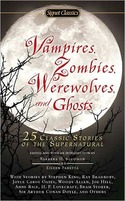 VAMPIRES, ZOMBIES, WEREWOLVES AND GHOSTS: 25 CLASSIC STORIES OF THE SUPERNATURAL by Barbara H. Solomon , Stephen King and Ray Bradbury (Signet Classics, September 6, 2011, $7.95)
Horror starts here with a brand new anthology of classic tales of the supernatural.They are the fearful images that have stalked humanity's nightmares for centuries, supernatural creatures that feast on flesh and haunt the soul, macabre and uncanny beings that frighten and fascinate the imagination. Vampires, Zombies, Werewolves, and Ghosts collects classic stories from literary masters inspired by folklore and mythology who dared to explore the darker side of human nature and crafted tales that defied convention, stirred up controversy, and gave life to a storytelling genre that has endured for generations.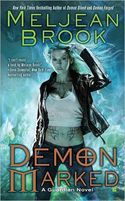 DEMON MARKED by Meljean Brook (Berkley,September 6, 2011,$7.99, Guardian Series)
Nicholas St. Croix knows the evil of demons intimately-he was raised by one. Now the woman he loves has disappeared, and he knows his "mother" is responsible. But Nicholas swears he'll find her, even if he has to go to Hell and back.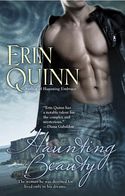 HAUNTING BEAUTYby Erin Quinn (Berkley,September 6, 2011,$7.99, A Mists of Ireland)(re-release)
Danni Jones doesn't believe in destiny until she meets the seductive Sean Ballagh, who lures her back to Ireland, to a moment in her own past when her life was destroyed, giving her the chance to change everything. Now, Danni must fight the forces that threaten to rip her and Sean apart and rewrite history.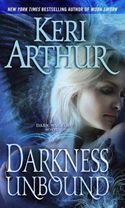 DARKNESS UNBOUND by Keri Arthur (Dell, September 27, 2011, $7.99, Dark Angels)
Being half werewolf and half Aedh, Risa Jones can enter the twilight realms between life and death and see the reapers, supernatural beings that collect the souls of the dead. But she soon makes a terrifying discovery-some sinister force is stealing souls, preventing the dead from ever knowing the afterlife. With the help of her "aunt"-half-werewolf, half-vampire Riley Jenson-and an Aedh named Lucian who may have lost his wings but none of his sex appeal, Risa must pursue whatever shadowy practitioner of blood magic is seizing souls, and somehow stop her father,. before all hell breaks loose.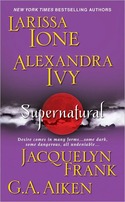 SUPERNATURAL by Larissa Ione, Alexandra Ivy, Jacquelyn Frank, and G. A. Aiken (Zebra, September 2011, $7.99)
Four New York Times bestselling authors under one cover; each with a paranormal romance set in the worlds from the Demonica, Guardians of Eternity, Nightwalkers, and Dragon Kins series fans already love!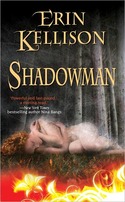 SHADOWMAN by Erin Kellison (Zebra, September 2011, $6.99)
There is a place between life and death known as Twilight. It's there that the Shadowman waits and when a human life flickers out, it is the Shadowman who ferries us from one world to the next. Forbidden entrance to our world and the other, all he can do is watch and wait. Until the night love beckons him and recklessly, unlawfully, he crosses over and claims his love. The result of his forbidden act is a weakening between our world and Twilight, and through it come a host of monsters. A terrible price must be paid, one that all humanity will suffer as well as the two lovers, before this wrong can be righted.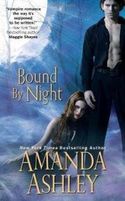 BOUND BY NIGHT by Amanda Ashley (Zebra, September 2011, $6.99)
This is a Beauty and the Beast tale of an innocent young woman who takes refuge in what she believes is an abandoned castle. Little does she know that the owner is very much in residence. When he begins to appear to her each day after twilight, she quickly falls under his spell, never guessing until she's already become his wife that he is actually a vampire with more than one secret to be uncovered.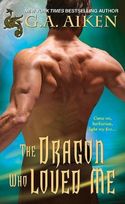 THE DRAGON WHO LOVED ME by G. A. Aiken (Zebra, September 2011, $6.99)
Aiken's fifth book in The New York Times bestselling Dragon Kin series is a wicked and witty tale of one fearless and outspoken heroine teamed up with an incorrigible barbarian Rhona the Fearless was raised for battle. So the smartest thing wily barbarian Vigholf the Abhorrent can do is stay out of her way as she risks all on a deadly mission in enemy territory. Rhona doesn't care if he's fascinated by her, even though he is as attractive as he is resourceful. Rhona is going to enjoy challenging his insufferable confidence, outwitting his schemes, and making him surrender in the wildest ways.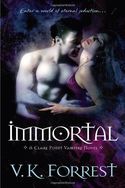 IMMORTAL by V.K. Forrest (Zebra, September 2011, $6.99)
For centuries, the Kahill vampire clan has lived quietly among locals and tourists in the tranquil beachfront village of Clare Point. In Immortal- the third book of the Clare Point series, V.K. Forrest weaves the unforgettable tale of Fin, a Kahill clan leader who discovers that the woman he loves may harbor a secret too dark to comprehend Magnetic, fearless Fin Kahill has dedicated his life to ridding the world of its most vicious serial killers. As Fin struggles against his feelings for Elena, the peace in Clare Point is shattered by the inexplicable murder of a tourist. Jjust as Fin edges closer to solving the murders, he discovers Elena may not be exactly who, or what, she appears.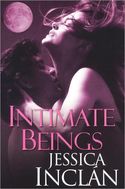 INTIMATE BEINGS by Jessica Inclan (Zebra, September 2011, $6.99)(Reprint)
In the second of three books about extraordinary people with unusual powers seeking to find their way home, Jessica Inclan follows the story of Claire Edwards, who can make her deepest wishes a reality Lately, Claire Edwards feels like she's floundering. But Claire has an extraordinary secret ability—she can go anywhere at all, just by wishing it. And if the intensely attractive man who suddenly materializes in her car one day is any indication, Claire's not the only one. Ever since Darl James learned of his true origins, he's been searching for his partner and life mate, the one whose gift will complement and complete his own. Now that he's found Claire, he vows to never lose her again, or their soul-searing, sensual connection.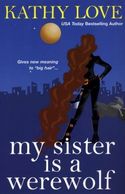 MY SISTER IS A WEREWOLF by Kathy Love (Kensington, September 2011, $6.99)
What werewolf Elizabeth craves is a normal life with a husband, kids. Unfortunately the vaccine she's researched isn't working yet. Worse, she's in heat-and soon every dangerous wolf pack for miles around will be at her door. To buy time, she needs to have sex, and often, with the first human male she can find. Veterinarian Jensen Adler just meant to drown his sorrows, until a stunning, leather-clad beauty made him an offer he couldn't refuse. So his new girlfriend's hiding something, but Jensen knows true love when he feels it, and this time, he's not giving up-no matter how hairy things get.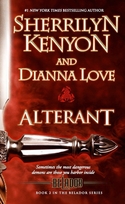 ALTERANT by Sherrilyn Kenyon & Dianna Love (Pocket, September 27, 2011, $7.99)
In this explosive new world of betrayals and shaky alliances created by New York Times bestselling author Sherrilyn Kenyon and Dianna Love, the only free Alterant faces an impossible task—recapture three dangerous escaped creatures before they slaughter more humans -or her. The way Evalle Kincaid sees it, saving mankind from total destruction should have cleared her name. But when words uttered in the heat of combat are twisted against her, she's blamed for the prison break of three dangerous Alterants. She has one chance to clear the cloud of suspicion hanging over her . . . for good. All she has to do is recapture the escapees. But deals with gods and goddesses are tricky at best, and now the lives of all Beladors, and the safety of innocent humans, rides on Evalle's success. The only person she can ask for help wants to see her dead.
WINGS OF FIRE by Caris Roane (St. Martins, September 2011, $7.99)
Experience the danger and desire of a secret race of vampire warriors—and the powerful women they are sworn to protect.
Enjoy- Sara Edmonds
1 comment posted.