Amanda Mcintyre | APPROACHING WINTER SOLSTICE

December 15, 2009
There are so many traditions we hold dear at this time of year. Many stem from our memories of growing up, or experiences that we incorporate into our lives afterward. I was not born in the Gaelic isles, but I have it in my lineage-Scotch and Black Irish, my mother used to tell me, though in truth, I'm still researching the latter. But as there is for many of us, this far off island holds a powerful draw in its beauty, legends and lore and so it was for me, when I wrote WINTER AWAKENING in my novella for Winter's Desire-a Harlequin Spice anthology just released that features the magic of Winter Solstice.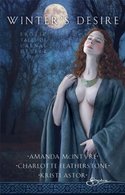 Amazon
November 2009
On Sale: November 1, 2009
384 pages
ISBN: 0373605358
EAN: 9780373605354
Trade Size
$16.95
December 21, 2009 marks the "shortest day" or what is also called the "Darkest Midnight." One year ago, on that day, my writing partners in this Celtic journey,
Kristi Astor
and
Charlotte Featherstone
, submitted our first manuscript for a mini-series of Celtic-based anthologies focusing on the ancient Celtic calendar year and the festivals of the seasons.
Winter's Desire
(Winter Solstice) Beltane Fires(Spring Solstice) and Dark Pleasures (Samhain) we have one more in the works celebrating the festival of Midsummer as well. Each book is unique in that each novella stands alone and yet also is woven together by the thread of an element, chant or story based on a Celtic legend.
In Winters Desire, it is the chant of a Druid princess on the dawn of the Winter Solstice as she watches her forbidden Norse lover walk away from their secret hiding place where she has nursed him back to health. Alas, their love can never be since their people stand on opposing sides and so she makes her plea to the gods and goddesses in the frozen air of that winter morning, asking that her true love be returned to her. Now three women, in three different historical eras will face the same fate, and by the words of that chant, they must face the challenges presented to them in order for love to conquer all.
We chose Newgrange, in County Meath as the setting for our Druid priestess and her lover's secret hiding place. Its legendary status for being the gathering place of the celebration of the dawn of Winter Solstice dates further back to before the oldest of the Egyptian pyramids. Today, a lottery is drawn to a lucky few that are allowed access to the entrance on this spectacular event that is steeped in Celtic history and magic. You can see the more about Newgrange on a video at our Celtic Spice website www.celticspice.com
Many of the traditions we hold dear at this time, stem from the ancient Celt celebrations of long ago. I invite you to check out WINTER"S DESIRE and watch for the other books in this unique series! RT BOOKlover Reviews gives Winter's Desire 4 stars, saying, "This trio is a delight!"
As you celebrate this season with the traditions begun in your family, take a moment on the dawn of December 21, 2009 and experience what it must have been like thousands of years ago, to awaken to the brilliance of the sun (thought then to be a god) over the horizon. I wish you all that is good and peaceful this holiday season and in the New Year!
I'd like to hear about what traditions you remember or perhaps have carried on into your home for the holidays? One lucky commenter will receive a copy of Winters Desire today!
May the wind be always at your back~
Amanda
Comments
28 comments posted.
Re: Amanda Mcintyre | APPROACHING WINTER SOLSTICE

Amanda,
Winters Desire sounds like a wonderful, magical journey! One of our favorite traditions is Christmas stockings at our house. My children are all grown and have said, if we stop buying a gift for them, never stop filling their stockings!LOL! Wishing you a very Happy Holiday!
(Jane Lange 10:06am December 15, 2009)
happy holidays!
(Deb Soula 12:25pm December 15, 2009)
Traditions... we always make my grandmother's recipe for Pumpkin pie, decorate the tree together... have breakfast together then open gifts on Christmas morning!
Happy Holidays!!!
(Colleen Conklin 12:55pm December 15, 2009)
It seems like traditions are more and more difficult to keep, with family growing up and living all around the US. Thankfully we will all be together on Christmas day to exchange gifts and eat together. And Santa will come for the grandkids.
(Vikki Parman 4:51pm December 15, 2009)
Winter's Desire has one of the most stunning and erotically beautiful covers that I have ever seen! The story line is quite intriguing. Congratulations!
(Virginia Campbell 6:04pm December 15, 2009)
What a wonderful idea for a story. I also have some Irish roots somewhere. I am really taken by anything with a Celtic flavor to it books, jewelry, clothes and music.
(Gigi Hicks 7:12pm December 15, 2009)
A favorite tradition is an advent calendar we've used every year since the kids were little--they still fight over whose turn it is to open that day's window :)
(Fedora Chen 7:24pm December 15, 2009)
As I grow older the traditions of my past become more important. The joy of having all the family together at dinner and the excitement of waiting for Santa.
(Rosemary Krejsa 9:17pm December 15, 2009)
My husband is a Police Officer, so it is our "family tradition" that he works 5 out of every 7 years of holidays! I spend a lot of my holidays in quiet reflection and thought because my partner is working.
(Susan Driskill 9:24pm December 15, 2009)
Our tradition is family. We always come together at Christmas, be it a phone call or being at my Mom's house. We share stories, food, and love.
(Theresa Buckholtz 10:13pm December 15, 2009)
My family goes to mass on Christmas Eve, and on Christmas Day we have dinner at my brother's home.

The cover is very beautiful!
(Robyn Brodrick 10:20pm December 15, 2009)
We do the usual things: get together, eat, open presents, eat, talk, eat... do you get the point?
(Lisa Glidewell 10:56pm December 15, 2009)
Winters Desire. My favorite tradition is spending time with my son and grandson during the holidays. Merry Christmas to everyone.
(Rebecca Booth 11:18pm December 15, 2009)
We have a tradition of letting our kids open one present the night before Christmas. Santa always brings each of our kids one present that they have been asking Santa for.
(Pam Scott 11:23pm December 15, 2009)
I like to make the traditional turkey
dinner.
(Sue Ahn 11:32pm December 15, 2009)
Instead of buying a tree, I find a beautiful tree branch and paint it with gold paint and "plant" it in a pot with rocks and then decorate it with lights. It's gorgeous, cheap, and GREEN.
(Michelle Dry 11:41pm December 15, 2009)
We have always had the tradition in our family of gathering together on Christmas Eve and going around the room while each person says how and/or why they have felt blessed in the past year!! Merry Christmas to ALL and may all of your hopes and wishes for the New Year come to pass..
(Barbara Ramirez 11:41pm December 15, 2009)
We always have a real Christmas tree. Artificial trees just aren't the same and since the trees are cut and at the nursery anyway, they would only be trashed if they weren't used to delight children. We decorate the tree with ornaments that have special meaning to the youngsters. Our trees may not thrill perfectionists, but we love them. I also put the Christmas cards that we receive on velvet ribbons and hang the ribbons from the ceiling down on the wall in our entry hall. Displayed like that they are so colorful and attractive and guests invariably always look for their card. But we always are aware that Christmas is a birthday celebration and I select cards to send that say Merry Christmas, not just happy holidays or such. Jesus is the reason for the season! Merry Christmas to all who see this!
(Gladys Paradowski 12:23pm December 16, 2009)
Hey Ms. A!!!! Sorry I am late getting here. I just wanted to drop in to show my support and love for ya!!!! Merry Christmas!!!!
(Cecile Smith 12:25pm December 16, 2009)
Christmas is all about family. So, we all gather over the holiday period. There are always new babies to welcome & sadly sometimes loved ones gone - but never forgotten.
(Mary Preston 12:42pm December 16, 2009)
My Family Make Cookies for Family and Freinds to give out at X-mas.
Happy Holidays
(Stacey Smith 12:52pm December 16, 2009)
Hello from another Scotch/Irish person!
Blessings,
Marjorie
(Marjorie Carmony 6:54am December 16, 2009)
As a professional musician, my tradition is playing at a local church for early Christmas Eve service, and then attending (and possibly playing at) Midnight Mass at my home church.

This sounds like a great series of books!

Later,

Lynn
(Lynn Rettig 9:44am December 16, 2009)
To avoid the kitchen around this day we have come up Christmas Meatloaf. That way I can spend more time with the family instead of cooking all the tradional foods. But of course we still have all the desserts. *grin*
(Armenia Fox 10:51am December 16, 2009)
Winter's desire looks like a great book, and I love the cover art!

Happy holidays everyone.
(Freda Mans-Labianca 1:14pm December 16, 2009)
Thanks to all you came out to share your holiday traditions! We share a great many of them and I've learned about some new ones as well.
To those in the service oriented professions and those with family members serving around the world--wish for a special holiday season and a safe return to your families back home.

To all of you, the great team at Fresh Fiction and all you readers who inspire me to continue to do what I'm doing--a heartfelt thanks and warm wishes for a wonderful new year!

May the wind be at your back~
Amanda
www.amandamcintyre.net
(Amanda McIntyre 3:32pm December 16, 2009)
For many years, I drove home on Christmas Eve to spend the holiday with family. i had a tradition of making Christmas cookies and giving them to the nice folks 'personing" the toll booths on my way home.
[email protected]
(Penny Tuttle 8:36pm December 16, 2009)
I do wish I could be with my family, but they are split up into three groups and I would have to choose. Most of the time my family consists of my husband and his Mother. We don't do much for Christmas, have dinner with her and go home. We really need to develope some traditions in the future!
(Brenda Rupp 10:26pm December 17, 2009)
Registered users may leave comments.
Log in or register now!