Danielle Dresser | Comfort Reads + a Love's Sweet Arrow Giveaway

March 25, 2020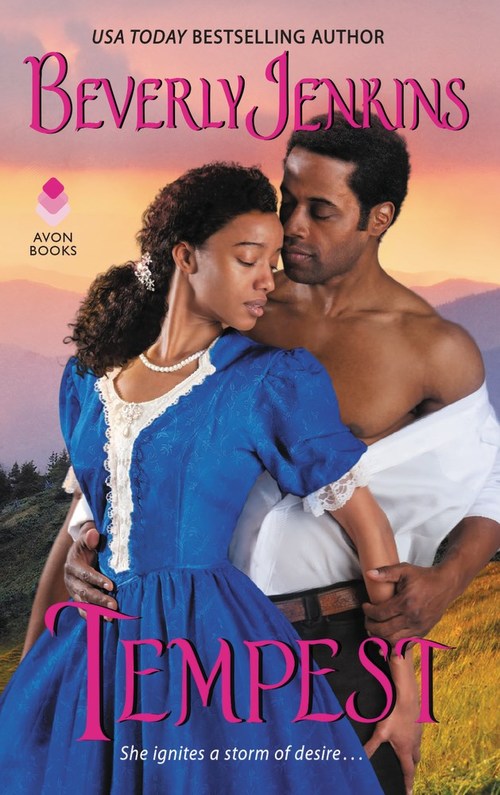 AVAILABLE

February 2018
On Sale: January 30, 2018
384 pages
ISBN: 0062389041
EAN: 9780062389046
Kindle: B0713W4425
Mass Market Paperback / e-Book
Add to Wish List

Also by Beverly Jenkins:
On the Corner of Hope and Main, March 2020
Add to review list
Rebel, June 2019
Second Time Sweeter, September 2018
Tempest, February 2018

I don't have to convince anyone that these are strange times. On the one hand, book review websites like Fresh Fiction can function as normal--I already work from home! I can access review copies digitally! The internet never sleeps!--but on the other, I'm barraged with news notifications, mortified at the misinformation being shared as fact, and I'm just all around distracted and worried.
For as long as I can remember, I've found comfort in books. Everywhere I went, I had at least one book, often more, with me. Now I can carry many books around, be it a small paperback, on my eReader, or on my phone. I find when I'm anxious or worked up over something - and let's face it, there's a lot to be worried about right now - I turn to books for solace and peace of mind. My favorite way to do this is through re-reading. Sometimes full books, sometimes just a scene or two, but going back to the books and authors that make me happy has been a surefire way to calm me down, cheer me up, and let my mind escape. Here are some of my favorite re-reads and why:
This was the first romance novel my mom thought she was recommending to me, even though she'd later find out (ahem, like a few months ago, which is ADORABLE) I'd been stealing her romance for years. But looking back, as a 16 or 17-year-old was the perfect time to read BORN IN FIRE by Nora Roberts, and the rest of the Born In trilogy. The heroine, a strong and sassy, wildly gifted glassblower and the hero is a gallery owner who wants to make her into a world-renowned artist. They argue, they make up, they argue some more. . . it's pretty great.
Little Women by Louisa May Alcott
LITTLE WOMEN is a book I like to re-read scenes from - Jo cutting her hair, Beth playing the piano at the Lawrences', Meg falling in love with Mr. Brooke… and even the upsetting plot points, like Amy burning Jo's book and Laurie's heartfelt yet failed proposal to Jo. I think I return to LITTLE WOMEN so often because this was among the first "big" books I remember reading, both in that it was actually humongous and that it was a classic.
One of the reasons I love this book by Beverly Jenkins is that I normally do not gravitate toward westerns - historical or contemporary. The stakes are high in this one from the start - a mail order bride who accidentally (maybe) shoots her husband-to-be and then stands her ground and still wants to marry him. The hero has lost his wife and wants a mother for his daughter and the heroine is his last chance. This is the third book in Ms. Bev's Old West Series, which can be read on its own, and is a joy every single time.
The Winter Sea by Susanna Kearsley*
Between the lush descriptions, the meticulous historical detail, and time-slip/time jump plotlines that actually make sense, THE WINTER SEA by Susanna Kearsley, is, at its core, a wonderfully told story. A modern-day writer goes to Scotland to research her family history, which is the basis for her newest book. But while she's there, she begins reliving the past, and uncovers a dangerous and long-kept secret about the woman who will shape the history of her family, and of Scotland. It's atmospheric, richly imagined, and a great way to escape for a few hours.
If it's historical, I'm all about it. THE HEIR by Grace Burrowes is the start of her Windham Family Saga, which runs for many, MANY books, has various spinoffs, and each one is warm, cozy, and supremely well-written. I think the reason I return to THE HEIR so often is because you really get a sense of the world Burrowes is building throughout this series - her heroes are strong and capable, but also emotional and vulnerable. Her heroines are steadfast and straightforward, but also vivacious and interesting. I have loved so many books in this series, and this is where it all began.
*Full disclosure: I used to work for the publisher that published both of these books, which is how I was introduced to both of these authors and their wonderful work! While I no longer work for the publisher, I am still a fan of their books.
Interestingly enough, my go-to comfort reads are all older books! But that doesn't mean I haven't found newer books that I've been returning to, especially during these tumultuous times.
A Princess in Theory by Alyssa Cole
One of my favorite series in recent years, Alyssa Cole's Reluctant Royals is truly remarkable - there's sweeping romance, political intrigue, comedic moments, and so much more. Again, I think the reason I return to A PRINCESS IN THEORY is, similarly to THE HEIR, this is the book that starts it all. You're introduced to the fictional African nation of Thesolo, the prince searching for long-lost his betrothed, who happens to be a grad student studying to become an epidemiologist in New York. She's been getting spam emails from someone claiming to be an African prince who wants to marry her for years, and it turns out those emails are true! Alyssa Cole is hands down one of my absolute favorite authors ever, and I recommend her every chance I get.
Simon vs. The Homo Sapiens Agenda by Becky Albertalli
I'm not a regular young adult reader, but I saw this one as an eBook deal a few years ago and gobbled it up in less than a day. Simon's story of figuring out who he is, where he fits in within his friend group and family, and his school, and possibly falling for someone he's only ever emailed is wonderfully relatable, even if you aren't a teenager. Albertalli's writing sounds like a teenager but isn't jarring. Simon's journey into young adulthood and self-discovery is really lovely.
I absolutely fell in love with what Romancelandia has fondly called the "Ren Faire" book! This is Jen DeLuca's debut novel and it's a delight. Emily is new in the small Maryland town where her sister and niece live, both of whom she's helping out after her sister is rehabilitating after an accident. Her teenage niece wants to volunteer at the local Ren Faire for the summer but needs a parent/guardian to also volunteer with her. Emily reluctantly agrees to be a bar wench, and immediately clashes with Simon, the Faire organizer, local English teacher, and acts as a sexy pirate during the fair. Come for the leather pants, stay for the Shakespeare jokes.
Saga by Brian K. Vaughan and Fiona Staples
This series has been widely recommended, but I heard about it on an episode of the Whoa!mance podcast and one of the hosts said it was the best graphic novel/comic series she's read. I devoured the 9 volumes of Saga over about a month, and I had to make myself slow down. The sci-fi storyline is riveting - and yes, there's a romance, a forbidden romance - the artwork is gorgeous, and it tackles a ton of big issues in a really smart way.
And Honorable Mentions because we all need more comfort reads: Evvie Drake Starts Over by Linda Holmes, Get a Life, Chloe Brown by Talia Hibbert, Rafe by Rebekah Weatherspoon, How Rory Thorne Destroyed the Multiverse by K.Eason, Smitten by the Brit by Melonie Johnson
--
COMMENT TO WIN: What books do you turn to for comfort? Tell us in the comments and you'll be entered to win one of the highly-coveted Surprise Boxes from Love's Sweet Arrow, a romance-focused independent bookstore in Chicago. Be sure to check them out on Facebook, Twitter, and Instagram for deals, future book clubs and events, and all-around fun. They also have a robust online store and a great newsletter. US ONLY - Good luck! Here's an example of what the box will look like:
--
Fresh Fiction Editorial Manager Danielle Dresser is an avid reader, lackluster-yet-mighty crafter, and accomplished TV binge-watcher. Once upon a time, she was a publisher publicist and continues to cultivate her love of books and reading by chatting with the best authors in the business. She lives in Chicagoland with her very own romance hero husband, darling daughter, and two tempestuous cats. Follow her on Twitter and Instagram, @dj_dresser.
Comments
33 comments posted.
Re: Danielle Dresser | Comfort Reads + a Love's Sweet Arrow Giveaway

You have listed many books I had not heard of as well as
several I have been interested in. I came to the romance
genre late, in my 50's. My introduction was Julie Garwood's
historical books. They tend to be my comfort reads.
RANSOM is my favorite. THE WEDDING, THE BRIDE, THE
SECRET, SAVING GRACE, and THE PRIZE have all been
repeat reads over the years. Two of Kat Martin's historicals
are also repeat reads. I have many books on my keeper
shelf (more like a room) is full of books I loved and really
would love to read again. Time is just not my friend. There
are so many new books out there to explore. Even self-
isolating isn't helping me get more read.
(Patricia Barraclough 1:16am March 25)
A good romance with mystery, suspense, humor, angst, an undeniable chemistry
between characters and an HEA.
(Tracy Urschler 9:09am March 25)
I started reading romances in the late 80's: Nora Roberts, Joanna Lindsey, Laurie McBain, Catherine Coulture, Elizabeth Lowell, Linda Lael Miller, Betty Neels, Sandra Brown,Julie Garwood, Kat Martin,Joan Honl,Debbie Macomber, Diana Palmer, Judith McNaught...I did not like it when several switched to Romantic Suspense. Next came Lori Foster, Karen Hawkins,Carly Phillips, Jill Shalvis, Susan Mallery, Lisa Kleypas, VLT, SEP,Julia Quinn, Robyn Carr, RaeAnne Thayne, Karen Ranney, Susan Wiggs, Susan Anderson,Jillian Hunter, Jillian Hart, Madeline Hunter, Charlene Sands, Lorraine Heath, Julia London, Eloisa James, Sherryl Woods...

I still turn to contemporary and historical romances for comfort. Over the past year I've tried so many new authors: Shannon Stacey,Stacy Finz, Maisey Yates, Jennifer Probst,Sheila Roberts,Belle Calhoune, Hope Ramsey, Kristy Macafferty, Kate Meader, Maggie Wells, Delores Fossen, Sharon Hartley, Virginia Kantra, Jessica Clare, Samantha Chase...

I am in awe of the author's talent, the variety and diversity of subject matter, their dedication to the romance genre and all things romance.

As an avid reader, I thank them all and look forward to many more years of HEA's!
(Laurie Gommermann 10:01am March 25)
Love finding new authors to read.
(Pat Walker 12:55pm March 25)
Thanks for the read & chance to win...
(Martin Bodnar 1:49pm March 25)
My cat and great book! Thank you for doing this!
(Tj Needham 2:13pm March 25)
Cozy Mystery/Mystery Suspense and some Romance but I
always like to try a book at least once to see if I like
and I want to read it in Paperback/Hardback version/Print
not digital.
Would love to win the paperback version of book to read
and review. I look forward to getting to know you and
your books.
(Crystal Stewart 3:33pm March 25)
This sounds like a great book. I cant wait to read it.
(Jennylyn Gross 3:42pm March 25)
My favorite book is The Count of Monte Cristo. I love
anything by Dumas, but Monte Cristo is like the ultimate
revenge novel. ha A nice fire, something chocolate, a cup o
joe and a good book. Ahhh
(Jacqueline Graves 4:04pm March 25)
i love feel good books,,ones that make you feel nice after
reading
(Vickie Couturier 5:25pm March 25)
I always turn to historical romances or cozy mystery books if
I am reading for comfort. Those are the "feel good" books
for me. Many that you have mentioned are new books to me, so
I am excited to try them. Thank you!!
bentleyboy22(at)comcast(dot)net Jamie
(Jamie Gillespie 5:40pm March 25)
I have a number of comfort reads. A lot of them by Nora Roberts, Jayne
Ann Krentz, especially their older ones, but I have a number of paranormal
authors I love so I have a lot of comforts but open to new.
(Annetta Sweetko 6:14pm March 25)
My comfort reads are mystery/suspense, historical romance
and fantasy.
(Caryl Kane 8:43pm March 25)
So many books that I didn't know existed. I can't wait to
start reading them.
(Faye Gates 8:47pm March 25)
I think I turn to a book that will cheer me up just a little and not deal with possible is going on in my life. And especially a book from author I enjoy.
(Cynthia St. Germain 9:08pm March 25)
For comfort I would probably read a romantic suspense by
Nora Roberts or Laura Griffin.
(Melanie Rosen 9:21pm March 25)
Romance novels and cozy mysteries are books that help me
relax.
(Alyson Widen 11:48pm March 25)
romance books always are a comfort to me
(Denise Holcomb 1:28am March 26)
Amanda Quick books are one of my comfort reads.
(Pat Walker 12:25pm March 26)
Honestly any romance without a ton of angst is a comfort
read for me.
(Glenda Martillotti 1:05pm March 26)
Love fresh fiction - chance to read about authors I never
thought about reading. Love your contest
(Jo Smith 1:37pm March 26)
The Winter Sea sounds intriguing. Thank you for sharing.
(Caryl Kane 5:00pm March 26)
I like to read any fantasy to take me away from the real
world for a few minutes and allow me to recharge.
(Nancy Krueger 5:29pm March 26)
This is such a generous giveaway! Can't wait to read some of
the books listed. I love cozies and historical romance
books!
(Jamie Gillespie 5:47pm March 26)
I pretty much am reading the same books I was reading before the shelter in place orders came down. I have a couple of book clubs. While we aren't meeting, I'm still reading the selections for each month. Plus I'm doing a couple of read with on line. I don't limit my genres.
(Susan Beamon 11:59pm March 26)
Thank you so much for the chance to win!!!
(Jamie Gillespie 5:05am March 27)
My comfort books are Lord of Scoundrels by Loretta Chase,
Josh & Hazel's Guide to Not Dating by Christina Lauren,
Rescue Me by Rachel Gibson, Bet Me by Jennifer Crusie, I've
Got Your Number by Sophie Kinsella and Vision in White by
Nora Roberts. PS I loved Born in Fire and Well Met, too!
(Sharlene Wegner 1:53pm March 27)
Happy Friday! Thank you for sharing these books.
(Caryl Kane 8:06pm March 27)
Also like Thea Harrison.
(Melanie Rosen 10:30pm March 27)
Julie Garwood's historicals and Patricia Briggs are just a couple of my comfort read authors.
(Blanche Nixon 7:28am March 28)
I enjoy getting lost in a mystery. Colleen Coble is one of
my must read authors.
(Caryl Kane 10:30am March 28)
Love my cozies and historical romances. Thank you for the
chance to win!
(Jamie Gillespie 12:58pm March 29)
I enjoy historical fiction.
(Caryl Kane 10:41am March 29)
Registered users may leave comments.
Log in or register now!