Maryann Jordan | 5 Characteristics of a "Sweet" Alpha
GIVEAWAYS: gift cards and book

October 27, 2017
Fresh Fiction Top 5 List
Alpha. We all see this word when looking for romance novels to read, but what does it mean? According to the dictionary, the word has numerous meaning, from chemical compounds, the first letter of the Greek alphabet, beginnings, or the most dominant animal in a pack. Hmmm, I suppose for romance authors we take the last meaning for our descriptive word.
I describe my heroes as sweet alphas which, I hope, delineates them from what I read in so many other books. My alphas do not grunt their responses, order everyone around, nor expect the woman to sit down and be quiet while the male goes off to save the day.
So, what do I mean when I say I write sweet alphas?
A sweet alpha is a man unafraid to take charge when the situation calls for it. For many authors, this includes literally telling the woman to sit down and shut up. Not for my books! My heroes respect their women, but also have an innate desire to protect and have no problem stepping up as the situations calls and placing themselves in front to face the danger.
A sweet alpha is a faithful to the woman they love. Cheating may be part of our culture, but it is not part of my couples. For me, once a sweet alpha meets the woman he falls in love with, there are no other women for him. He does not surround himself with other women and never attempts to use jealously as a manipulative tool. So many readers tell me that they love how there is monogamy in my books between the hero and heroine. I write my couples the way I feel couples should act…with love, faith, and care.
A sweet alpha is a good friend. I write books in series, where there is a lot of crossover of characters that show up in each book. Readers often say it is like visiting with old friends! And in my books, my sweet alphas are good friends, good brothers, and good sons. They have the backs of their friends, willing to sacrifice for the good of all. They understand that life is better when shared.
A sweet alpha wants to protect while uplifting the woman they love. All my heroines have careers and for my sweet alphas, they are not intimidated by intelligent, hard-working women. They are supportive and respectful of the women in their lives.
A sweet alpha believes in selfless devotion. When it comes to the relationship, my alphas are caringly devoted. Whether sharing household duties, taking care of children, and even in sex…they put their woman first. When the woman is hurt, my alpha moves in to care. When the woman in happy, they are quick to celebrate with them.
So, when you read a Maryann Jordan book, you know you will read about a Sweet Alpha!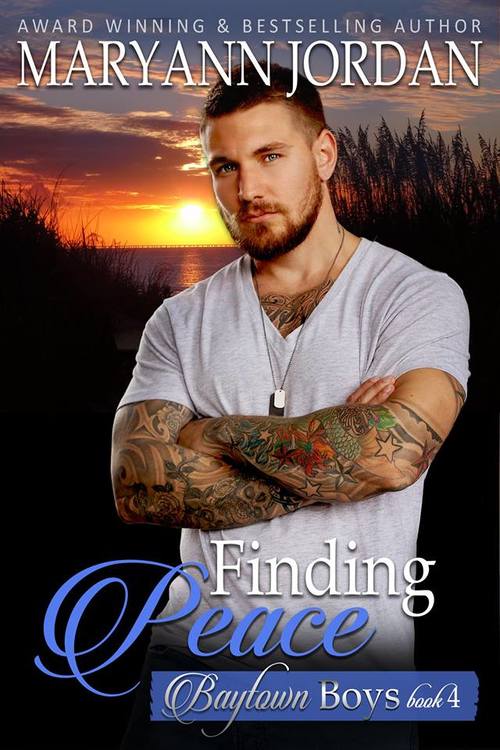 Military duty called them away to war zones, but after tours overseas, the group of friends found their way back home as men, seeking the peaceful little seaside town. Now, the band of brothers, together once more, work to provide a place for less fortunate veterans to call home.
Brogan MacFarlane, a former Marine, filled his days with hard work at the family bar and his nights running along the shore to rid himself of the war memories he would rather forget. But there was one thing in town that provided a distraction…the pretty cop with the haunted eyes. Ginny Spencer loved the small, shore town and her job, as long as she could keep people at arm's length. Former Army Military Police, she carried her own battle scars deep inside and that was just where she planned on keeping them. If only the surly bartender with the Irish blue eyes did not make her long for more.
When reports of a Peeping Tom in town escalate to a man accosting women, Ginny and the Baytown police work to find the culprit, but for her, it opens wounds she would rather forget. Brogan, seeing her pain, steps in, no longer willing to sit on the sidelines. And in doing so, allows her to soothe his nightmares as well.
When two scarred souls come together, their love allows them to find the peace they've been seeking.
Romance Suspense [On Sale: October 27, 2017, e-Book, / ]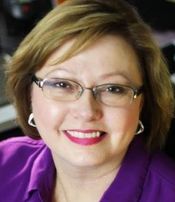 As an Award Winning, Amazon International Bestselling and All-Star author, Kobo, and Barnes & Noble Best Selling Author, I have always been an avid reader. In 2013 I started a blog to showcase wonderful writers. In 2014, I finally gave in to the characters in my head pleading for their story to be told. Thus, Emma's Home was created.

My first novel, Emma's Home became an Amazon Best Seller in 3 categories within the first month of publishing. Its success was followed by the rest of the Fairfield Series and then led into the Love's Series. Soon, other spin-off series came along and 8 of my books have made Amazon top 100 Bestselling books.

Gabe, from the Alvarez Security Series won Silver Medal and 5 Star Review by the 2016 Reader's Choice Awards.

Honor Love was an award winning novel from the 2016 Reader's Choice Awards.

Serial Love was an award finalist novel from the 2016 Reader's Choice Awards.

Coming Home was awarded the 5 Star Review by the 2017 Reader's Choice Awards.

My books are filled with sweet romance and hot sex; mystery, suspense, real life characters and situations. My heroes are alphas, take charge men who love the strong, independent women they fall in love with.

I worked as a counselor in a high school and have been involved in education for the past 30 years. I have just retired and look forward to more time with family and writing!

I have been married to a wonderfully patient man for 36 years and have 2 adult, very supportive daughters.

When writing, my dog or one of my cats will usually be found in my lap!
I love to hear from readers, so please email me!
What are your favorite type of alpha heroes? Maryann is giving away special gifts to three readers: 2 of you will get a $5 Amazon gift card (you can buy a copy of one of her books if you're not a Kindle Unlimited member) and one winner will receive a signed copy of SERIAL LOVE.
Are you team #SweetAlpha ? Tell us below and be entered to win gift card or book!
Comments
14 comments posted.
Re: Maryann Jordan | 5 Characteristics of a "Sweet" Alpha

I am definitely on team #sweetAlpha. I love all of Maryann's sweet alphas.
She puts so much detail into the description of her alphas, it makes you
feel like you know them personally.
(Tamie Madewell 12:32pm October 27)
I love heroes of all types... enjoy seeing their personalities shine!
(Colleen Conklin 12:35pm October 27)
There was a fairly long stretch when "Alpha" heroes were
written as pretty over-the-top in displaying dominant
characteristics. I had seen some reader discussions
where such a hero was termed an "Alpha-hole." It had
made me laugh when I had read that, it seemed so
accurate. Am glad that there are "Sweet" Alpha heroes,
more my cup of tea.
(G. Bisbjerg 2:07pm October 27)
I've not read you before but I will be looking for your
books now! I love your description of "sweet alphas" and
look forward to reading your books.
(Kathleen Bylsma 4:02pm October 28)
Sweet Alphas are most definitely my cup of tea. I am married to one and raised my sons that way.
(Sharon Mitchell 6:21pm October 28)
Men who respect women and support them in all aspects of their lives, whether it is folding laundry or cleaning out the garage, are heroes in my book. A "sweet" alpha is a true man, for it takes a true man to see that we need to help one another, not tear each other down.

Thank you for sharing your men with us.
(Dee Smith 2:15pm October 29)
The world needs more sweet alphas so younger women and the
rest of us know what to expect from the men in our lives.
thanks for showing us. i know some and hope to meet others
through your books.
(Cynthia Robb 9:19pm October 30)
The world needs more #sweetalphas so younger women and the
rest of us know what to expect from the men coming in our
lives. thanks for showing us. i know some and hope to meet
others through your books.
(Cynthia Robb 9:20pm October 30)
Looking forward to reading your books. I like your
description of alpha men.
(Llnda Farabaugh 9:00am October 31)
Sweet Alphas - I believe I have one of those in my hubby!
(Amber Mancebo 5:49pm October 31)
Beam me up Scottie, I wish for one of those "sweet alpha's"
or at least a decent conversation.
(Alyson Widen 9:29pm October 31)
I am also one is #Team Sweet Alpha. The world would be a much better place if there were more of them around.
(Amy Kincade 11:51pm October 31)
Definitely Team #SweetAlpha. I am tired of alphas that act like cave men. They
can be strong but caring. They don't have to overpower the women they care for.
Shared power and affection work quite well.
(Patricia Barraclough 12:03pm November 1)
Sweet Alpha is the perfect way to describe these men.
(Anna Speed 11:43am November 2)
Registered users may leave comments.
Log in or register now!