Nancy G. West | Training Bras: Myths And Realities Of Writing

June 26, 2016
I'm a writer. I know a lot of writers. I confess to you now that we all started in training bras, believed in myths and shunned reality.
MYTH. Fiction writers are natural story tellers. If we're Irish and sat on Grand Pappy's porch during our formative years listening to tall tales, we might be natural story tellers. Otherwise, we have to work at it. People think we sit down, pour out our hearts, and a story takes shape. Wrong. We sit and pour, but unless we've studied techniques of writing fiction, the result is probably a muddled mess with unlikeable characters, a boring or illogical story, and a poufy- dust ending. (Training bra not producing desired results.)
REALITY. We write a few stories that are pathetic. Then we start reading books on the craft of writing fiction and learn how to create memorable characters, generate suspense, write realistic dialogue, weave in backstory, fabricate plots and concoct satisfying endings. Here are some of the books we read, LINK with comments about why each book is valuable. (Bra has promise.)
After we read these books and others, we pick pearls from each one that speak to us and devise our own methods using a variety of approaches to create stories. Here at Henery Press, we discuss different ways we begin books, capture your interest and end stories. We even discuss how to take criticism. (We get plenty along the way.) As Patricia Smiley says, "Criticism, perseverance, and pain, that's how I learned the craft of writing." (Toss the bra. Work on pectoral muscles.)
We long for a publisher to acquire our books. When they do, we have mixed feelings about deadlines they impose: deadlines for three series of revisions, writing back cover copy, sending an updated bio and photo, evaluating the cover mock, creating a marketing plan, lining up blogs for reviews, tours, and interviews, checking PDF file proof pages for print copies that go to reviewers and NetGalley, setting up Goodreads giveaways, requesting other authors' endorsements, and planning signing, speaking and online events before and after the release. So many steps are required to turn a manuscript into a book. Who knew? (Too busy to worry about training bra or pecs.)
MYTH. Only writers can be good editors. Writing is like giving birth. No matter how the baby looks, to us, it's beautiful. The pain of contractions is too recent for us to imagine that this creation we delivered can actually be improved. Until we are inducted into the publishing process. After we receive editorial comments and finish hyperventilating, arguing with phantom editors, defending every word choice and collapsing from exhaustion, it slowly dawns on us that editing can be very valuable. Good content and copy editors have different skills from fiction writers. After reading hundreds of manuscripts, editors develop en eye for what works in a story and what is missing. To bring gems buried in our manuscripts to the surface, editors are crucial. (We need bras, pectoral muscles and prayers.)
REALITY. Writers overflow with ideas. We do have ideas. But we learn the hard way that ideas do not a story make. Every book is a birth and death complete with five stages of grief. I explain the five stages in my companion article for Fresh Fiction: FIVE WAYS WRITERS ARE WEIRD: A CONFESSION.
GIVEAWAY
Did you have myths in your mind about writing stories? As a reader/writer/editor, how did reality shatter your myth?
Leave a comment for the chance to win a signed Aggie Mundeen Mystery, your choice. Explain your choice when you comment. Good luck!
Aggie Mundeen Mysteries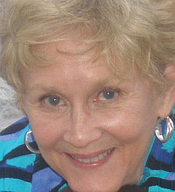 Author of the award-winning Aggie Mundeen mysteries, Nancy is at work revealing Aggie's next adventure. Read chuckles and conflicts between Nancy and Aggie at StayYoungWithAggie.
Comments
43 comments posted.
Re: Nancy G. West | Training Bras: Myths And Realities Of Writing

If I were a writer I don't know if I could ever get past the training bra stage!
(Melody Kaufman 10:28am June 26, 2016)
I am an avid reader and i know that is the stage that i
will stay. I know that i would still at my age be in the
training bra stage and stay there. I would love your #1
book as i want to start with the first book in the series.
Thank you for the chance !
(Peggy Clayton 12:59pm June 26, 2016)
I don't think I had any myths in my head about writing.
I always figured it was hard to come up with a good
story. That's why I'm not a writer, I'm a reader. I did
find it surprising that you said you don't have to be a
writer to be a good editor. Since I love to read, I
wonder if I could be a good editor. For my book of
choice, I would love Fit To Be Dead. It's the first book
in the series and I like to read series from the
beginning. I also like the story: Aggie's pushing
forty, needs to get in shape, meets detective Sam, and
has a killer after her. I just think this book sounds
like so much fun. Thank you for the chance.
(Tanja Dancy 2:23pm June 26, 2016)
My writer's myth: writing a novel begins at the beginning of the story and ends with the ending. In other words an author sticks to a firm outline start to finish.
During my junior & senior years in high school with 4 other friends, we decided that we could write individual novellas. Only two succeeded. The topics that worked: civil war viewpoint from a northern teenage girl and a teenage girl covertly reporting on the Beatles on vacation. I did not succeed, but I continue to be an avid reader.
One friend is a Civil War Studies professor at a state university and the other is an investigative reporter in a large city.
I would be more than pleased to read "Fit to Be Dead."
(Joanne Hicks 4:26pm June 26, 2016)
Hi, Joanne. Most of us do start with some kind of outline. But it's never firm and always gets changed. The novella topics sound fascinating. I see why they succeeded. Unfortunately, novellas are primarily used to advertise longer works and are rarely good sellers. With all the media now competing for our time, that may change.
Avid readers rock! I'm only giving away three signed books, so yours is the last. I'm delighted to send you FIT TO BE DEAD. Please send me your address in a message on my Facebook page: author Nancy G. West. (You may have to ask me to be a Facebook friend first.)
(Nancy G. West 6:45pm June 26, 2016)
Thank you Nancy for your response. I sent you a friend
request on facebook and a message with my info. I hope I
sent it to the right place. I also posted on your fb page.
(Tanja Dancy 10:40am June 27, 2016)
I have been a devoted reader since I was very young. I
appreciate books as an escape which provide me with enjoyment,
entertainment and allow me to travel and visit other eras,
realms and locales. Your books would be delightful. best
wishes.
(Sharon Berger 1:51pm June 27, 2016)
Not sure I have any myths but I do enjoy reading and love
where the stories take me.
(Sherry Bohrmueller 5:37pm June 27, 2016)
If I wrote a book it would probably have less than one chaptr
(Jeri Dickinson 5:56pm June 27, 2016)
Tanja,
We made connections and I responded to your message!
I'm glad we're now Facebook friends.
Nancy
(Nancy G. West 6:02pm June 27, 2016)
Never wanted to write, I'm very happy being a reader.
"Dang Near Dead" cause I like it snappy title.
(Amber Mancebo 6:38pm June 27, 2016)
I really do want to write! I could even handle the criticism as
long as it was constructive, I'm just not sure how to get an agent
since so many editors require it.
(Teresa Miller 7:05pm June 27, 2016)
I enjoy reading stories and figured writers had a strong inclination to write & picked stories from their minds that were pressing to get out. As I've not had a desire to write, only read, I came to my conclusion after watching my 2nd grade granddaughter write and illustrate a charming story which she enjoyed writing. She will be in 5th grade next year and still loves to write, sketch associated pictures, and journal, as well as being a voracious reader. I guess I felt it must be instinctive. After reading your myths I realized that writing is a cultivated skill wrought through hard work, perseverance, study, style choices, critiques, rewritings and more work. Gosh, I'm glad you didn't bail out and give up on your calling to write. I soooooo enjoy the ultimate magic that springs from the labor of birthing a book!
(Betsy Pauzauskie 7:35pm June 27, 2016)
I've read books my whole life,and to tell the truth when I'm
not reading it feels like a a piece is missing,I admire
writers abilities to touch our hearts and give a little of
themselves back,that part of me hasn't come out yet,maybe
oneday....
(Sophia Smith 9:56pm June 27, 2016)
You are are new to me author, and your books sound great!
(Julie McDonough 10:13pm June 27, 2016)
Looking forward to winning June, 2016 Contest
(Bertina Hemmer 10:25pm June 27, 2016)
Of course I have myths in my mind! I like writing down
snippets in this small journal I keep to bring in reality
:)
(Hylla Jackson 10:42pm June 27, 2016)
Jeri,
I used to feel that way myself.
(Nancy G. West 11:12pm June 27, 2016)
lol, does signing up for this contest make me a "dead head"?
(Melody Kaufman 11:39pm June 27, 2016)
Great analogy, I am not a writer, I am a reader :)
(Darci Paice 8:48am June 28, 2016)
I want to thank you for your generous comments about editors.
I always consider myself part of the writing team for my
authors. We share creativity and new ideas and they are not
afraid of criticism or suggestion. But the important thing is
that it is THEIR creation. You are there to polish to a shine!
(Lyn Ehley 8:54am June 28, 2016)
I have always thought I could write a wonderful novel,but, I
can't think of a good opening line. After all " it was a dark
and stormy night", and "call me Ishmael" were taken. Lol
(Sue Hieber 10:31am June 28, 2016)
I can't think of any myths at the moment . I believe the title " Dang Near Dead " fits me best . I've got more years behind me than ahead of me now . I am reading more books and taking life slower and enjoying life the best I can .I do love mysteries and thrillers . Thanks for this chance to win .
(Joan Thrasher 10:34am June 28, 2016)
Betsy,
We do have a strong inclination to write and pick stories from our minds. But it takes studying the craft to learn how to transfer what's in our minds to the reader's mind. Cultivate your granddaughter's talent! Get her to show you her favorite books and read her favorite part. Then ask her, "How do you think the author made you like that part?" Hopefully, as she reads, she'll begin watching to see how the author writes the parts she likes.
(Nancy G. West 12:52pm June 28, 2016)
Sophia,
I read every night, at least a few pages. I can't go to sleep without it.
We do hope our hearts touch a small part of yours.
(Nancy G. West 1:04pm June 28, 2016)
Hylla,
Keeping a journal is a wonderful idea. Reading past entries brings back memories. Sometimes they plant the seed of a story in your head.
(Nancy G. West 1:07pm June 28, 2016)
Darci,
Thank you for reading the article. You might also enjoy FIVE WAYS WRITERS ARE WEIRD: A CONFESSION. Click it in this article and the link will take you there.
(Nancy G. West 1:10pm June 28, 2016)
Lyn,
We couldn't do without editors. When we write, we're thinking about so many things, and we're too close to what we created to see it objectively. I'm interested in your editing. Do you have a link you could send me here or message me on Facebook, Nancy G. West?
(Nancy G. West 1:22pm June 28, 2016)
Sue,
I thought of a great opening line and don't have a story to go with it. Oh, well.
(Nancy G. West 1:24pm June 28, 2016)
GREAT BOOKS.KEEPS ME ON MY TOES.
(Marsha Baurns 2:44pm June 28, 2016)
I have always thought that writing comes naturally to some people(certainly not to me)--I think that is a myth now.
(Sue Farrell 3:45pm June 28, 2016)
Hello Nancy, I would love a copy of fit to be dead. I have
thought up a good for a book. I see how hard it can be to
write, that's why I always praise Authors. Thank you
(Linda Romer 5:58pm June 28, 2016)
I try to never let reality interfere with my love of myth. Life is too short to give up on fairies, elves, immortals, shifters and Santa Claus. Reality needs to be tempered.
(Sharon Mitchell 3:46am June 29, 2016)
not really i just dont have the engish teacher said i do not how to word it right working for the rich and famous you can get some great idea
(Desiree Reilly 7:59pm June 29, 2016)
Studying techniques of writing fiction is not how I imagined a writer would begin. Ouch! Myth busted! However, I've loved many a writer's creations and am thankful you and others have braved the storm and come out on the other side with amazing reads!
(Liz Sawyer 9:27pm June 29, 2016)
It would be terribly hard for me to write fiction because I
was a Journalism major in college-- the who, what, when, why
in the first couple of sentences.
(Nancy Ludvik 10:32pm June 29, 2016)
A great prize - thanks for the chance to win!
(Connie Sahn 10:58pm June 29, 2016)
The muse or creativity myth: I think many believe that writers or artists have
a wealth of creativity every day. But those who know these individuals or
are creatively blessed themselves, know that sometimes, a muse can be
fickle. You can be on point or on a roll for days and then one day...nothing!
On the off-chance I'm chosen, book 3 please (Smart, But Dead).
(Susan Sigler 9:47am June 30, 2016)
Yes, got it! Books have been claimed. I just read the other comments just
now. Have a great day!
(Susan Sigler 9:52am June 30, 2016)
I don't have any myths about writing because I leave that to the professionals! I'd love to read Fit to be Dead and start the series!
(Jamie Stein 12:30pm June 30, 2016)
As a reader I always wonder how the author came up with the story idea and how in the world do they find the time to write and have a normal family life. It's amazing how they are able to do what they do.
(Leni Kaye 6:52pm June 30, 2016)
I am not a writer but I am a avid reader and really love
mysteries.Would love to start this series with Fit to be
dead as my choice. Thanks for the contest!!!!!
(Teresa Ward 7:50pm July 1, 2016)
I did think of writing many, many years ago. I got busy and forgot about it for
a time. The ideas are there and I am constantly doing stories in my mind.
Putting them on paper is another matter. I have come to realize it is a
business/job. You need to put in the hours, be organized, and subject
yourself to editors, beta readers, and rewrites. I decided I wasn't driven
enough to do it. I will continue to think up my own stories and enjoy those
others have put into books.

I would choose DANG NEAR DEAD to read. I enjoy Westerns. The West is a
special place that attracts independent individuals. A place for those who are
trying to leave a questionable past behind and start over or hide. They tend
to remain private and mind their own business. A good set-up for crime and
a a hard atmosphere to get answers and solve a murder.
(Patricia Barraclough 9:51pm July 1, 2016)
Registered users may leave comments.
Log in or register now!