This summer I was lucky enough to have the chance to visit Israel, to stand by the Western Wall, to look out over the Sea of Galilee, to stand atop Masada, and to walk the water tunnels of the City of David. It was the experience of a lifetime, the chance to see things I had read about and imagined for years.
To stand atop towering plateau of Masada, that ancient, impregnable, doomed fortress against a Roman siege, and look down at the ramp the relentless centurions built to reach the top, is to experience history. It is impossible to look at the millions of pounds of dirt and not try to imagine all the work it took to move them, or the desperate resistance that met the builders. And it is impossible to walk the walls of the ancient city and not think of those who lived there in those last desperate days.
While I found Masada to be the most powerful place I visited, each place I went filled me with a feeling of awe and history. I was constantly picturing all the generations that had been there before me, imaging all the events I had heard about since the earliest days of my childhood.
I will probably never write about that period of history, but it reminded me vividly of how powerful location is, of how the past still echoes today. It's been years since I visited London (since before I was writing seriously) but I still vividly remember walking those streets and feeling all the lives that had gone before me.
I think that's why I became a writer, the desire to write down and share the hundreds of worlds and histories that wander through my head. I want to capture the poignancy of each individual moment and bring it to life.
When writing a story like SARAH'S SURRENDER, I try to capture the intense emotions and feelings that can happen in a single night and to place the reader firmly in the desired location and time. I work hard to imagine what it was like to be a woman in the Regency with so many fewer choices open to me -- and so many more constraints.
In SARAH'S SURRENDER, I created a heroine who's had to struggle hard after the man she thought she'd love forever lets her down in the worst way. She's left feeling like there's something wrong with her, and nothing she does will ever make her world right again. These feelings cause her to seem haughty and distant (in BOUND BY BLISS) when in truth she's anything but – and when her true love returns, she must work to find the courage to reach for a second chance.
Giving Sarah her second chance and once again visiting the Regency world that I love was a wonderful experience for me. And I hope you'll enjoy it, too, as you read just how far Sarah is willing to go to grasp that chance.
Lavinia Kent never knew that most people don't make up stories in their heads to pass the time. She still has a hard time understanding how those who don't survive the doctor's waiting room or a grocery store line without another world to escape into.
Growing up in New York state and Wisconsin, Lavinia graduated from Wellesley College and, for reasons that are still not quite clear, also holds an MBA from Washington, D.C.'s Georgetown University. Lavinia has remained in Washington ever since.
She lives under the gracious (and usually benign) rule of Erzsebet, the cat, along with her husband, three children, one cockatiel, two rats, and Erzsebet's younger, subordinate tomcat, otherwise known as The Golden Snitch.
As the mother of three, Lavinia finds "leisure time" to be ever-elusive, but when she is not reading romance novels, she watches far too much HBO and reality television. It must also be noted that she has an encyclopedic knowledge of all things Buffy.
Lavinia is a two-term president of the Washington Romance Writers and is proud to be a four-time Romance Writers of America Golden Heart nominee.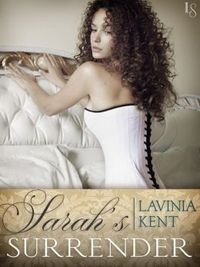 In Lavinia Kent's scorching new eBook original novella, two wounded hearts find that only the sweet release of temptations long denied can heal the pain of past sins.
Five years ago, Miss Sarah Swilp had been deeply in love with Jonathan Perry, the second son of an earl. But when Jonathan inherited his aunt's lands and money, he turned cold, demanding Sarah's maidenhood and uttering those unforgettably cruel words: "You do know I won't marry you." She refused, of course, and that spoiled everything. Now, just as she's agreed to a marriage of convenience, Jonathan reappears—and after Sarah gets one look at his lean, hard body, the embers of desire burst back into flame.
Over time, Jonathan has learned quite a bit about the art of pleasure—though nothing has ever given him so much joy as the husky timbre of Sarah's laugh. It had hurt to leave her, but what other choice did he have? Perhaps he'd been too afraid of ending up like his brother, targeted by a woman seeking a title. Seeing her again, Jonathan can't help wondering what might have been if only Sarah had surrendered to red-hot lust. Fortunately, judging by the wicked look in her eyes, it may not be too late to find out.
SARAH'S SURRENDER Sarah's Surrender is intended for mature audiences. Don't miss a preview of the next novel in the Bound and Determined series, RAVISHING RUBY.
No comments posted.