Ever since I was a young girl, I've been a card-carrying, tiara-wearing, zealous fan of the written word. Though fiction is my favorite, I grew up reading anything and everything I could get my hands on. As an adult, I'm a member of two book clubs, own a full-to-capacity Kindle, and can't find an inch to slip the slimmest of paperbacks on my bookshelves.
I'm guilty of staying up too late devouring final chapters. I've been known to sit in my driveway finishing the last few minutes of an audiobook. In the fall, my favorite accessory is an Alice in Wonderland scarf, setting off the bright red "I read banned books" pin on my briefcase.
Yes. I'm a book nerd, and proud of it.
Not so long ago, though, the term nerd was degrading and derogatory. Picture the thick glasses, pocket protectors, and high-water pants. Then, enter Steve Jobs, Bill Gates, and Mark Zuckerberg. Cue the unlikely, awkward, but adorable novel heroes like Augustus Waters in THE FAULT IN OUR STARSThe Fault in Our Stars, Park Sheridan in ELEANOR & PARK, and Kent McFuller in BEFORE I FALL.
We've come a long way, baby. And as we find ourselves mid-2015, can it be that the universe is finally blessing the brainy? Are we, as a human race, moving toward collective agreement that nerds are cool? I'll answer with a resounding yes. Long live nerds.
So, whether you secretly read novels every night on your iPhone or you haven't been to the library since 6th grade, it's time to join the movement. Here's why embracing your inner book nerd can make you happier, smarter, and more creative.
1. You'll meet other people
Join a bookclub. Or three. Join one in your neighborhood, across town, or online. (Goodreads has a plethora, there are lists on MeetUp, or ask your local librarian). It's like getting a new, awesome family, of your own choosing, made up of literary addicts and bibliophiles.
Not only will you meet new people, you'll be gently forced out of your comfort zone. Maybe you'll try dystopian fiction, fantasy, or sci fi. Maybe you'll realize there was no good reason why you shunned Ayn Rand since high school. Maybe this time, you'll actually finish Great Expectations.
The best part? The recommendations will start rolling in. You'll hear, "You have to read this book," or "This new author is amazing." And your new reading family will tell you why. Listen closely. They know what's they're talking about.
2. You'll have an instant escape
If you've been dreaming of Bali and want to visit Africa or the Greek Isles, dig out your library card. Just as Dr. Seuss promises, "Oh, the places you'll go." Reading gives you an escape anytime, anywhere.
Pick up a new book and allow the pages to whisk you away to a Tibetan monastery, take you up the winding steps of Machu Picchu, and give you a close up look at Great Barrier Reef sea life.
Books, like mini-time machines, can also vault you back to Colonial America, Medieval England, and Stalin's Russia. Or fast-forward, and you'll find yourself in Veronica Roth's post-apocalyptic Chicago, Wayward Pines, Idaho, or Aldus Huxley's Brave New World in London.
3. You'll become open to new ideas.
Something wonderful happens when you lose yourself in the pages of a book. Your mind comes alive, creativity flows, and your brain will generate fresh ideas. You might begin to look at life, and all of the situations you've lived through, in different ways. You'll understand people, their emotions, and behavior, a bit more.
At its best, reading engenders more empathy toward the human race. Books help labels and stigma fall away. After all, there's so much more going on in the world than what's outside our own windows. If we all read, maybe more people will start joining hands instead of drawing lines in the sand.
4. You'll improve your intellectual IQ
Yes, reading can make you smarter. Researchers studying readers using MRI technology came to quite a few interesting conclusions. Not only does reading expand your vocabulary and improve your communication skills, it's also an effective memory booster and enhances your ability to focus.
Dr. Anne Cunningham, a University of Berkeley professor of psychology, discovered that readers have a greater general knowledge and spot patterns more quickly than non-readers, an analytical skill that keeps your mind sharp. Comic books and children's picture books don't count, however, the books must be complex enough to challenge your brain.
5. You'll learn
If you're an avid reader, you can absorb quite a bit in novels about psychology, relationships, behavior, culture, and of course, my favorite, how to fight super villains! All of that knowledge comes with a caveat—despite popular themes (the good guys always win, teams of misfits can outwit hardened criminals, etc.), the stories are fiction.
If you like focusing on facts, research, and experimentation, you'll find books on psychology, sociology, and philosophy. Interested in politics and government? Check books written about current events, as well as out autobiographies and memoirs.
I've recently discovered a love of historical fiction, and have learned more than I ever did in my high school history class about Hitler's Germany, Mao's China, and the French Revolution.
6. You'll set a good example
If you have children, nieces or nephews, you probably know that their little eyes see everything. They memorize what you say and mimic what you do. This is your chance to set a great example.
I grew up in a household where reading was important and libraries were fun places to visit on weekends. We didn't watch television, and as a consequence, neither do my children. We don't subscribe to cable, and although Netflix and YouTube are available, my boys rarely reach for the remote.
Convinced yet?
Let me put it this way. If being a book nerd is wrong, I don't want to be right. Go ahead; tell Bill Gates you don't want to be happier, smarter, and more creative.
Now, grab your tiara and meet me at the library.
GIVEAWAY
Time to sound off; are you a book nerd? Leave a comment below and be entered for a chance to win a copy of CENTER OF GRAVITY.
After six years behind the anchor desk at two CBS affiliates, Laura McNeill moved to the Alabama Gulf Coast to write full-time.
Her novels, known for their endearingly flawed characters, illuminate the real life struggles that touch us all.
A native of Upstate New York, she now lives in Mobile, Alabama, with her two growing boys.
Her debut novel, CENTER OF GRAVITY, will be published by HarperCollins/Thomas Nelson July 14, 2015.
Website | Twitter | Instagram | Pinterest | Facebook | Blog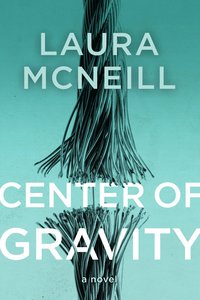 The truth could cost her everything.
Her whole life, Ava Carson has been sure of one thing: she doesn't measure up to her mother's expectations. So when Mitchell Carson sweeps into her life with his adorable son, the ready-made family seems like a dream come true. In the blink of an eye, she's married, has a new baby, and life is wonderful.
Or is it?
When her picture-perfect marriage begins unraveling at the seams, Ava convinces herself she can fix it. It's temporary. It's the stress. It's Mitchell's tragic history of loss.
If only Ava could believe her own excuses.
Mitchell is no longer the charming, thoughtful man she married. He grows more controlling by the day, revealing a violent jealous streak. His behavior is recklessly erratic, and the unanswered questions about his past now hint at something far more sinister than Ava can stomach. Before she can fit the pieces together, Mitchell files for divorce and demands full custody of their boys.
Fueled by fierce love for her children and aided by Graham Thomas, a new attorney in town —Ava takes matters into her own hands, digging deep into the past. But will finding the truth be enough to beat Mitchell at his own game?
CENTER OF GRAVITY weaves a chilling tale, revealing the unfailing and dangerous truth that things—and people—are not always what they seem.
21 comments posted.
Yes , I'm a book nerd and proud of it !!! LOL I love my books . I have read books all my life and still reading. I treat my books with tender love and care , always use a bookmark ,never turn a page down . I hate to get a used book that the pages have been used as a bookmark . Your book sounds like a very thrilling and chilling book . Thanks for this giveaway . I hope to be reading this soon.
(Joan Thrasher 10:29am July 13, 2015)
I am a total book nerd. I made my dad take me to the library on my 5th birthday so I could get my own library card.
(Pam Howell 12:53pm July 14, 2015)
I am the biggest book nerd ever! I can't even begin to tell you how many nights I
have spent awake reading an amazing book that I just couldn't put down! I love
to read. It is relaxing and so much more fun than watching TV.
(Lily Shah 12:32pm July 15, 2015)
The 7 overflowing bookshelves in my house definitely attest to how big of a book nerd I am!
(Kristine Murphy 3:20pm July 15, 2015)
I happily admit it! Yes, I love books, and have since I was a child. Was very sorry to hear that public TV did away with reading rainbow, a show I grew up with, and far better than sesame street IMO. I have been known to visit the library twice weekly, to read up to 3 books a day...I could never do without them.
(Cynthia Powers 6:11am July 16, 2015)
Yes, I'm a book nerd and have been every since I fell in love with reading as a child. I usually read several hours each night before going to sleep and sometimes have trouble putting an exciting one down.
(Anna Speed 1:24pm July 16, 2015)