Irene Hannon | It's All about the Characters

July 10, 2015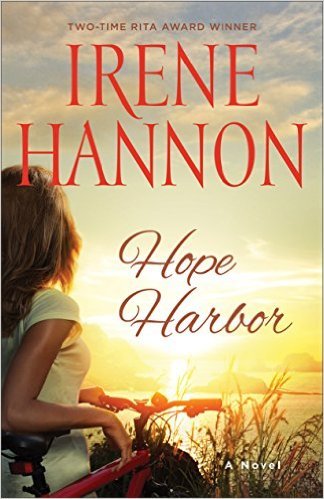 AVAILABLE
Hope Harbor #1

July 2015
On Sale: July 7, 2015
Featuring: Tracy Campbel
352 pages
ISBN: 0800724526
EAN: 9780800724528
Kindle: B00QMSCKXY
Paperback / e-Book
Add to Wish List

Also by Irene Hannon:
Driftwood Bay, April 2019
Hidden Peril, October 2018
Pelican Point, April 2018
All Our Tomorrows, March 2018

Often, when introduced as a writer at a social gathering, the conversation follows a predictable pattern:
"What do you write?"
"Romantic suspense and contemporary romance/women's fiction."
"How many books have you written?"
"More than forty-five."
At this point, most people's eyes glaze over. A few ask a third—and final— question: "How do you come up with all those ideas?"
If I think their interest is genuine, I explain that I was a psychology major in college and that I've never lost my fascination for figuring out what makes people tick. As a result, whether I'm writing a high-stakes, edge-of-the-seat suspense novel or a contemporary romance, my characters inspire and guide my stories. At their core, no matter the genre, all of my novels are about relationships. In every book I write, I go deep into the psyches of both the good guys and the not-so- good guys. I want to understand the forces that shaped them and the choices they make, even when I don't agree with those choices. And I want to take readers along on that journey.
When people finish one of my books, I hope they come away with fresh insights—and questions. For HOPE HARBOR, my latest novel, those questions might be: Why were my hero and heroine able to face daunting challenges yet stay the course and come out better people? Is it possible to mend old rifts? Are some mistakes too serious to rectify? How can a person juggle conflicting priorities? This story, set in a charming seaside town in Oregon, is about coming home…healing hearts…overcoming obstacles…and finding love. As the name suggests, it is an uplifting, heartwarming tale filled with hope.
In this book, as in all my books, the character journey is what interests me most. I write about people who exhibit courage and honor and principles. People who've lost their way. People who've make mistakes. People who repent—and people who don't. Every time I meet a new character and embark on a voyage of discovery with them, I learn something new about relationships—and I hope readers do, too.
And by the way…I don't just write about two people falling in love, even though my books are classified as romances. I also explore the interactions between parents and children, friends, enemies, siblings, co-workers…you name it. Because the rest of the world doesn't stop when we fall in love. All of the characters' relationships, both harmonious and messy, play a role in their love story.
So in my books, I create complex people and put them in situations that test their mettle. Sometimes it's a suspense novel, sometimes it's a contemporary romance like HOPE HARBOR. The genre I choose is simply a vehicle for delving into the minds—and hearts—of my characters.
Library Journal once called me "a master at character development," and it's an accolade I cherish. Because while I strive to write books that entertain and excite and keep people up late at night waiting to see what happens next, my main goal is to pull readers into the lives of my characters. To make them turn that last page thinking: Those people were real. I felt for them. And I'm sorry to say goodbye.
GIVEAWAY
What characters were you sorry to say goodbye to? Leave a comment below and be entered for a chance to win a copy of Hope Harbor.
Irene Hannon is a bestselling, award-winning author who took the publishing world by storm at the tender age of ten with a sparkling piece of fiction that received national attention.
Okay . . . maybe that's a slight exaggeration. But she was one of the honorees in a complete-the-story contest conducted by a national children's magazine. And she likes to think of that as her "official" fiction-writing debut!
Since then, she has written more than forty-five contemporary romance and romantic suspense novels. Irene has twice won the RITA award—the "Oscar" of romantic fiction— from Romance Writers of America, and her books have also been honored with a National Readers' Choice award, three HOLT medallions, a Daphne du Maurier award, a Retailers Choice award, a Booksellers' Best award, a Carol award, and two Reviewers' Choice awards from RT Book Reviews magazine. In addition, she is a two-time Christy award finalist.
Irene, who holds a BA in psychology and an MA in journalism, juggled two careers for many years until she gave up her executive corporate communications position with a Fortune 500 company to write full-time. She is happy to say she has no regrets! As she points out, leaving behind the rush-hour commute, corporate politics, and a relentless BlackBerry that never slept was no sacrifice.
A trained vocalist, Irene has sung the leading role in numerous community theater productions and is also a soloist at her church.
When not otherwise occupied, she and her husband enjoy traveling, Saturday mornings at their favorite coffee shop, and spending time with family. They make their home in Missouri.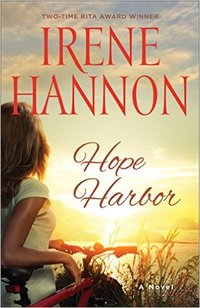 Come home to Hope Harbor--where hearts heal . . . and love blooms.
Tracy Campbell never wanted to leave Hope Harbor, Oregon, or the idyllic three-generation cranberry farm where she grew up. But life--and love--altered her plans. When tragedy strikes and changes her plans yet again, she finds herself back in her hometown with a floundering farm to run and a heartbreaking secret. Romance is not on her agenda. Nor is it on Michael Hunter's. The visitor from Chicago has daunting secrets of his own. But when Tracy recruits him to help save a struggling charitable organization, the winds of change begin to sweep through Hope Harbor, bringing healing, hope, and love to countless lives--including their own.
Fan favorite Irene Hannon brings a whole new cast of characters to life in a charming Oregon seaside village. Emotional and heartwarming, this story invites readers to come home to Hope Harbor, where love and hope bloom--and hearts heal.
Comments
23 comments posted.
Re: Irene Hannon | It's All about the Characters

Nancy Drew
(Marissa Yip-Young 5:30am July 10, 2015)
this is a new author for me
(Lorelei Frank 8:12am July 10, 2015)
You caught me a bit off-guard with the question, but there
was a book I read about 3 years ago. The name of it was
Roses by Leila Meacham. Even though the book was about 500
pages long, and I read it in one sitting, pulling an all-
nighter, I hated to see the story end, because I fell in
love with the main characters, whose name escape me. Now
I'm looking forward to reading your books, because I can see
that you not only put your heart into your book, but you
have a different way of thinking out the plot and the way
the characters respond throughout the book which is
different from other Authors. I like the way you approach
your books, and am looking forward to reading them.
Congratulations on your latest book, from someone who just
might be your latest fan!!
(Peggy Roberson 11:24am July 10, 2015)
I was sorry to say goodbye to so many characters but a major
character whom I will miss badly is Fiona from The tea Rose
novel.
(Sharon Berger 11:32am July 10, 2015)
Hmmm, I sometimes am sad when a series ends but I look forward to all of the characters I get to meet with each new book I read!
(Colleen Conklin 12:18pm July 10, 2015)
Hard to say but I do like stand alone books that have the
same family characters from another book.
(Leona Olson 6:08pm July 10, 2015)
Easy. Harry Potter series. Not only did I love the books
and movies but I love that it was something my daughters,
brother, and now my nephews could all get into and talk
about.
(Tammy VanScoy 8:30pm July 10, 2015)
Ryan Molloy from Rancher at Risk, by Barbara White Daille. He as such a nice guy.
(Gladys Paradowski 10:33pm July 10, 2015)
Would like to hear all about Hope Harbor.
(Mary Hay 11:26am July 11, 2015)
The characters in The Harry Potter series
(Christine Schultz 3:19pm July 11, 2015)
50 years ago it was Nancy Drew but there are so many new
characters out there it is hard to choose.
(Nancy Luebke 3:22pm July 11, 2015)
I don't really miss any characters because I'm constantly starting new books.
(Karen Mikusak 7:40pm July 11, 2015)
Its hard for me to say goodbye to characters when a series
ends. I am reading the Barrett's Mills series by Mia Rose and
its the 4th book, so it will be hard to say goodbye.
(Maryann Skaritka 8:16pm July 11, 2015)
this is a new author for me. would like to win a copy
(Lorelei Frank 10:57am July 12, 2015)
I have never read any of Irene Hannon's books but do look forward to in the near future,.........and so so am so disappointed when a book ends and there is no continuing series to it.
(Lnda McFarland 11:32am July 12, 2015)
I hate to say good-bye to characters who I started to like. Just when I start to like them, they get killed off.
(Kai Wong 5:52pm July 12, 2015)
Having Rhett Butler walk out in GONE WITH THE WIND was earth shattering. I kept thinking, "surely they're going to get back together". That's probably why it remains one of those novels you never forget.
(Flora Presley 6:06pm July 12, 2015)
This looks like a good book, I'd love to read it.
(Wilma Frana 9:09pm July 12, 2015)
this is a new author for me. would love to read her work
(Lorelei Frank 7:09am July 13, 2015)
There has been lots of characters in books that I have read over the years , and I hate to finish the book and the characters are gone .Sometimes I imagine what will happen to them after I finish the book .So ,I'm sorry to say goodbye to lots of the characters . Thanks for this giveaway . Hope I'll be reading this book soon .
(Joan Thrasher 9:58am July 13, 2015)
I am always sad when a series I have been faithful to has
ended and that has happened alot. I am hooked on The Last
Chance books and now learning that the one she has
written is the last but she is going to write a new
series which is always good. Crossing my fingers to win
this one a new author to me and would love to read and
review.
(Peggy Clayton 12:27pm July 13, 2015)
There are many characters that I want to find out what happened next in their lives. That's when I search to see if it is one of a series. I'm truly disappointed if I have to say "good-bye" without finding out more about them.
(Anna Speed 12:43pm July 13, 2015)
I'm often sorry to see a series end and have my last visit
with the characters, especially those who live in a small town
- like Debbie Macomber's Cedar Cove.
(Diane Sallans 11:30pm July 13, 2015)
Registered users may leave comments.
Log in or register now!