Anju Gattani | Fiction - Mirror to Life

April 15, 2012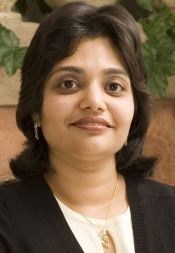 Have you ever wondered if fiction mirrors life?  I have.  Not once, but twice.
The first time was in 2004, shortly after I had pounded out the original draft (in pen) of a story in my head.  The process took a year and a half (2002-2003), after which I realized there was a sequel.  I joined a professional writing organization, attended conferences and learned I had written two stories, not one (+sequel makes 3).  After chopping, slicing and dicing, I began the intense research needed to bring the story to life.
DUTY AND DESIRE, the debut in my 'Winds of Fire' series, begins with a five-hundred-million rupee (Indian currency) wedding where Sheetal (protagonist) is forced to marry Sanjeet (antagonist) in the wedding of the decade.  I had the characters, plot, locale, wedding attires for both characters—created by 2 of India's leading fashion designers—in place.
Then in 2004, Vanisha Mittal, heiress to London born, steel tycoon, Lakshmi Mittal, announced her wedding to Amit Bhatia, a Delhi born investment banker.  The wedding, estimated to cost about $78m, was honored by Forbes' Magazine and the Guinness Book of World Records, as the most expensive wedding ever, and took place at the Palace of Versailles, once home to Louis XIV, France's Sun King.
Approximately 1,000 guests attended Sanjeet and Sheetal's fictitious wedding in DUTY AND DESIRE, where food from every continent was the buffet spread, the best wines and champagnes were served and the descriptions go on...  About 1,000 guests were invited to witness the extravagance of Vanisha Mittal's wedding where the wine tab alone summed $1.5m, 100 different dishes were prepared by a top Calcutta chef, and the extravagance goes on...
Surprised?  So was I.
Then a recent article about David and Jackie Siegel, Bloomberg Businessweek (March 2012), made my jaw drop.  A mammoth home the couple is planning to build in Orlando, Florida, mirrors the fictitious Dhanraj mansion (Sheetal and Sanjeet's home) in DUTY AND DESIRE.  It's not just the scale of the construction that compares but the details: the Siegel's home, currently at about 67,000 sq. ft. occupies one full acre and when finished, is expected to be the largest home in the country.  It is a 13 bedroom, to-be marble-covered home, 67ft. tall, with Brazilian mahogany front doors 20 ft. high, and host to 3 swimming pools, a waterfall, lake, custom-made hill, movie theaters, bowling alleys, the list goes on...
In DUTY AND DESIRE, the 22-bedroom Dhanraj mansion, at about 70,000 sq. ft. is the only palace of its kind in the fictitious city of Raigun, sprawling on acres of land, mountains and lake, with a private Japanese garden, Venetian pillars, floor-to-ceiling marble, mahogany doors, an infinity pool, the list goes on...
Shocked?  So was I.
Then, when I learned the Siegels had christened their home 'Versailles' – Home of the Florida Sun King, I took a step back and took a deep breath.  And for the second time I wondered, does fiction come alive?  Or does fiction—when you least expect it—come to life?
What do you think?
Let us know your thoughts on fiction versus reality for a chance to win your own golden, silk, hand-made, Indian wedding invitation card, inviting the winner (of the blog post) to the fictitious wedding of Sheetal and Sanjeet in DUTY AND DESIRE. (This wedding invitation has been specially designed for the book in accordance with the Sheetal's Indian wedding gown)
Comments
16 comments posted.
Re: Anju Gattani | Fiction - Mirror to Life

It seems to me that very little in fiction has not occurred in reality, but thank goodness for that little.
Blessings,
Marjorie
(Marjorie Carmony 6:35am April 15, 2012)
I think that reality and fiction can definitely feed off each other. I wonder if your story line and the wedding in it were available somewhere. The coincidences just seem to be a little too close, unless you know of other people who have planned weddings in Versailles.

I don't know if Versailles is available for wedding receptions. I do know it's available for official international functions. It was in the 1960s. Do you know which room is portrayed in the picture above? I've been to Versailles a number of times, but I'm thinking of a particular function which I attended with my father in the Salle des Batailles in June 1963. He was in Paris with a group of other Canadians for a hospital conference. He was an architect who had worked on several hospitals. As the grand finale of the event, we were bussed from Paris to Versailles for a dinner with a view of the fountains behind the Palace. Unfortunately, it rained that evening and the fountains would have been indistinguishable from the rain. However, a great time was had by all the international visitors, since we also got a tour of parts of the chateau, including the Hall of Mirrors which is located around the corner from the Salle des Batailles. I would think that we were a fairly large number of people since we traveled in 20-plus buses. If I remember correctly, we also sat at round tables and each table was photographed and we each received a copy of that as a parting souvenir.

I'd certainly love to read this series when it comes out, whether it's set in Versailles or elsewhere. It's certainly portrays a world that I'm acquainted with.

P.S. I love that picture of Versailles and its gardens and other buildings. Where did you get it? BEFORE VERSAILLES by Karleen Koen which came out recently, deals with the time before Louis XIV turned the hunting lodge there into a real palace.
(Sigrun Schulz 6:39am April 15, 2012)
What human minds create, human minds can create!
(Mary Ann Dimand 7:05am April 15, 2012)
Hi Marjorie & Mary, thanks for sharing!

Hi Sigrun,
I'm afraid I don't know which rooms are portrayed in the pic. above... and during the Mittal wedding... journalists were banned from the event and so little was known of the details.
DUTY AND DESIRE is already out... it was a Dec 2011 international release and available in hardcopy via online order at B'Noble, Amazon, and most leading bookstores. It is also available for ereading on: Kindle, Nook, Sony, Kobo and all Apple products. I hope you enjoy the read!
(Anju Gattani 7:58am April 15, 2012)
I think fiction can be inspired by reality but fiction can inspire reality. After all, what the mind can dream, it can achieve.
(Pam Howell 9:49am April 15, 2012)
love to win this book it sounds so good thanks
(Denise Smith 10:27am April 15, 2012)
Hi Pam and Denise,
What a lovely thought, Pam... inspiring! Thanks and good luck to winning the invitation!
(Anju Gattani 10:56am April 15, 2012)
It is not at all uncommon for life to imitate fiction in
certain genres: science fiction, crime fiction, and
contemporary thrillers come to mind, since the appearance of
plausibility in extrapolation from the real world is so
critical.

For the same reason I would expect it to be far less common
in contemporary romance novels because the demand for such
plausibility in extraction from the real world is arguably
going to be lower.

Not that I am saying contemporary romance novels are
unrealistic (well, except maybe for the HEA part!) but
rather that part of the fun in writing science fiction and
contemporary thrillers (less so with crime novels) is to be
able to claim to have predicted the future when something
happens in the real world greatly resembling what you wrote.
(Fred Town Ward 11:07am April 15, 2012)
I used to think that fiction mirrored reality or was just designed to give the reader a place to go that was obviously not real. However....recently it seems that more and more people want their real lives to mimic fiction. I guess deep inside we all want the fairy tale ending.
(Jennifer Beyer 11:09am April 15, 2012)
I'd love to be invited to the wedding.
(Mary Hay 3:23pm April 15, 2012)
I remember ready about Edgar Cayce when I was younger. he believed in the "universal mind". The concept is that we are all somehow connected and our thoughts come from the same universal source of knowledge. I like that idea, and I would like to believe it's true. If you believe in the concept, then it makes sense that you could think you are actually making something up when it is actually real. Maybe you tapped into the information unconsciously.
(Sandy Fielder 4:18pm April 15, 2012)
I like the idea of coincidence and seeing a setting in real life, so mirroring real life intrigues me. Of course, so does a world that has a smidgen of possibility from some authors who stretch the imagination.
(Alyson Widen 4:35pm April 15, 2012)
Hi Sandy,
What a thought-provoking concept! It's interesting to hear you say this because these were just 2 of the details I've shared on the post - which mirror life. There are more... and one of them literally made my heart stop.

Hi Fred, Jennifer and Alyson,
Thanks for sharing your Sunday with me and I'm glad you enjoyed the post!
(Anju Gattani 5:36pm April 15, 2012)
My husband showed me the pictures this weekend and I thought of you. Now, reading this, it is very strange how things seem, isn't it. Best of luck! Your star is rising!
(Shanon Grey 9:44pm April 15, 2012)
At times fiction and reality can be one in the same. So much in fiction is based on reality and reality can at times have a ficiton back round. Thank you for your view. Love to read the book.
(Diane Castiglione 1:59pm April 16, 2012)
Hi Shanon,
thanks for your kind words!!

Hi Diane,
Hope u enjoy the read!!
(Anju Gattani 2:41pm April 16, 2012)
Registered users may leave comments.
Log in or register now!