Fred Town Ward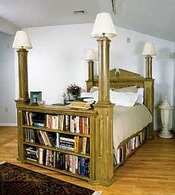 http://www.amazon.com/gp/pdp/profile/A3BTL4FV6ODKAT
The Analytical Mind; Have Brain; Will Travel
Features & Posts
No posts found.
3 comments posted.

Re: Duty And Desire (11:07am April 15, 2012):

It is not at all uncommon for life to imitate fiction in
certain genres: science fiction, crime fiction, and
contemporary thrillers come to mind, since the appearance of
plausibility in extrapolation from the real world is so
critical.

For the same reason I would expect it to be far less common
in contemporary romance novels because the demand for such
plausibility in extraction from the real world is arguably
going to be lower.

Not that I am saying contemporary romance novels are
unrealistic (well, except maybe for the HEA part!) but
rather that part of the fun in writing science fiction and
contemporary thrillers (less so with crime novels) is to be
able to claim to have predicted the future when something
happens in the real world greatly resembling what you wrote.

Re: The Dragon And The Pearl (12:19pm September 15, 2011):

I can think of one obvious example of costuming affecting
character from "The Lady and the Pearl" itself, which I read
a NetGalley ARC of:

Li Tao.

Unlike most warlords and other men of power (or would-be men
of power) in Tang Dynasty China he dresses simply, in plain
dark robes. I would assume he does so for a number of
reasons:

1. To intimidate. Black is a color often used to generate
fear.
2. To distinguish himself from such men whose selfish
motives he despises and who he claims to be very different
from.
3. To identify more closely with his common soldiers.
Although most military leaders throughout history have gone
for the ostentatious display in military uniform, there have
always been the notable exceptions who dressed very simply
in the field with only the abject minimum of displays of
rank. One thinks of Generals Ulysses Simpson Grant, William
Tecumseh Sherman,...

and Frederick Townsend Ward.

Re: Motor City Witch (12:52pm November 27, 2010):

My first reaction to Detroit as an urban fantasy romance setting was extreme skepticism, but after reading your defense of it above, I am forced to admit that you've opened my mind, if not quite made a believer of me,...

yet. That will have to come from reading.