The holidays are here, and all around you is bustle and hustle and a wee bit of chaos – right? It is at my house! So, do yourself a favor and take a few minutes or a couple of hours or so occasionally and treat yourself to a nice cup of tea or cocoa, and one of December's luscious cozy mysteries! What a great way to distress!!

Plus, wouldn't a cozy mystery make a great stocking stuffer for that special reader in your life?

And there are a great group of books to choose from this month! Here's are a few goodies that I've found:

Hardbacks: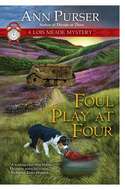 FOUL PLAY AT FOUR: A Lois Meade Mystery #12
By Ann Purser
Berkley; $24.95

Lois Meade has worked through all the days of the week, turning up clues and scrubbing up messes and murderers in the village of Long Farnden. But sleuthing is rarely a spotless endeavor.

A series of robberies have begun to plague Long Farnden, and Lois's own daughter, Josie, is shaken when a thief makes off with a hundred pounds from the till in her grocery shop. But before her policeman fiancé can crack the case, someone cracks Lois's husband on the head when he interrupts a burglary in progress. Now Lois—and the besotted Inspector Cowgill—must determine who's cleaning out Long Farnden, and clean up after an increasingly violent crime spree.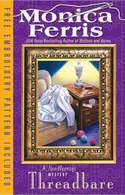 THREADBARE: A Needlecraft Mystery #15
By Monica Ferris
Berkley; $24.95

When an elderly homeless woman is found dead on the shore of Lake Minnetonka, she's wearing something that holds the key to her identity but also opens up a mystery. Embroidered on her blouse is her will, in which she bequeaths everything she owns to her niece—Emily Hame, a member of the Monday Bunch at Betsy Devonshire's Crewel World needlework shop!

Emily's aunt turns out to be the second homeless woman to be found dead under mysterious circumstances. It's up to Betsy to discover the common thread between the deaths—and to determine if a murderer may strike again.

Paperbacks: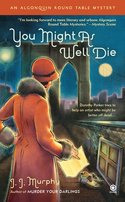 YOU MIGHT AS WELL DIE: An Algonquin Round Table Mystery #2
By J.J. Murphy
Obsidian; $7.99

When second-rate illustrator Ernie MacGuffin's artistic works triple in value following his apparent suicide off the Brooklyn Bridge, Dorothy Parker smells something fishy. Enlisting the help of magician and skeptic Harry Houdini, she goes to a séance held by MacGuffin's mistress, where Ernie's ghostly voice seems hauntingly real.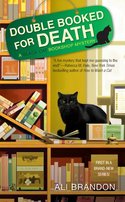 DOUBLE BOOKED FOR DEATH: A Black Cat Bookshop Mystery (Debut Series)
By Ali Brandon
Berkley Prime Crime; $7.99

When transplanted Texan Darla Pettistone unexpectedly inherits her Great-Aunt Dee's Brooklyn bookstore and the apartment above, she's certain her worst headache will be dealing the store's mascot. Hamlet, an oversized black cat with a personality to match, considers the four-story brownstone to be his own personal stomping grounds. He has a bad habit of terrorizing customers, claiming every sunny spot for his own, and, in general, acting like a small potentate.

The fact that Hamlet is smarter than the average cat makes dealing with him all the more difficult. But Darla is less sure that a series of odd incidents in the store—misplaced items, lights going on and off after dark—is his fault. In fact, the usually skeptical Darla soon finds herself seriously considering the possibility that her late aunt is now haunting the place.

Matters come to a head when a bestselling author of young adult ghostly fiction meets an untimely end during an autographing event at the bookstore. While the death is officially ruled accidental, Hamlet soon digs up a clue that seems to indicate otherwise. Now, Darla fears the murderer might be one of the author's entourage—or even one of Darla's own customers—and that she and her staff are in equal danger. Hamlet's interfering ways might just help point the paw at the culprit...that is, if he doesn't lose one of his own nine lives in the process of solving the crime.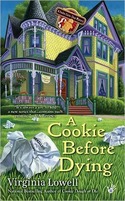 A COOKIE BEFORE DYING: A Cookie Cutter Shop Mystery #2
By Virginia Lowell
Berkley Prime Crime; $7.99

On a stormy night, Olivia Greyson and her Yorkie discover the body of a man stabbed to death—which looks suspiciously like the intruder seen fleeing the local health food store The Vegetable Plate. Charlene Critch, owner of The Vegetable Plate, has a grudge against Olivia's cookie cutter shop, but could Charlene be hiding a secret serious enough to kill for?


GHOUL INTERRUPTED: A Ghost Hunter Mystery #6
By Victoria LaurieObsidian; $7.99

M.J. Holliday and her crew interrupt the frantic schedule of their reality TV show, Ghoul Getters, and hotfoot it to New Mexico, where a dreadful demon is waging tribal warfare. Same Whitefeather—M.J.'s spirit guide—urgently needs her help to stop this evil spirit from wiping out the descendants of his tribe. It doesn't take a psychic to predict that M.J.'s going to have a devil of a time making New Mexico a demon-free zone.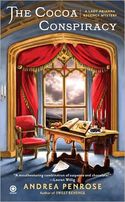 THE COCOA CONSPIRACY: A Lady Arianna Regency Mystery #2
By Andrea Penrose
Obsidian; $7.99

Lady Arianna's gift of a rare volume of botanical engravings to her husband, the Earl of Saybrook, has something even more rare hidden inside—sensitive government documents which would mark one they hold dear as a traitor of King and country. To unmask the villain, they must root out a cunning conspiracy— armed only with their wits and expertise in chocolate.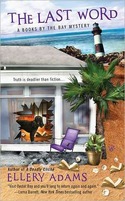 THE LAST WORD: A Books By The Bay Mystery #3
By Ellery Adams
Berkley Prime Crime; $7.99 Reprint

Olivia Limoges and the Bayside Book Writers are excited about Oyster Bay's newest resident: bestselling novelist Nick Plumley, who's come to work on his next book. But when Olivia stops by Plumley's rental she finds that he's been strangled to death. Her instincts tell her that something from the past came back to haunt him, but she never expects that the investigation could spell doom for one of her dearest friends...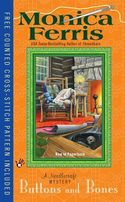 BUTTONS AND BONES: A Needlecraft Mystery #14
By Monica Ferris
Berkley Prime Crime $7.99

Helping friends renovate their summer cabin, Betsy uncovers a human skeleton hidden in the walls. It appears to be the body of a Nazi soldier—perhaps from the WWII POW camp that once operated not far from town. Stitching together the scant evidence, Betsy is determined to solve the murder—no matter how long ago it may have happened.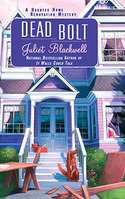 DEAD BOLT: A Haunted Home Renovation Mystery #2
By Juliet Blackwell
Obsidian; $7.99

Turner Construction's latest restoration project is a historic Queen Anne Victorian in San Francisco. This time general contractor Mel Turner has to work around the owners who insist on sticking around—along with some ghosts that insist in their own way that the work stops...
The ghosts aren't the only ones standing in the way of the renovations. A crotchety neighbor, Emile Blunt, secretly wants this house, and could be behind some of the disturbances. But when Emile is found dead, it's Mel who appears guilty. Now she must restore the building—and her reputation—before it's too late.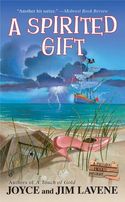 A SPIRITED GIFT: A Missing Pieces Mystery #3
By Joyce and Jim Lavene
Berkley Prime Crime; $7.99


As the mayor of Duck, North Carolina, Dae is playing host to twenty North Carolina elected officials attending her first Mayors' Conference Weekend at the Blue Whale Inn. When the body of Mayor Sandi Foxx is discovered the morning after a severe storm, Dae receives a vision through the mayor's ring; that there's a killer among the guests who's as deadly as any hurricane.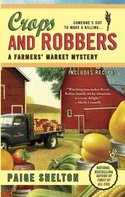 CROPS AND ROBBERS: A Farmer's Market Mystery #3
By Paige Shelton
Berkley Prime Crime; $7.99

Bailey's Farmer's Market is all abuzz with the impending visit of the Central South Carolina Restaurant Association. Becca is quite excited, especially since her parents are visiting. But when the president of the Association vetoes Becca's strawberry preserves, she finds herself reeling from the snub. After pulling herself together, Becca heads home, only to find the president's body in her kitchen and her mother with bloody hands. Now, Becca has to use her sleuthing skills to get her mom out of this terrible jam...before she winds up preserving in prison.

Wishing all of you a very Happy Holidays, and as always, Happy Reading, Ya'll!
No comments posted.