T.C. LoTempio | Author Reader Match: THE TIME FOR MURDER IS MEOW + Giveaway!

August 8, 2019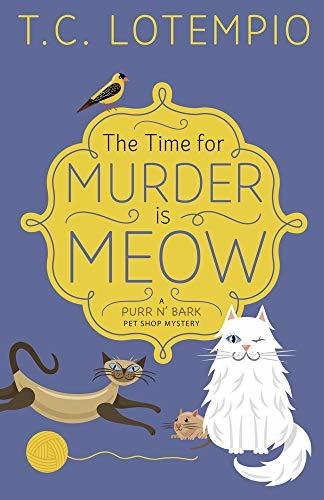 The Time for Murder is Meow
T.C. LoTempio
AVAILABLE
A Purr N' Bark Pet Shop Mystery Book 1

August 2019
On Sale: August 9, 2019
Featuring: Shell McMillan
ISBN: 0738760366
EAN: 9780738760360
Kindle: B07HL4F1Z6
Paperback / e-Book
Add to Wish List

Also by T.C. LoTempio:
The Time for Murder is Meow, August 2019
Death by a Whisker, February 2019
Death by a Whisker, February 2018
Purr M For Murder, March 2017

Instead of trying to find your perfect match in a dating app, we bring you the "Author-Reader Match" where we introduce you to authors as a reader you may fall in love with. It's our great pleasure to present T.C. LoTempio!
Writes:
Cozy mysteries that usually prominently feature cats. My latest release, THE TIME FOR MURDER IS MEOW, hits shelves August 8, 2019.
About:
Sixty-something cozy mystery author seeks readers for suspenseful mystery novel featuring a feisty heroine who's determined to reinvent herself, along with her two cats, a Siamese and a one-eyed Persian named Purrday. Crishell "Shell" McMillan is a former actress now turned pet shop owner who seems to gravitate toward mystery and dead bodies. Of course we also have the requisite love interest included!
What I'm looking for in my ideal reader match:
Loves cats!
Likes mysteries with a "twist"
Enjoys a fast-paced, suspenseful plot
Likes a dash of romance included with their mystery
Is a devotee of the Hallmark Movies and Mysteries Channel!
Likes to pick up on clues and solve the mystery right along with the sleuth!
What to expect if we're compatible:
As many books as my agent can sell!
Frequent giveaways via my newsletter and blog
I spotlight not only my own books, but other authors as well. You can look forward to lots of interviews and giveaways on my cat's blog, www.catsbooksmorecats.blogspot.com every month!
Giveaway info: T.C. will give away a signed copy of The Time for Murder is Meow, along with a $15 Amazon gift card.
***
A Purr N' Bark Pet Shop Mystery Book 1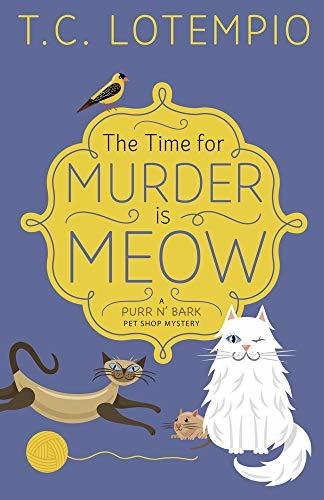 Shell and her two furry sidekicks must cat-ch a killer to save their pet shop
Crishell "Shell" McMillan sees the cancellation of her TV series as a blessing in disguise. The former actress can now take over her late aunt's pet shop, the Purr N' Bark, and do something she loves.
While getting the shop ready for re-opening, Shell is asked to loan her aunt's Cary Grant posters to the local museum for an exhibit. She finds the prospect exciting--until a museum board member, who had a long-standing feud with Shell's aunt, votes against it. When she discovers the board member dead in the museum, Shell becomes suspect number one. Can she, her Siamese cat Kahlua, and her new sidekick--her aunt's Persian Purrday--find the real culprit, or will her latest career go up in kitty litter?
Mystery Cozy | Mystery Pet Lovers [Midnight Ink, On Sale: August 9, 2019, Paperback / e-Book, ISBN: 9780738760360 / ]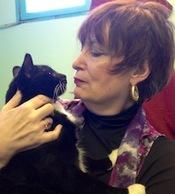 Born in New York City, T. C. LoTempio has been a staff reporter at the young adult magazine Susabella Passengers and Friends for more than a decade. When she isn't reporting or writing novels, she and her cat Rocco fundraise for Nathan Fillion's charity, Kids Need to Read.
Comments
10 comments posted.
Re: T.C. LoTempio | Author Reader Match: THE TIME FOR MURDER IS MEOW + Giveaway!

I believe my friends Muffins and Pom-Pom and I would enjoy this book very
much!
(John Smith 6:41am August 8)
we just recenly lost our rescue cat Named Bugg, had him for
over 12 yrs
(Vickie Couturier 8:22am August 8)
My dog would hate it but I am sure I will enjoy it!
(Anna Budziak 10:48am August 8)
Our rescue cats - strays we adopted - would love to watch me
read it! They are happy when I am still with a good book,
giving them opportunity to snuggle in.
(Jeanie Dannheim 3:57pm August 9)
Sounds very good, love the review thanks
Penney
(Penney Wilfort 1:40am August 10)
Cute interview! I enjoy all the things mentioned, especially the part about cats!
(Marla Bradeen 3:56am August 11)
Most of the murder mysteries that I see are with dogs, It is nice to see other
animals (cats) used a character in solving the mystery
(Diane McMahon 10:26am August 11)
I can relate to this book. I never intended to have house pets, but during the past few years, my son found two kittens that were homeless. Guess what! He brought them to me and I've ended up with two feline companions. One is now four years old but the other is less than a year old. It's been quite interesting to have indoor cats and to watch them interact.
(Anna Speed 8:10pm August 11)
I think we would be a good match. My life is chaotic and I often
need a good read to help me chill. A good mystery which is a bit on
the light side - in gory intensity, not suspense - with a touch of
romance is often just what I need. We have had several cats over
the years. Our daughters each had their cat growing up. One is in
between cats at the moment. The other has 4 inside cats and about
6 outside cats.
(Patricia Barraclough 12:46pm August 12)
I love cats and suspense. This sounds pretty good for a
book that I would read.
(Robin Davis 8:44pm August 26)
Registered users may leave comments.
Log in or register now!