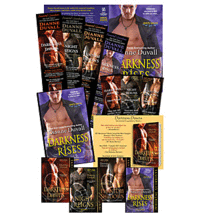 Love bad boys? Then enter to win a signed copy of New York Times bestselling author Dianne Duvallís Phantom Shadows , Immortal Guardians Book 3+ swag!

Sebastien Newcombe, the hero of PHANTOM SHADOWS, was quite the villain when he burst onto the Immortal Guardians scene, pitting an army of psychotic vampires against the immortals in an attempt to destroy them. Now his world has been turned upside down and he finds himself working alongside the very immortals with whom he once waged war. His dark past has earned him the hatred of immortals, vampires, and humans alike. But, while others clamor for his execution, a single voice raises in his defense ó that of Dr. Melanie Lipton. Discover what changes that can be wrought by a woman who sees in Bastien what others canít. And donít miss the fourth book in the series, DARKNESS RISES, which has been nominated for the RT Reviewersí Choice Award for Best Vampire Romance!
Krysta is used to getting the drop on vampires. Her "special abilities" aren't much, but the plan is simple—she plays helpless pretty young thing to lure them in. Then her shoto swords come out and it's bye-bye, bloodsucker. Until one night she finds herself with an unexpected ally. He's a vampire, all right, but different. Mysterious. Handsome. And more interested in saving her skin than draining it.
Etienne has been an Immortal Guardian for two hundred years—long enough to know that Krysta is special. He can't stop thinking about her long legs, even more than her short swords. Then he discovers the vamps she's exterminating have friends in high places, and the Guardians are in danger too. He'll have to accept Krysta's help to save them. The stakes for a mortal are high. But the cost to his heart might be higher. . .
Contest ends: March 31, 2014