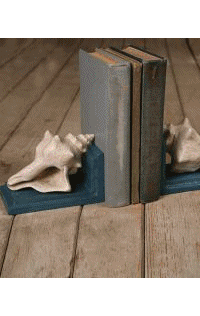 Christmas comes early for the winner of Sherryl Woods's September Fresh Fiction contest when she receives two Chesapeake Shores novels and a lovely set of seashell bookends. This beach-inspired prize package is in anticipation of the bestselling author's upcoming Chesapeake Shores novel, A Seaside Christmas (Harlequin MIRA Gift Hardcover), which goes on sale September 24. In A Seaside Christmas, songwriter Jenny Collins heads home to Chesapeake Shores to mend a broken heart caused by singer, Caleb Green. With the help of a little O'Brien family holiday magic, it's possible that Jenny and Caleb will find a way to make sweet music forever.
Two additional winners will each receive a book from Sherryl's backlist.

A SEASIDE CHRISTMAS
Order Today
As the only child of a single mom, Jenny Collins wanted nothing more than to be part of a large, rambunctious family like the O'Briens. Ironically, though, when her mother married into that family, Jenny found herself feeling more like an outsider than ever.
Now, after years in Nashville as an established songwriter, Jenny's drawn back to Chesapeake Shores to collaborate on a Christmas production...and to make peace with the past. As if that's not challenging enough, Caleb Green, the singer who broke her heart, has followed her to town, determined to win her back.
Learn more about the New York Times bestselling author at www.SherrylWoods.com and connect with her on Facebook.
Contest ends: September 30, 2013