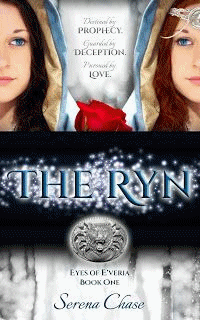 Leave a comment today on Serena Chase's guest blog post for a chance to win your own copy of THE RYN and THE REMEDY.

DESTINED by prophecy. GUARDED by deception. PURSUED by Love.
Centuries ago, an oracle foretold of the young woman who would defeat E'veria's most ancient enemy, the Cobelds. But after two centuries of relative peace, both the prophecy and the Cobelds have been relegated to lore—and only a few remain watchful for the promised Ryn.
Finally, a child is born who matches the oracle's description, but a Cobeld curse accompanies her birth. Led to believe they succeeded in killing the prophesied child, the Cobelds emerge from hiding with plans to overtake the Kingdom.
But the child survived.
Secreted away and called "Rose" for the first nineteen years of her life, Rynnaia E'veri has no idea of her true identity until a chance meeting with an injured knight reveals not only her parentage and true name, but the task assigned her by the oracle: discover the Remedy that will destroy the Cobelds' power.
Now, her time has come.
Offered the assistance of pirates, scribes, storytellers, a young woman who died centuries ago, and the knight who is quickly working his way into her heart, Rynnaia is fortified with friends. But if the Ryn is to complete her task, she must come to terms with not only who she is, but for whom she must be willing to die. For the kingdom's survival depends on her.
* * *

PURPOSED by birth. DESTINED by prophecy. REVEALED by Truth.
Now, her time has come.
Having come to terms with her long-hidden identity, Princess Rynnaia E'veri is ready to take her rightful place. But before she can join her father at Castle Rynwyk, she must endeavor to fulfill a 200-year-old prophecy and defeat the Kingdom's ancient enemy, the Cobelds. Joined by her faithful knight, Sir Julien de Gladiel, and a gifted group of friends, Rynnaia must trek a dangerous path through canyons, forests, and into the very depths of a mountain where, if the prophetic scrolls prove correct, she will face an unknown foe, alone. Treacheries will be discovered, sacrifices will be made, friends will be lost, and love will be tested, but if even one line of the riddled prophecy is misinterpreted, Rynnaia will fail . . . and the Kingdom will fall.
Beginning at the point THE RYN ended, THE REMEDY concludes an epic re-imagining of the classic Grimm fairy tale, SNOW WHITE & ROSE RED, but the Eyes of E'veria series is only beginning . . . You must leave a comment on Serena Chase guest blog post to win.
Contest ends: June 3, 2013