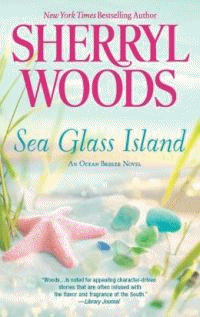 Bestselling author Sherryl Woods's new Ocean Breeze trilogy takes readers on an armchair vacation so engaging they'll practically be able to feel the sand beneath their feet and smell the salty sea air. SAND CASTLE BAY launched the series last month and has already garnered high praise and attention for its wonderful cast of characters. WIND CHIME POINT, book 2 in the series, arrives on bookstore shelves April 30, and SEA GLASS ISLAND, the final book in Sherryl's trilogy, will be available May 28. The lucky winner of Sherryl's April contest will receive a copy of SEA GLASS ISLAND, as well as a stunning ocean–inspired necklace made out of exquisite sea glass.
Two additional prizewinners will each receive a book from Sherryl's backlist.

SEA GLASS ISLAND
Order Today
With her two younger sisters heading for the altar, will Samantha Castle exchange old dreams for new ones? Lately she'd rather be on the North Carolina coast with family than in New York with agents and actors. Though she vows not to let her teenage crush on Ethan Cole influence her decision, it's hard to ignore her feelings for the local war hero.
Ethan lost more than his leg in Afghanistan. He lost his belief in love. Even being surrounded by couples intent on capturing happily–ever–after won't open this jaded doctor's heart. It's going to take a sexy, determined woman—one who won't take no for an answer.
Learn more about Sherryl on her blog at www.JustBetweenFriendsBlog.com and explore her novels at www.SherrylWoods.com.
Contest ends: April 30, 2013